My first impression on a foundation that I have done my research on, for some people doing a research for a foundation may not be necessary but in my case is a must since some foundations dont work great on my skin.
For months now the foundation I saw that would do great on my skin was the Kat Von D Lock It Foundation but I quickly put that one on hold to try the new foundation from Rihanna which is called Fenty Beauty.  There was no surprised that as soon as this foundation came out most color shades were out of stock in store and online, so after trying a few weeks in a row and no luck I decided to go for the one that was on hold for months and that was the Kat Von D Lock It.
So I purchased this foundation and was excited to give it a try, we then stopped at 2 other Sephora stores and as I was looking through the shelves I found my shade for Fenty Beauty and this is how i ended up with 2 foundations on the same day.
This is how my first impression went using both products, not only I shared my first impression video as I apply the product on my skin but right after a few days later I continued applying both foundations as I did on the video because it was hard for me to pick a favorite..
One thing I do look for on a foundation is that it works great on sensitive, oily skin, acne prone and that could be full coverage.  Another problem that I face is how quickly the oils come through with most foundations (so any foundation that could control this for a long period of time is a winner in my book).  In addition I am looking for a foundation that doesnt show my pores as much (which this has been another issue).  As you could see I look for many things in a foundation not just coverage and this is why I do my research before purchasing a key makeup item.
BEFORE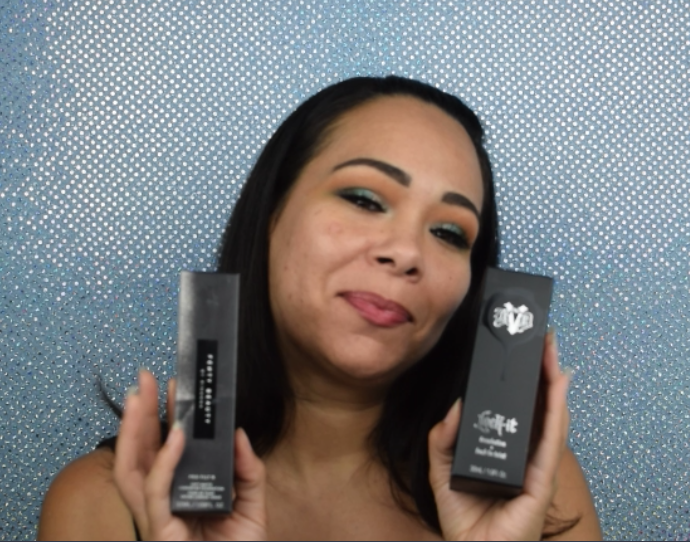 My skin before applying any foundation is not so smooth or even to say the least, as you may see I struggle with acne, redness, aged spots, acne scars, oily and my skin is also sensitive. Trying a new product can become a challenge but it can also be a reward when doing the research and finding the product that can tackle those problem areas.
AFTER
Coverage:
✔ Medium
Skin type:
✔ Sensitive
✔ Normal
✔ Dry
✔ Combination
✔ Oily
Finish:
✔ Matte
What it is:
A soft matte, long-wear foundation with buildable, medium-to-full coverage, in a boundary-breaking range of shades.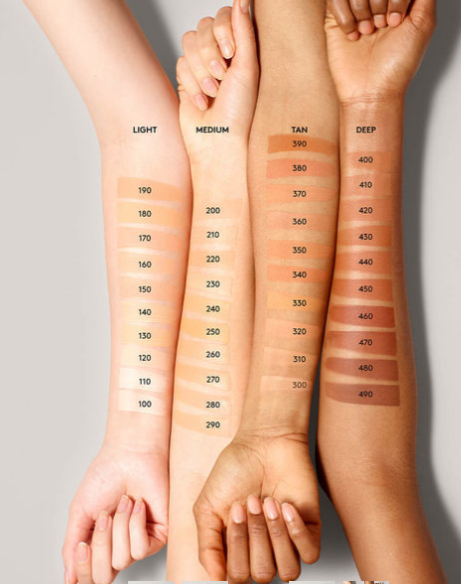 What it does:
Finally—the ultimate photo filter in foundation form. Born in 40 boundary-breaking shades, Pro Filt'r Soft Matte Longwear Foundation gives skin an instantly smooth, pore-diffused, shine-free finish that easily builds to medium to full coverage. The oil-free formula is made with climate-adaptive technology that's resistant to sweat and humidity, and won't clog pores so that wherever you are, it's going to work on your skin. Best of all, this longwearing, light-as-air texture is undetectable on skin—so you always look like you.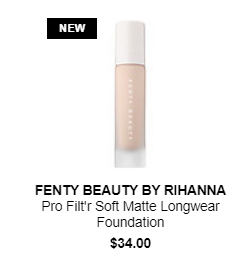 What it is formulated WITHOUT:
– Parabens
– Phthalates
What else you need to know:
How did Fenty Beauty nail the ultimate shade lineup? Obsessive research to create the perfect range of shades for all, exclusive insights from the world's top makeup artists, and through extensive testing for real life on real women.
Fenty Beauty figured out that it takes the right balance of tone and texture to make foundation work on every skin type. We obsessed over custom pigment levels to capture your truest tones with a soft matte finish that's just right—not too matte and not too shiny. The result? A comfortable long-wear formula that lets skin look like skin. Made for all women to love.
Coverage:
✔ Full
Skin type:
✔ Normal
✔ Dry
✔ Combination
✔ Oily
Finish:
✔ Matte
What it is:
A high-pigment, full-coverage foundation with a matte finish and 24-hour wear—now with a new look in a total of 30 shades.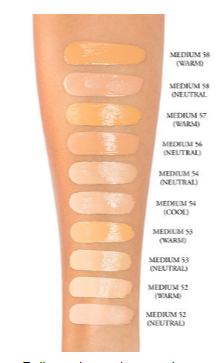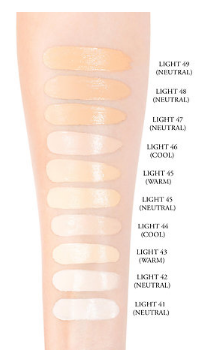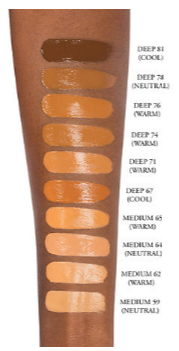 What it does:
Featuring 30 full-coverage, matte shades—renamed to include undertones for easier shade selection—Kat Von D's bestselling foundation collection has a shade to cover virtually all skin tones. From the fairest of the fair to deep, rich tones, this shade range has you covered with the same, 24-hour wear and high-pigment formula, beautifully packaged in a sleek new design.
With just one light layer, the creamy formula corrects discoloration, stops shine, and hides blemishes. Formulated with 21 percent pigment,this powerful foundation is loaded with proprietary pigments, and an exclusive high-tech blend of silicone elastomers and silicone esters to bind the formula so you get total matte coverage that stays waterproof, fade-proof, and transfer-resistant all day long.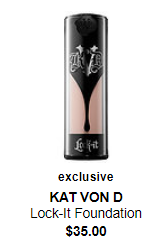 What it is formulated WITHOUT:
– Parabens
– Sulfates
– Phthalates
Both products are great foundation, they are long wear, feels fresh and gives you that soft natural dewy look. If you are looking for a buildable medium to full coverage, lightweight, with a natural look then this could be your foundation.  Pairing them both side by side In my observation Kat Von D Lock it has more coverage and the pores were a little less visible then Fenty Beauty.  Both products were able to hold my oils a lot longer so for sure is long wear and oil free..
I hope you enjoy my first impression on the video provided below and would truly appreciate you for watching.