For years I struggle with a great deal of complications in my skin.  Just to name a few I struggle with sensitive skin, Acne, Breakouts, Acne Scars, and Oily Skin.
After countless visits to Dermatologists, there seems to be no hope to find a skincare solution.  But not many years ago instead of giving up, I decided to find another way.  I started with some Diy home recipes for my skin to later discover Korean or K beauty skincare.
Both pictures are before the COVID vaccine and how healthier my skin was.
After adding the right product to my skincare routine, I started to see an improvement in my acne.  All it took was doing a little research and including the right product for my skin type and skin condition. Until last year my skin was so much better.  Acne, Oils, and hyperpigmentation were controlled even my acne scar was healed.
Then, last year I took both COVID vaccines, and right away I started to see changes in my health, skin, and hair.  At first, I wasn't so concerned about my skin since my health was a priority but once I felt better I also noticed that my hair had started to fall out.
I didn't change anything from any of my routines so the only thing that made sense was the vaccine.  I am only going based on my experience.
What happened to my skin?
My skin recently started to break out, the acne was almost all over my face.  Due to each breakout, it created dark pigment leaving dark spots on my face.
I started to see my skin did a reboot is like it went back to when I had a great deal of skin complications. For the most part, I have combination and oily skin but lately, my skin feels very dry which is something new.
I continued to use the same products but I would notice breakouts started to form right after.  So I decided to remove some products from my daily routine to see which one caused the changes.  I can say testing the products in my routine has taken over a month or 2.
So what comes next?
So I decided to go back and start from the beginning.  I remember at the beginning of my skincare journey I started off slow, I would only use a cleanser, toner, and moisturizer.  Once I started to see some positive results then I would continue to include serums and vitamins in my skincare routine.  I think I should do the same thing, take it slow and listen to my skin..
Since my current/old products are not working I decided to look at my skin and get the products that might help me improve my current complications.  It has been a few weeks since I decided to take a different approach and I want to share my new journey. I will include the products I am using.
What is my skin saying?
Seeing my skin is so irritated, redness, with a lot of pigment and with acne I knew that adding more harsh products and exfoliating is not what my skin needs right now.
My skin is letting me know it needs to be repaired and for a week or so I will include a new routine to make sure it gets better.. So I will start by repairing my skin barrier.
My skin is telling me that is or has
Dry
Inflammation
Overly Sensitive
Redness
Acne
Hyperpigmentation
What is my new skincare routine?
I will start for about a week to work on repairing my skin barrier.  I need products that will include Ceramides, Niacinamide, Tranexamic Acid,
AM –
Cleanser

iS CLINICAL Cleansing Complex – CLEANSING COMPLEX incorporates a balance of bio-nutrients, antioxidants, and mild resurfacing ingredients that thoroughly cleanse the surface and pores of the skin without stripping essential natural oils, leaving skin soft and smooth

Toner –

SOS Daily Rescue Facial Spray –

Toner

– NEOGEN DERMALOGY REAL FERMENT MICRO ESSENCE 


Bifida Ferment Lysate

Skin Barrier Strengthening
Increases Skin Elasticity
Moisture Balancing
Increases Skin Immunity Against Harmful Chemicals

Serum/Oil – Strivectin super b barrier strengthening oil – Ultra-nourishing, non-comedogenic face oil features a first-of-its-kind, oil-based prebiotic blend that balances skin's microbiome – a component of skin that plays a positive role in helping to maintain a healthy skin barrier.
Moisturizer – Boscia

Plant Stem Cell and Ceramide Barrier-Defense Moisturizer –

 

Nourishing ceramides and antioxidants help prevent moisture loss and protects against environmental stressors by forming a protective layer on the skin. This perfectly-peach-colored moisturizer works to reinforce and strengthen the skin's lipid barrier for a supple, healthy, and ageless complexion.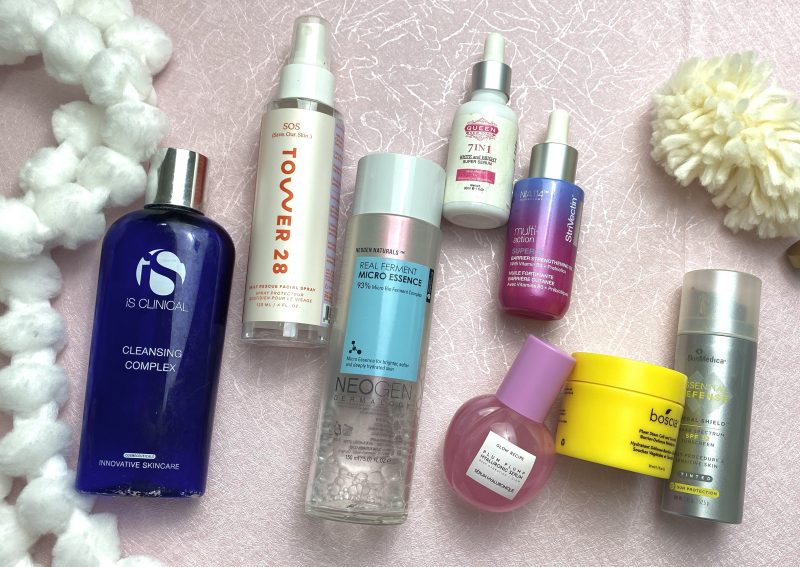 PM –
(only 2 times a week)

Retinol – Truth Treatment Systems Retinol Starter Kit – 1% – This potent blend of healing Vitamin C and exfoliating Vitamin A regenerate skin, shedding dead and dulling skin cells to fade discoloration, smooth lines, and refine scars.

(only 2 – 3 times a week)

Moisturizer – The INKEY List Tranexamic Acid Hyperpigmentation Treatment
Most of these items I all ready had from a previous order but didn't bother to use them because of the breakout.  I decided to create a new skincare routine searching for products I had but had not tried. Once I see my skin is looking better then I will work to add other items that will target my problem areas.