Shop Hush is an app and site that is a must to have (well that is if you would like to purchase some dupe makeup such as eyeshadow palettes at a very reasonable price).  A few month ago I purchased a dupe for the Huda Beauty Desert Dusk, to be honest is a palette I wouldnt mind getting but for $65 I think that is too much..
How can you purchase any of the palettes?
You can purchase this item at Sephora (link provided) Huda Beauty Desert Dusk Eyeshadow Palette – $65
You can purchase this item at Shop Hush (link provided) Aphrodite Bad Habit Eyeshadow Palette – $10
Instead I purchased a dupe for this palette for just $10 and it came with a mirror, the quality and how nice this palette look really surprised me and is why I am sharing about a new palette that will be available this Friday but only in the app..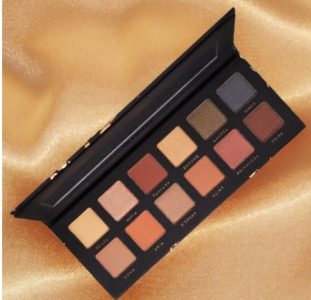 The new palette we are expecting to launch this Friday is called Artistry Eyeshadow Palette
The cost for this palette is $12
If you want to buy this palette make sure you have the app installed and your information is ready.. why the urgency? simply because most eye shadow launches by shop hush are sold out and it takes a little time before the item is back on stock..
Eyeshadow Palette available at 1/12 Friday @ 10 am pst
Discover your inner muse with the nude and earthy toned shadows in the 12 shades of Artistry. Featuring a range of shadows in nude browns, warm satin, and a stunning dark blue and rust green shimmer — Artistry gives you all you need to create striking looks of subtle sophistication. Cruelty-Free.