Skincare is key on my day to night routine. I love how much my skin has improved due to some new items I had added to my routine.  That being said I have been looking for a product that can help me remove my makeup without drying out my skin..
I tried many products from wipes, oils, cleansers and to be honest most leave a bit of the makeup still specially around my eyes.  
A few months back I received a balm on my Boxycharm subscription box which you can see more here.  Since I was happy with my makeup remover oil that is Korean Base, I thought giving away the balm would be best. 
While at the drugstore not so long ago I spotted a new balm from Physicians Formula and is half of the price from FARMACY Green Clean Makeup Meltaway Cleansing Balm with Echinacea GreenEnvy – $34  
After reading the claims Physicians Formula Balm offers I thought it might be a dupe or just a similar balm that can be more affordable.  So I decided to try both and see if there is a big difference. 
Every night I would apply Farmacy Balm on half of my face and with the applicator I would apply Physicians Formula to the other half of my dry face. I would clean both sides at the same time and notice how great they both are.
I love how it melts away the makeup, is so easy and not messy at all, the balm turns into a soft oil consistency once I move it around my skin.. It removed all of my makeup even the hardest part which is eye makeup.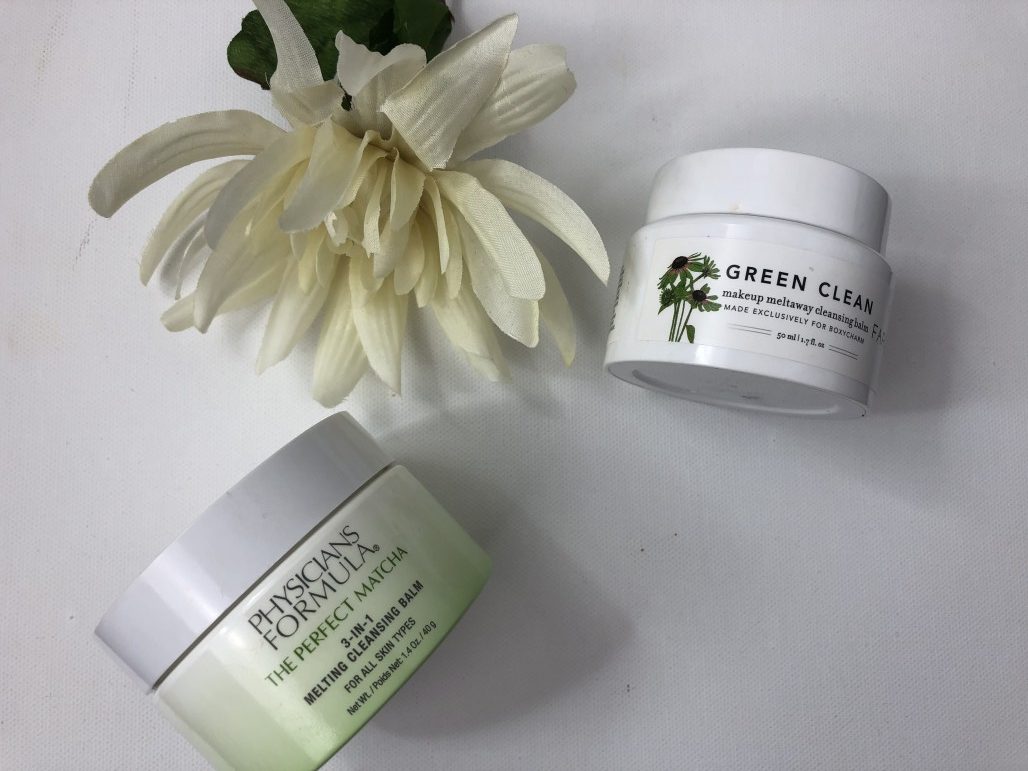 Price:
FARMACY 

Green Clean Makeup Meltaway Cleansing Balm with Echinacea GreenEnvy – $34

  

THE PERFECT MATCHA 3-IN-1 MELTING CLEANSING BALM – $14
Claims:
Farmacy – Claims provided in Sephora site –
This holy grail cleansing balm instantly melts makeup, removes impurities + gently exfoliates! Mineral oil free formula transforms from sorbet-like balm to silky oil to milky lather to remove makeup effortlessly. Zero residue. A blend of lime, bergamot + orange essential oils smells like vacation.

This product is an Allure Best of Beauty award winner.
Physicians Formula – Claims provided in there site – 
An ultra gentle 3-in-1 cleansing balm that melts away makeup, deeply cleans away impurities and leaves the skin fully supple and hydrated.

Antioxidant-packed and enriched with Matcha Green Tea, Bamboo Shoot, and Lotus Extract.
Overall I love both products, they work great on my sensitive skin and it leaves my skin looking shiny and feeling soft. I also did a video sharing a demo on both products you can see it here.