Once we have the date, time and location the next important thing we need is a complete invitation.  Like I mentioned on recent post looking for items that has The Flash Theme is very hard or rare to find and for that reason is why I'm sharing the ideas and steps I'm doing to make this a cute birthday party for our oldest son.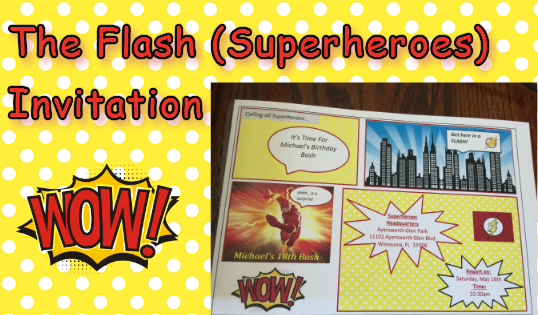 The invitation was made with the colors and background ideas we have plan for this Birthday party theme.  Once the invitation was made we printed a few on a medium cardstock paper, we were considering using photo paper but comparing both options we chose the one with less gloss..  On one sheet it made 2 invitations, once printed all we need is to cut and send out.. 
Thank you for stopping by…
I'm looking forward to see if this invitation is something you might consider for any birthday party.. 
Here you can see how I'm preparing for the birthday…
Easy Almond Sugar Cookies – Flash (Superheroes Theme) 
Simple Water Bottle Labels – The Flash (Superhero Birthday) Party