In this post, I will share what I received in my MARCH base box.  I am so excited to share the variation I received for Boxycharm Base Box.  If you would like to see my Base unboxing video check it out here.  See you there.
New to Boxycharm?  Are you planning to subscribe?
If you are interested in getting this box, you can subscribe to Boxycharm (base box $27.99).   You can click here to do so and in the coupon code type, promo code to earn $10 off coupon to use for the mega shop drop.

Boxycharm Base Box (Variation C2203005-BA) 
Boxycharm Theme – Game Changer
Choice 
Rare Beauty

– Always An Optimist Illuminating Primer $26
Other items
Lauren Conrad Beauty The Liquid Eyeliner
Frank Body Brightening Vitamin C Mask
Generation Skin Hydrating Marine Algae Eye Patches 
Luxie Florals Brush Set
For this variation, the total retail value is $154.95.  My take in this variation is items I think I need since I'm trying to improve my skin.  For that, I can try using Generation Skin eye patches and Frank Body Vitamin C Mask. 
I like getting makeup brushes and I am loving it in a cute makeup bag.   Rare beauty Primer sounds like a great product and seeing the before and after pictures, I am excited to try it.  Overall is an okay box for some reason I am missing not getting a makeup palette.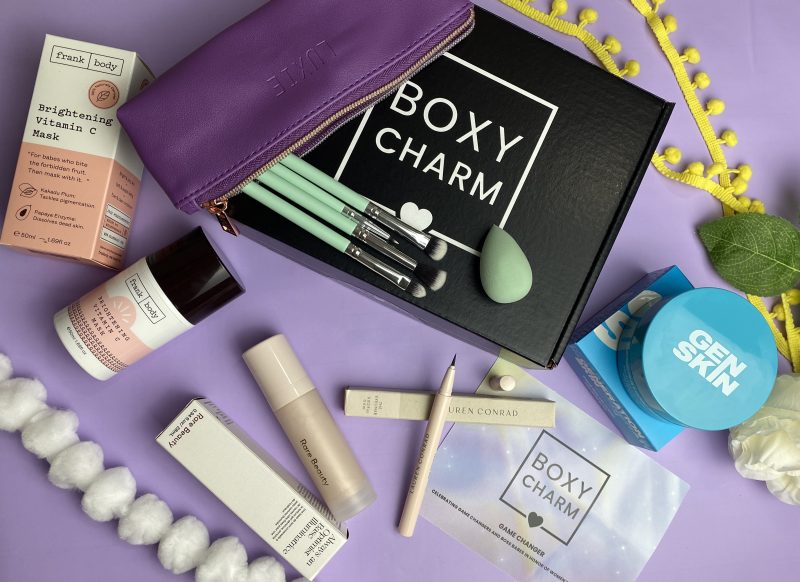 What is the Cost of the Box?
Boxycharm has 3 subscription boxes, the Base box cost $27.99 a month

Boxycharm Premium cost is $39.99 a month, in order to join the waitlist you must be subscribed to the base box.  For the first month, after activation, you can cancel either Base or Premium anytime. Boxyluxe is an upgrade subscription you will receive 4 times in a year (Mar, June, Sep & Dec).  Boxyluxe total cost is $59.99, it will replace your Base box in Luxe months.
How do I subscribe to Boxycharm Box?
You can click here to join, select the subscription box you want to join.  In some cases, you might start by joining the waitlist. 
What is the shipping price?
The Shipping cost for the Boxycharm Boxes are FREE to the Contiguous U.S. only

Shipping outside of the contiguous US costs $8 for Luxe and $5 for Luxe Starter