In this post I will share my variation for the month of SEPTEMBER, I am so excited to share the items I received in my September Boxycharm Base Box.  I also did an unboxing video which you can check out here or below. 
New to Boxycharm?
Are you planning to subscribe?
If you are interested in getting this box, you can subscribe to Boxycharm (base box $25). 
You can click here to do so and in the coupon code type, promo code to earn $10 off coupon to use for the Add-Ons store. 
Boxycharm September 2021 Base Theme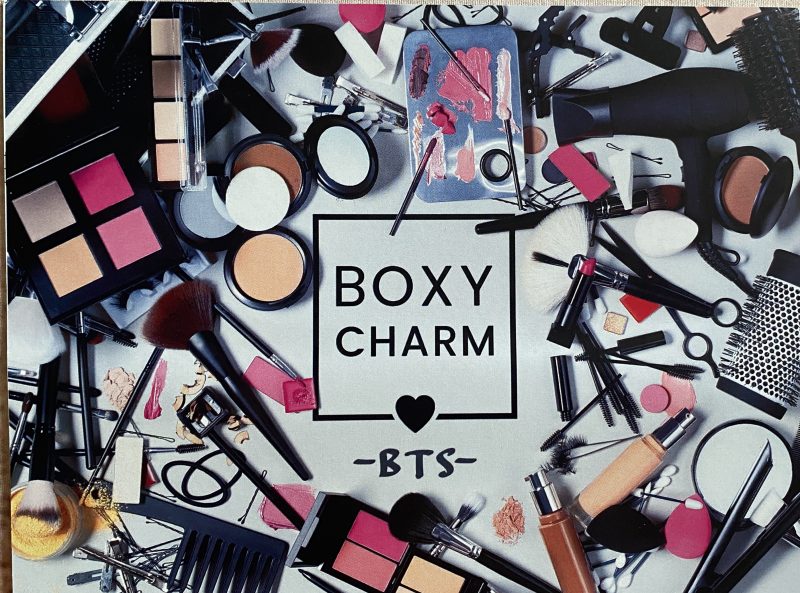 Boxycharm September 2021 Base Box Variation
Variation C2109038-BA Retail Value $154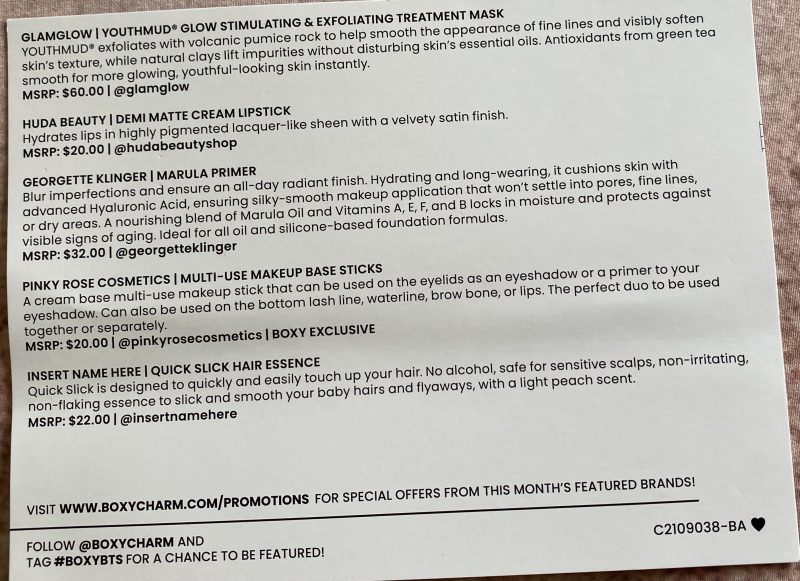 Boxycharm September 2021
Boxycharm September 2021 Items Try-On
Products I tried on my unboxing video was the INH around the temporal bone (the hairs around it after applying my foundation gets a bit lighter) after using the essence it helped to darken the hair making it easier to remove the foundation around the hair) So far I am loving this item.
I love everything from Huda Beauty and this variation came with a Demi Matte Lipstick, I love the shade and how great it feels on my lips.  Throughout the day I notice this lipstick is long-lasting and it was great for all-day wear.  (another great item)
I also applied the Georgette Klinger Marula Primer, reading the claims and ingredients it looks like a great primer/skincare, it feels almost like a serum which was refreshing.  after applying the rest of my makeup I notice throughout the day my makeup was holding for a long time.
Overall I think this was a good variation there are some items I really liked like Glamglow Mask, Huda Beauty lipstick, INH Essence, and even the marula primer from Georgette Klinger. 
What is the Cost of the Box?
Boxycharm has 3 subscription boxes, the Base box cost $25 a month

Boxycharm Premium cost is $35 a month, in order to join the waitlist you must be subscribed to the base box.  For the first month, after activation, you can cancel either Base or Premium anytime. Boxyluxe is an upgrade subscription you will receive 4 times in a year (Mar, June, Sep & Dec).  Boxyluxe total cost is $49.99, it will replace your Base box in Luxe months.
How do I subscribe to Boxycharm Box?
You can click here to join, select the subscription box you want to join.  In some cases, you might start by joining the waitlist. 
What is the shipping price?
The Shipping cost for the Boxycharm Boxes are FREE to the Contiguous U.S. only

Shipping outside of the contiguous US costs $8 for Luxe and $5 for Luxe Starter