I finally received this month beauty box from Boxycharm, the items inside vary by box. I did notice we all received different items or lipstick shades which made it interesting to see what each subscriber received.  I was hoping to get Briogeo hair conditioner since I am currently using Briogeo Shampoo and is one my hair is happy with jejej.. 
Once I looked inside my box I got a different item that I was expecting, Farmacy is a great brand from what I have experience.  If I wasnt happy with my cleanser or the items I use to remove my makeup I would be excited to try this product.. Right now I have been hearing a lot of great things using balm to remove your makeup so this item sounds like a keeper. 
The items inside my box are the following and it adds up to $146 which shows is a pretty great box. 
Kat Von D Everlasting Lipstick – $20

IT Cosmetics Superhero Elastic Stretch Mascara – $24

PUR Midnight Masquerade Face Palette – $38

FARMACY 

Green Clean Makeup Meltaway Cleansing Balm with Echinacea GreenEnvy – $34

Lace A Peel Black Bamboo Charcoal Peel Off Mask – $30
Retail Value  – $146
I am not super excited with this month box since some items I wont be using which makes this box just ok.  But hopefully the next box is one I could enjoy.. If you want to learn more about this subscription here is a few tips to get you started.
BOXYCHARM is a beauty box subscription on which you receive FULL SIZE items which you can use for skin, hair, lips.  The best part is each box comes with items that are value up to $140.  The subscription can be cancel at any time and if you pay for the whole year you save an equivalent of 1 month = $11 save.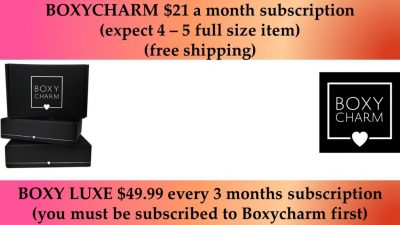 I also did a video unboxing the items received and compare them with a new beauty box which I enjoyed the items too.. Watch here