The first Boxy Luxe Beauty Box from Boxycharm and knowing it would get sold out very quickly I was surprise how easy it was to upgrade.  Getting this box was easy for me, I didnt wait for the link I just went to my account and clicked upgrade didnt know that would be there but hours later I saw how hard it was for many people to upgrade.  Seeing how that was easy for me now trying out the box might be an interesting experience.  At first I thought $50 for a beauty box when I had cancelled my subscription to Boxycharm almost a year ago due to only using one item per box made me think if I would regret getting this box. 
But once I opened it and I started to apply every item received, right away I knew this box was worth it.  I am not sure if the next box which is schedule to go on in December might be as good as this box but I am happy I upgraded and tried the first Boxycharm Boxy Luxe Box.  
I did a video sharing my unboxing while trying out most of the products received, I like how my make up came out but the only thing I wasnt too crazy about was the lipstick, it did feel like a tingling sensation for a while and the shade wasnt my thing either but other then than I am still enjoying the products and happy with this subscription. 
If you would like to know more or still have questions between both subscriptions I tried to share a little more how each one works. 
BOXYCHARM is a beauty box subscription on which you receive FULL SIZE items which you can use for skin, hair, lips.  The best part is each box comes with items that are value up to $140.  The subscription can be cancel at any time and if you pay for the whole year you save an equivalent of 1 month = $11 save.
BOXY LUXE  an addition to the original Boxycharm, this subscription will cost $49.99 and is every 3 months.  You will receive about 11 luxury items that the value is up to $300. In order to receive this box starting in September you must be subscribed to Boxycharm before September 1st since on that day a link will be sent for a Boxy Luxeupgrade.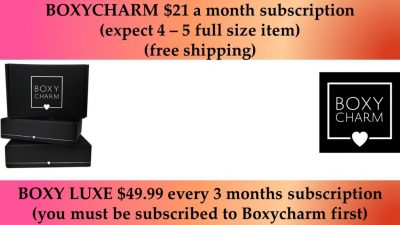 Tarte – $45
Juice Beauty – $80
Sol de Janeiro Panema Sunset Glow Oil – $35
Smashbox Photo Finish – $32
Alamar Brushes – $18
Vintage Headband – $4.99
Lipstick – $25
Luxie Foundation Brush – $38
Death Valley Dry Shampoo – $17
Palette – $35
Blush – $27
Video also created sharing unboxing and trying on products received, watch here