I love how cute this vase turned out and yet it was very simple to make. It shows that with a small budget for any activity, party, wedding, birthday or event it can still look pretty nice..
You only need the following:
favorite color ribbon
diamond sparkle mesh
hot glue gun with glue sticks
vase
flower
This can also be a cute birthday or mothers day present using their favorite color..
All you have to do is cut the ribbon and bling ribbon and hot glue the ribbon first and once it dries you can glue the bling ribbon right on top.  When ready to glue items to the vase remember that the glue is very hot and the ribbon is a very thing material so the heat of the glue can burn if not being careful. But if you have worked with the hot glue before then you got this… jeejj..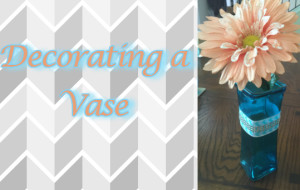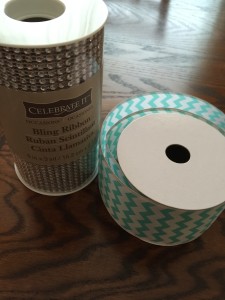 The bling ribbon I bought at Michael's using a coupon but you can also get it online if you prefer to buy at a higher quantity.  The ribbon I was able to get at old time pottery for a good deal, it was after Easter so the items were easy to find including the flower and vase.