My first impression on a very affordable foundation which you can purchase at most pharmacy, Walmart or at Target.  This was a hard foundation to find, basically because is fairly new and it does take time for most places to carry it. Well luckily I found it on my recent trip and was able to try it for my First Impression video.  What motivated me was simply the cushion technique, this method is very common in South Korea and knowing how great there skin looks is the same reason why we are seeing it more here in the US.  On my First Impression Tuesday I shared a demo and review as I tried this product on my oily/ acne prone skin.  You can see my overall impression on the video provided below.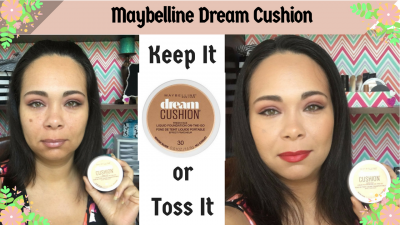 You can see the side by side a before and after picture, which shows my skin is very uneven, with some redness area and some acne scars/aged spots.  It is a great thing when you can find a foundation that could target those areas while making your makeup looking flawless.
This truly is a great foundation it is long wear, feels fresh and gives you that dewy look. If you are looking for an affordable, medium coverage, lightweight foundation then this could be your foundation.
I hope you enjoy my first impression on the video provided below and would truly appreciate you for watching.