Hello Everyone,
Today I want to share with you a simple DIY that can actually make any envelopes seem a lot more expensive.  Before I started this little project, I searched for some cute graduation announcements but saw that the final prices was very high once you added an envelope with liner, glossy paper and other things.  So, I decided to make my own and making it wasn't hard at all..
Here is what I did…  I order a graduation announcement for my oldest son from Walgreens photo cards, we chose the style called Bokeh Lights, it was similar to the school colors and it holds 6 pictures which is what we were looking for..   Once we finished our order we picked up the announcements almost a day later but they were ready the same day, so that was a plus…
Once, I was able to see the announcements, I started to search for a similar background on google.  I was looking for a color to match my son school colors which is Orange but also search for lights so it can go with the invitation and on this picture you can see this was the closest I found and it was approved by my family, jejej…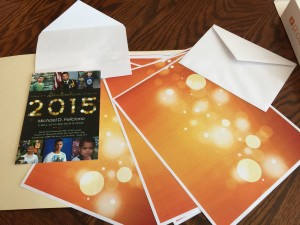 We printed a few pages with the background we found, then I took a white paper and made a template that fits inside the envelope, the template reaches a little pass half of the envelope, but if you desire the liner to reach full envelope that will be fine too..
Take your template and trace around your printed background (you can use scrapbook paper too)
Cut your new Template
Place inside your envelope, make sure you leave some room were the glue is at to seal envelope when closing, then fold
Once you cut template use the remaining paper (scraps) when adding the glue so it wont add glue to the envelope (is just to make sure any excess glue stays on the extra paper)
Spread some glue under the flap right below the line then place more glue around the flap
Raise the liner to the glued area and press making sure it sticks
Let glue set and you are done..
Here is your Final Envelope, Ready to be Mailed..
Now you can see announcement with envelope with and without liner.
Hope this was a good idea you can use on your future activity, party, special occasion, holiday or birthday.  This took less than 30 minutes to make and it was very much worth it…