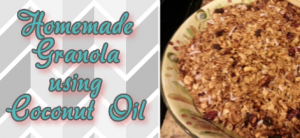 Sometimes as a mom I worry about our eating habits as a family.  I can't say I'm a very healthy eater but I could say as a family we are on our journey on getting there.  Today we have a lot of ways on gaining some knowledge about healthy eating and when I find tips or listen to what doctors, dietitian, and health food experts say, I hold on to it and make the transition to apply it on my daily lifestyle.  This recipe has ingredients that we need and what I love about it is that you can make it unique by adding extra ingredients as desired.  This recipe makes about 8 – 9 cups..  hope you enjoy it..
Ingredients for first bowl
4 1/2 cups old-fashioned oats (do not use quick oats)

1 cup pecans, walnuts or almonds chopped (i used pecans)

3/4 to 1 cup peanuts, chopped (optional)

3/4 to 1 cup sunflower seeds (optional) 
Ingredients for second bowl
3/4 cup packed light brown sugar

1/2 cup honey

1/4 cup coconut oil, melted

1/4 cup water

2 tsps cinnamon

1 tsp vanilla

1 tsp sea salt
Ingredients after baking
1/2 cup raisins (optional) 

1/2 cup dried cranberries (i used pomegranate juice infused)

1/2 cup unsweetened coconut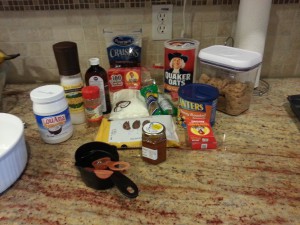 Starting with a simple tutorial on how you can make your own homemade granola which you can use to add as a healthy topping on your yogurt, cereal, as a snack. There is another way i like to enjoy my granola and that is on top of 2 scoops of ice cream jejeej..
So lets get started..
First, I like to place all of my ingredients, bowls and kitchen tools on the counter which it makes the process so much quicker and enjoyable for me.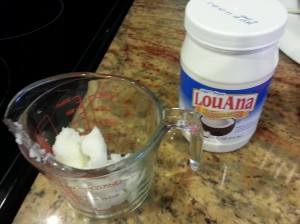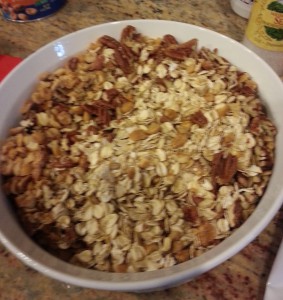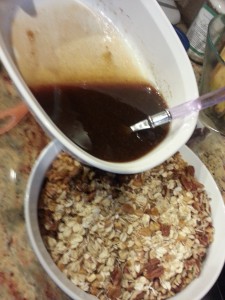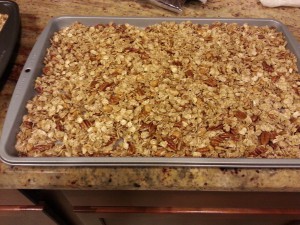 Right away I Preheat my oven to 250 degrees F.
While my oven is heating up, I place my coconut oil on a glass mixing bowl and heat up only a few seconds in the microwave until my oil is melted, but dont over heat.
Assemble our first bowl. 
Combine the oats, pecans/walnuts and or almonds, sunflower seeds and peanuts in a large bowl.
Assemble our second bowl. 
On our second bowl, combine brown sugar, honey, melted coconut oil, water, cinnamon, vanilla and salt. Pour the liquid mixture over the oat mix and stir until well combined.
Pour mixture onto two baking sheets and spread evenly making sure the mixture is not pile on. 

Bake for 40 minutes. During the first 20 minutes stir to make sure it bakes evenly. Raise the oven to 300 degrees F and continue to bake until golden brown, 20 minutes.

Pour the cooked oat mixture into a bowl and stir in remaining ingredients, the raisins, cranberries and coconut. Let cool.  I store mines in mason jars. 
Enjoy…