This is one of my favorites soup when I go to Olive Garden but now is one of my favorites soup that I make at home jejej.. Once you have all of your ingredients cut, shredded and measure it is pretty easy to make..
This may not be the healthiest soup since the original recipe found at olive garden nutrition has over 1400 mg of sodium, but it is one of our favorite soup and today I want to share a recipe with a few changes to make it a bit less sodium about 886 mg and at the same time is a fulfilling dish.  This recipe was enough for 5 – 6 servings making it around 229 calories based on My Fitness Pal (serving of 6).  We are trying to eat healthier but without compromising those things we enjoyed.  So, here is our recipe adapted from copycat.. Hope you enjoy it as much as we do..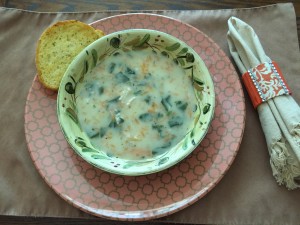 Olive Garden's Chicken and Gnocchi Soup
4 tablespoons butter (I used I cant believe is not butter)
2 cloves of garlic, minced
1/4 cup of flour
2 cups of milk (I used Almond Breeze Unsweetened Milk)
2 cups of water (or use another cup of milk instead of water)
1 1/2 – 2 1/2 cups of chicken broth depending on how thick you like your soup (i used swanson 33% less sodium)
1 cup shredded carrots
1 cup of shredded chicken
1 package gnocchi (16oz) (i used mini from Gia russia)
1/2 cup of Chopped fresh Spinach leaves
1/2 teaspoon salt
1/2 teaspoon thyme
1/2 teaspoon parsley
For the Chicken:
Before starting place your boneless chicken (usually I use 1 or 2) in a pot with a little bit of water until is no longer pink inside, then shred, measure and set aside. 
Lets Begin:
Melt your butter in a large pot. Add your garlic in the butter until tender but be careful that the garlic doesn't burn. 
Add the flour and whisk until butter and flour are well mixed.  Add your milk and water and continue whisking.
Add the carrots and chicken and let the mixture simmer until it starts to thicken.
Cook the gnocchi according to instructions stated in the package.  Strain and set aside.
By now your mixture should have thickened, now you can add chicken broth (you can add more if you want it a little lighter). let thickened.
add the gnocchi, spinach and seasoning. Simmer until heated through.  Add any additional pinch of salt if needed.. 
To make this meal complete you can add some salad and/or your favorite breadsticks..
Enjoy…
This recipe was adapted from CopyCat
Notes or healthier options:
The gnocchi we usually buy is the sweet potatoes but when I made my list to go food shopping the store only had regular potatoes.
You can also change the all purpose flour to wheat flour.
add more fresh spinach
add more shredded chicken