We were planning a Flash Theme Birthday party for our first son who turned 18 it was a bit hard to find items with the Flash Theme so we improvised as much as we could jejeje.. We chose the color yellow and red for our main decorations but had a pop of blue all throughout.
The surprised birthday party was outdoor and it was a pool party, it is so hot and humid that it was perfect to be at the pool.. Because of the humidity I thought of few items that would be ok to make for this weather so I knew marshmallow pops was perfect..
I love the pop of red and how simple it is to make.. Lets Begin…
Ingredients:
Big Marshmallows
Granulated Sugar
Water
Honey
Food Coloring
Pink Lemonade Powder (optional) (We used Country Time Pink Lemonade Drink Mix)
Place Water in a cup enough to coat each marshmallow about 1/2 cup to 3/4 of a cup, add honey to the water about 1/4 tsp and mix.  Once well combine. Place sugar in a zip lock bag and add a drop or 2 of red food coloring, seal bag mix well until sugar has desire color, add 1 1/2 tbs of pink lemonade drink mix to the sugar.  Get a small bowl and place a few napkins.  Now you are ready to make your sugar marshmallow pops.  
Take a marshmallow and place in the honey/water mixture, once is well coated place in bowl that has the napkins (this is needed to make sure any excess water/honey mixture stays in the napkin) add marshmallow to the sugar and make sure is well coated, once combined place marshmallow in baking sheet so it can fully dry.  Now you can continue with other marshmallows..  
I made half of the batch just sugar and the other half with the pink lemonade drink mix both options are really good… Enjoy… 
Hope you enjoyed this simple but cute tutorial on how to make marshmallow pops for any event….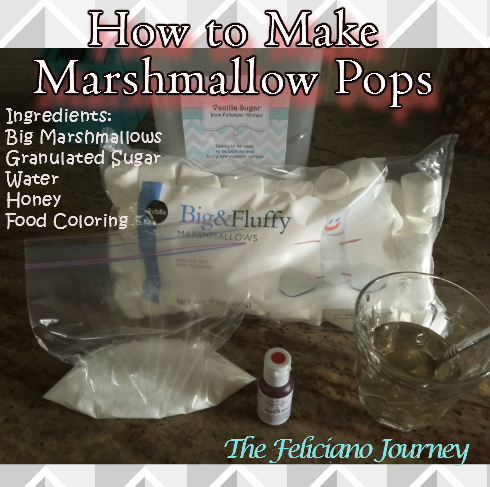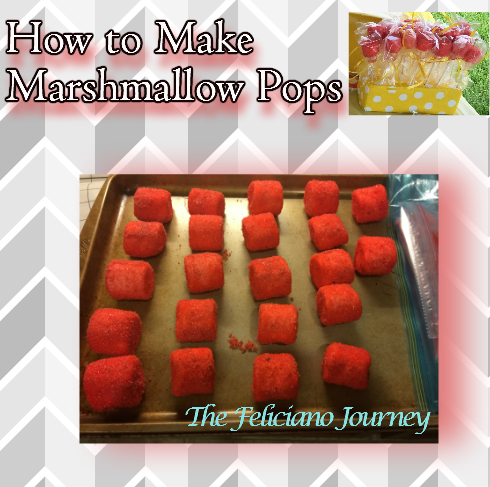 Here you can see how we prepared for the birthday…
Easy Almond Sugar Cookies – Flash (Superheroes Theme) 
Simple Water Bottle Labels – The Flash (Superhero Birthday) Party
Birthday Invitation – The Flash (Superheroes Birthday) Party
Easy Almond Sugar Cookies – Flash Theme (part 2)
thank you for stopping by… your comments will be appreciated…