So excited to see spoilers revealed for NOVEMBER Ipsy Glam Bag X.  
If you are new to Ipsy Beauty Bags, here is what you can expect.  Ipsy glam bag X offers 8 full-size items and quarterly upgrades for $58 (quarterly).  if you like the spoilers you see that are expected (which some will vary) you can join by clicking here.     
Now back to the spoilers for Ipsy NOVEMBER Glam Bag X, below you will see some of the BECKY G favorites but keep in mind what you might receive will be based on your beauty quiz selection.  
November 2022 Glam Bag Plus Bag X
November 2022 Glam Bag X Spoilers
Ipsters who signed up for a Glam Bag X in November could receive the following:
ARTIST COUTURE Love Sprung Palette
TRESLÚCE BEAUTY I Am Shadow Palette
TARTE Maracuja Juicy Lipstick
HERBIVORE BOTANICALS Pink Cloud Soft Moisture Cream
ANASTASIA BEVERLY HILLS Loose Setting Powder
MILK MAKEUP Rise Mascara
TOO FACED Sweet Peach Palette
BYROE Rose Tea Eye Cream
KENIA ONTIVEROS BEAUTY Ultra Matte Liquid Lipstick
LIVING PROOF Triple Bond Complex
TULA SKINCARE Claydate Detoxing & Toning Face Mask Stick
ELEMIS Soothing Apricot Toner
STILA One Step Correct Skin Tone Correcting and Brightening Primer
F.A.R.A.H Skincare Brush Set
TOWER 28 SOS Daily Rescue Facial Spray
PINROSE Secret Genius Eau de Parfum
TRESLÚCE BEAUTY Lucete Highlighter Palette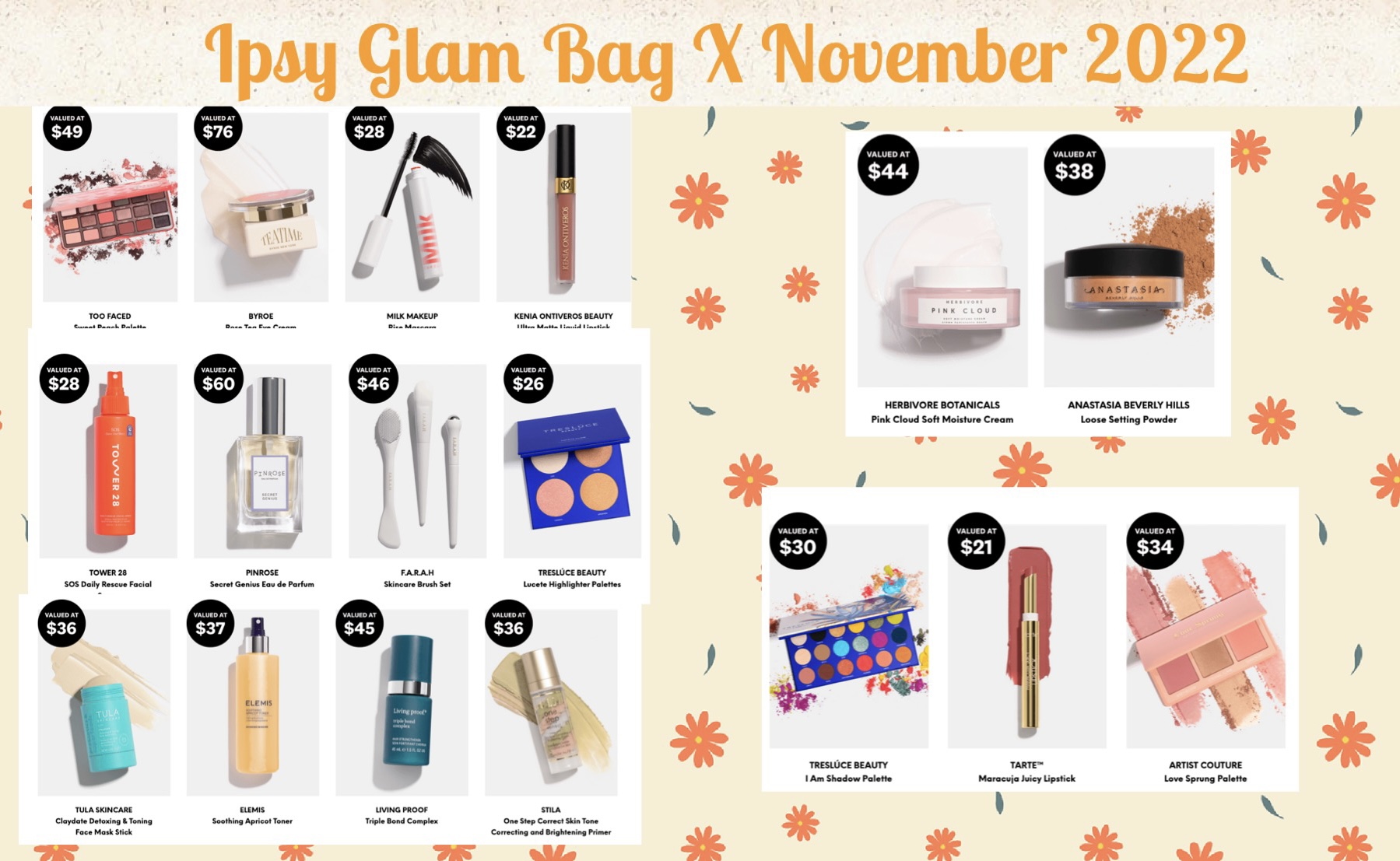 What is the Cost of the Box?
Ipsy has 3 subscription boxes, the Glam Bag cost $13 a month (1 Choice Item)
Ipsy Glam Bag Plus cost is $28 a month (Value $120+) 5 Full-Size Products (3 Choice Items)
Ipsy Glam Bag X cost is $58 Quarterly (Value $350+) 7-8 Full-Size Products (3 Choice Item) 
Every 3 months Glam Bag X will replace your monthly Glam Bag  (Feb, May, Aug, Nov) 
How do I subscribe to Ipsy?
You can click here to join, select the subscription box you want to join.  In some cases, you might start by joining the waitlist. 
What is the shipping price?
The shipping cost for all 3 subscriptions is FREE