Ipsy is a beauty box monthly subscription (no obligation since you can cancel any month at any time) this feature is very important to me because I could cancel any upcoming bags if I dont like the sample items I am getting..
Ipsy is a monthly subscription which you receive 5 items, some are sample sizes while 1 or 2 can be regular size in addition you will get a makeup beauty bag.
If you are interested on signing up to get your first beauty bag you can do so right here
Well, lets get started..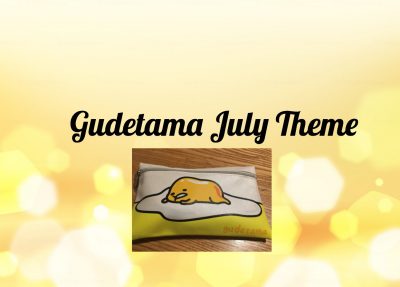 This month theme seem odd or just not what you would expect from a beauty bag that being said it does have to do with everyone in particular.  Gudetama which is the yellow fellow you see in the bag is a very well know mascot which is very lazy and laid back.  Ipsy share how life can get very hectic, busy, not sleeping much or just so much to do in very little time… We tend to get very preocuppied and sometimes we forget to take time off, to just relax and laid back well that is the purpose of this bag is to take a vow for us to take some time off and relax.  That could mean, watch a movie, eat out with your friends or family, have a few laughs while eating ice cream, playing in the sand, jumping in the pool, or taking a nice long drive with your love ones.
What ever you decide to do, just make those few hours memorable, relax, enjoy the summer and of course take some pictures jejej..
Well, now to the items I received, before I share the item I got, I want to point out Ipsy sends different items to each subscribers and that goes based on your profile, which I share my skin tone, hair, skin issues, favorite items and other beauty questions. Based on that information is the reason as to what I receive varies from other people which makes this so exciting to see what other people received..
You can click on the video which I share Ipsy July Subscription Box Unbagging.
If you would like to watch it click above or watch it on youtube

If you liked the video, click here to Subscribe as I post newer videos.
My Review:
Since I got this bag a little less than a week ago I could only share what I think so far.
The first item I tried was the Eye Cream by 111Skin – I have been on a quest to find that great eye cream specially on my sensitive skin.  I have tried some samples as well as purchased some recommended and they all gave me some type of reaction to my skin.  This product I tried for a few times and so far so good..
BellaPierre Cosmetics – Banana Setting Powder, This product is one I have been using since I received the bag, I love the color, is very light and it applies nicely.  I use it around the areas I want to highlight and it goes well on top of my concealer..
Ofra Cosmetics – Gold Rush Eyeshadow – wow the color seems bland as soon as you look at it but once you do the swatch and apply it you become in love with it.. Is very pigmented, it applies well and color is very rich..
Iby Beauty – Crease Brush – this brush is very dense, the bristles are very short making it a little harder to blend.  I feel the best way to use this brush is more of a stamping motion since blending is not easy or gentle enough with this brush.
Tarte Cosmetics – Rainforest of the Sea cleansing gel- this product is one I really want to try but cleansing gel dont always work well on my sensitive acne prone skin since I had some type of reaction from a new foundation I used Im waiting for my face to heal before trying this product.