So excited to see the Pop Up is open for the September Ipsy store.  If you are new to Ipsy Beauty Bags, here is what you can expect.  Ipsy has the Pop up store with products starting at $5 and some bundles up to $20 but the store is open for 72 hours only. 
If you would like to see what's available it will be shown below.   New to Ipsy or would like to subscribe? you can join by clicking here.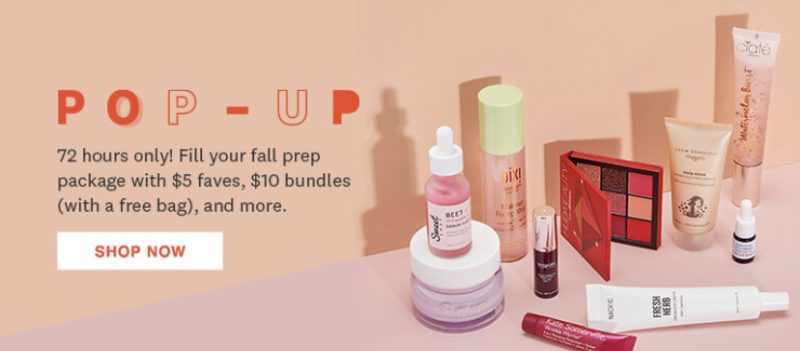 Now back to the spoilers for Ipsy September Pop Up, below you will see the complete list
Skincare
MAC & ELIZABETH MOTT
Smooth Complexion Duo
BELIF & FIRST AID BEAUTY
Skincare Heroes
NEOGEN DERMALOGY & PAPA RECIPE
Cleansing Duo
I DEW CARE & FEEL
Mask Must Haves
SOO AE & PAPA RECIPE
Brighten Up Set
DERMA E
Exfoliate & Tone Duo
FIRST AID BEAUTY & HEY HONEY
Glow Up Duo
SAND & SKY & GRACE & STELLA
Multi-Masking Duo
IT COSMETICS & PLAYLIST
Hydrated Duo
IPSY
Fresh Skin Trio
IPSY
AM/PM Skin Faves
IPSY
Nourished Skin Trio
IPSY
Skincare Essentials
IPSY
Healthy Skin Picks
IPSY
Hydration Trio
IPSY
Plumping & Purifying Trio
IPSY
Fruit & Veggie Trio
IPSY
Skincare Prep Bundle
IPSY
Nighttime Skincare Bundle
Makeup
TARTE & MORPHE
Concealer Duo
DOUCCE COSMETICS & ARACELI BEAUTY
Eye Essentials Duo
BUXOM & JULES SMITH
Love Your Lips Duo
LUXIE & NAKED COSMETICS
Rose Gold Duo
CIATÉ LONDON & LOVECRAFT BEAUTY
Blushing Duo
INC.REDIBLE & BELLE EN ARGENT
Fave Lip Duo
ROYAL & LANGNICKEL & KALEIDO COSMETICS
Catch the Light Duo
MAKE UP FOR EVER & CIATE LONDON
Glowy Skin Duo
IPSY
Eye Essentials
IPSY
Sultry Eye Trio
IPSY
Close-Up Worthy Eye Kit
IPSY
Staycation Trio
IPSY
Flushed & Radiant Trio
IPSY
Makeup Bag Must-Haves
IPSY
Full Face Kit
Haircare
CHRISTOPHE ROBIN & RATED GREEN
Scalp Care Duo
R+CO & TRISSOLA
Healthy Hair Duo
VERB
Moisture & Texture Duo
IPSY
Great Hair Day Bundle
Body & Nails
GOLDFADEN MD & PRETTY WOMAN
Gorgeous Hands Duo
SUNDAYS & GRACE & STELLA
Mini Mani Duo
PRETTY WOMAN & TRUST FUND
Fall Nail Duo
NANETTE LEPORE & THE COFFEE SCRUB
Luxe Body Duo
COLOR CLUB & GRACE & STELLA
Vibrant Mani Duo
COLOR CLUB & DECO MIAMI
Sugar & Spice Nail Duo
IPSY
Softness Allover Trio
IPSY
Must-Have Mani Set
What is the Cost of the Box?
Ipsy has 3 subscription boxes, the Glam Bag cost $12 a month
Ipsy Glam Bag Plus cost is $25 a month (Value $120+) 5 Full-Size Products (1 Choice Item)
Ipsy Glam Bag Ultimate cost is $50 a month (Value $250+) 8 Full-Size & 4 deluxe size sample Products (1 Choice Item)
How do I subscribe to Ipsy?
You can click here to join, select the subscription box you want to join.  In some cases, you might start by joining the waitlist. 
What is the shipping price?
The shipping cost for all 3 subscriptions are FREE