In a search of something new is what took me to Ulta Skincare section, after going over my skin issues with an employee the item recommended for my Oily, Sensitive, Acne Prone Skin was Mamonde Petal Purifying Rose Bubble Mask.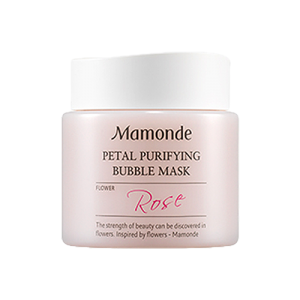 Finding a great skincare item that shows visible results on the first use is very hard to see at least on my type of skin.  Dealing with Oily, Acne, Aged Spots while having Sensitive skin can be a challenge but today I will share my review on a great Korean skincare product which is Mamonde Petal Purifying Rose Bubble Mask. This product claims surely have been met is why I am ready to try more of there products. Lets first look why rose is key on any skincare routine and why this product won me over. 
What are the benefits Rose Provides for the Skin?
Anti-bacterial benefits – helps fight bacteria that causes acne (Rose Water Benefit – helps with scars )

Antioxidants – helps fight free radicals that causes aging, dull skin (Rose Water Benefit – hydrates & moisturize the skin)

Vitamin C Retinol – helps treat sign of aging (Rosehip Oil Benefit – can help reduce age spots)

Anti-inflammatory – helps soothe skin redness (Rose Water & Oil Benefit – relieves redness on skin)

Hydrates – helps soothe skin that is dry and irritated (Rose Water Benefit – great for dry skin & moisturizer)

Astringent mild benefits – helps with excess oil and pores (Rose Water Benefit – unclogged pores, eliminates oil)

Removes Makeup – helps eliminate makeup while keeping skin clean (Rose Water Benefit – unclogged pores, eliminates impurities)

Reduce Puffiness – helps eliminate dark circles under the eye (Rose Water Benefit – can reduce puffiness)
Is Rose Water good for all type of skin?
Rose Water can be used on all skin type from dry, to combination, to oily, sensitive, with acne and mature skin. The results can vary according to the ingredients added based on your skin type; for example dry skin can add coconut oil with the rose water while sensitive skin can add ACV Apple Cider Vinegar to the rose water.  Dealing with Sensitive, Acne, Dark Spots and Oily skin has taken longer for me to find the perfect skincare routine, in the process I found that Rose Water like Rose Oil has improved my skin greatly that is why I love products that offers rose as an ingredient.
Who is Mamonde?
Sharing why Roses can be beneficial for your skin is why I decided to try this product.  The company Mamonde is located in Korea which makes this mask a Korean Skincare product.  The company did research on a few flowers, which are the ones you can find toner, mask, cleansers, oils and much more offered today.  Back in 2003, the company introduced there second skincare item called Total Solution Cream, the product was awarded 16 times by Korea's Hit Prize and made 10 billions in sales in 3 years.  Visiting Mamonde site you can learn more about there concept there name (Ma = My + Monde = World), Core Value, Flower Science and more.  Learning a few things about this company really got me excited to try there product.
Mamonde Petal Purifying Bubble Rose Mask Claims:
An airy chiffon texture wash-off mask containing real Rose petals to soothe and moisturize.  One minute after application, experience cushiony micro bubbles that help clarify and purify the skin.  Real rose petals are contained directly in the formula.
The soft formula turns into a moist cream upon application to create fluffy bubbles that form rapidly over the skin.
Instructions on how to apply the mask
After cleansing on dry skin apply a thick layer of the Petal Purifying Bubble Mask over your face.  Avoid eyes and lip area.

Right away you will see micro bubbles forming.

Leave mask on for 1 minute.

Apply lukewarm water to remove the mask, message until all the product has been removed.

Pat dry and enjoy.
Before / After Comparison (picture above you can see top is before and the bottom pictures are after applying the mask) Dark and dull skin has transformed into bright, clear, and vibrant looking skin 
Tip recommended by the company:
Use in the morning when you want your makeup to look better.

Try it as a morning mask instead of cleansing
Instruction for storage
Please use while your hands and face are dry to protect the formula. It is recommended to use a spatula.

After using the product, close the inner cap tightly to prevent contact with air, then close the outer lid for storage.

Do not sift through the formula and only take as much as your need.
My Overall Impression after 5 time use
Before I share my review is good to know my skin condition before trying the mask. In my teen years my skin was pretty smooth no complications at all but once I had my second child is when I started with adult acne. Since then it has been many years that I search to improve my skin I tried most products on TV, from the drugstore and items recommended by my dermatologist and nothing worked. Pinterest was a life saver with all of the great diy for my type of skin some worked others didn't. Fast forward to 2 months ago my skin has improved but I still struggle with dark spots redness a little dullndss and occasional acne at least is not severe. The bubble mask claims to help with soothing, moisturizing while helping improve your skin. Is not meant to tackle acne which I notice didn't do much on some acne I got but it did help bring down the redness around it. 
Before applying the mask you can see my skin was uneven redness and a bit dull. After applying the mask for about 2-3 minutes the after results were noticeable from just one try. Benefits I experienced using this mask are;
Quick to use – takes just one minute 




Results seen on your first use 




Help with redness 




Help with dullness 




You can see the petals in the mask 




Gives a clean soft feel 




Can be use as a mask or as a cleanser 
Overall, I notice this product has helped the visibility of my skin, the redness and unevenness is less visible.  It tackles what it claims and I could see my skin is looking so much better.  The bubble mask only needs one minute during the time using it I experienced that it tackles what it claims. Not every skin is the same speaking from someone who has very sensitive skin, in my case I seen improvement but your case can give you different results, if you try it, start out with a small part and for just a minute and see how it works for you.  The chiffon like bubbles is something that I notice every time I would apply the mask but the intensity of the bubbles did vary and in most cases I wouldnt see the bubble as define as other times.
Where can you purchase MAMONDE Petal Purifying Bubble Mask –
This product has been introduced to the United States for a short amount of time luckily we can find it at places like Ulta.  The price shown online and in the store is $25 for the Bubble mask. 
Ulta Mamonde display:
First time use – a closer look at my problem areas: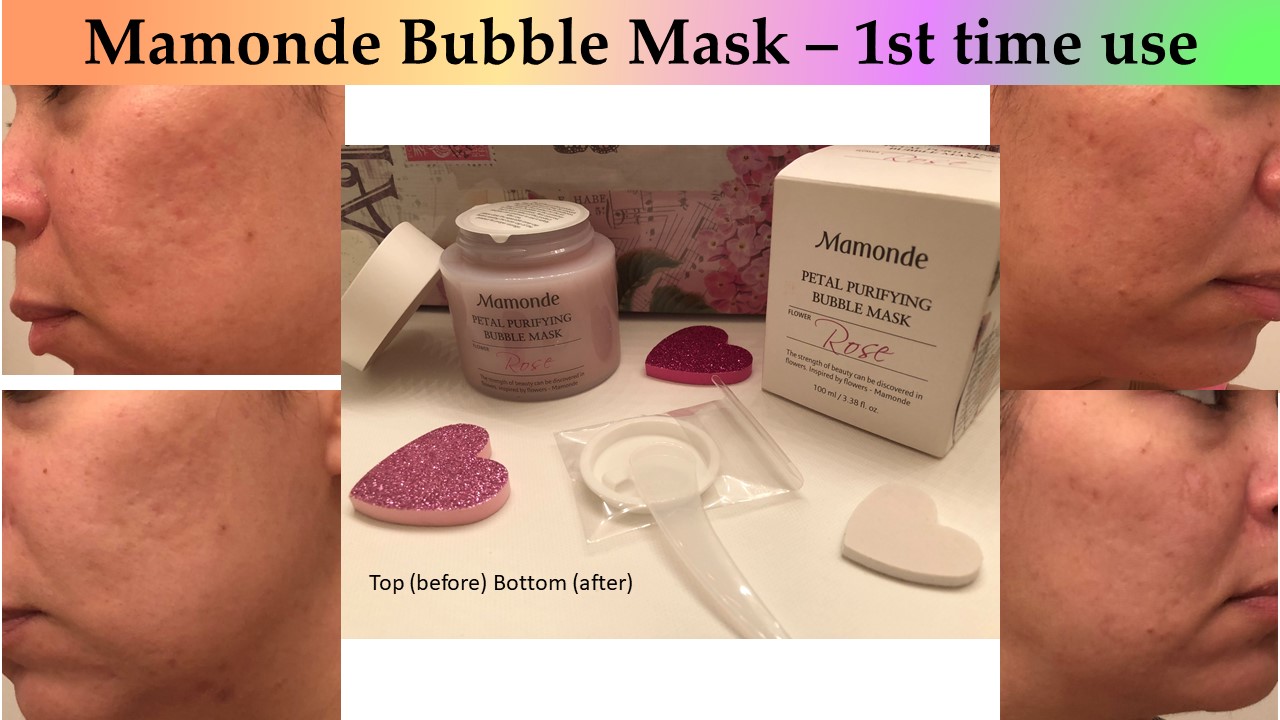 How I look before and after applying the mask for the Second time: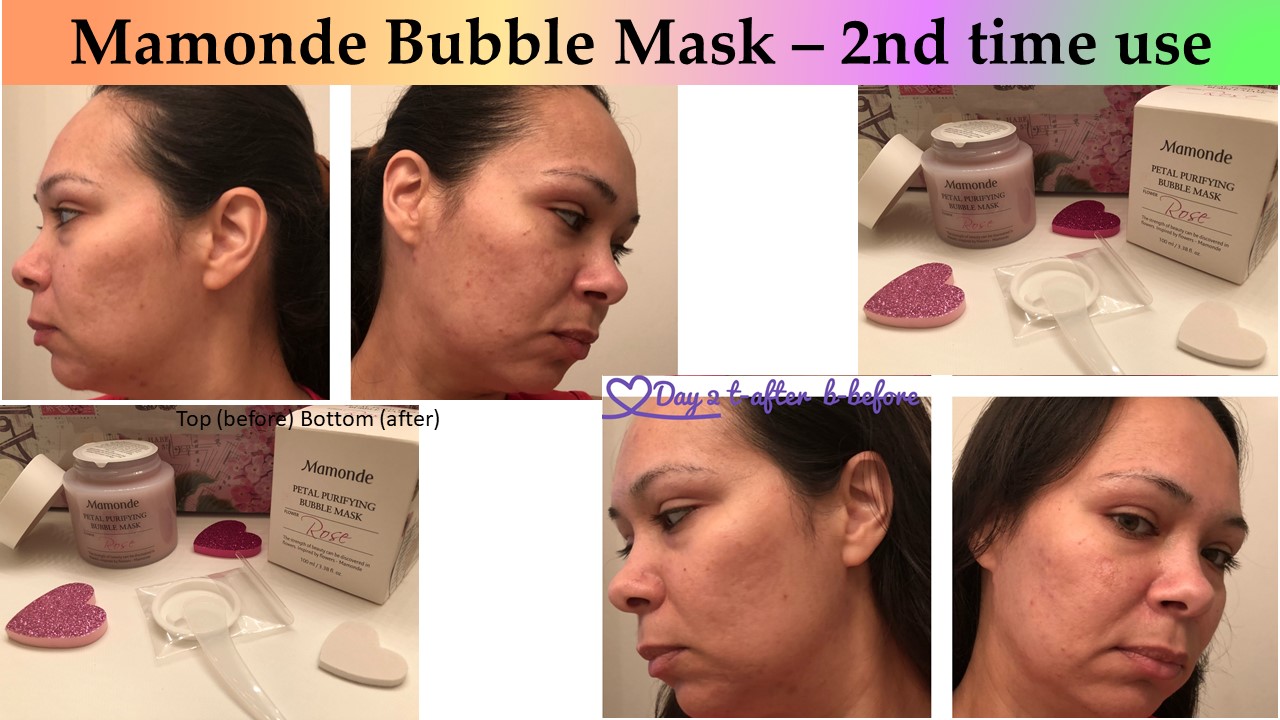 I truly hope you can find the products that can help improve your skin, This product has been a keeper it has been more then 3 months since I purchased it and I am happy with the results I am getting.  I am so happy with this company that I went back to purchase another item that will work great for my type of skin, hopefully soon I could share a review about that product once I start using it.
If you want to see a video as I review this products you can do see it by watching here