Shop Hush is an app and site that is a must to have (well that is if you would like to purchase some dupe makeup such as eyeshadow palettes at a very reasonable price).  A few month ago I purchased a dupe for the Huda Beauty Desert Dusk, to be honest is a palette I wouldnt mind getting but for $65 I think that is too much..
How can you purchase any of the palettes?
You can purchase this item at Sephora (link provided) Huda Beauty Desert Dusk Eyeshadow Palette – $65
You can purchase this item at Shop Hush (link provided) Aphrodite Bad Habit Eyeshadow Palette – $10
Instead I purchased a dupe for this palette for just $10 and it came with a mirror, the quality and how nice this palette look really surprised me and is why I am sharing about a new palette that will be available this Friday but only in the app..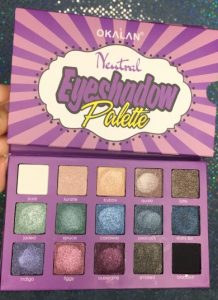 On my first impression I purchased a bright eyeshadow palette that most colors come with a touch of shimmer this cutie is called
The cost for this palette is $10
What this product offers:
Found exclusively in this palette, Okalan's most vibrant out-of-this-world shades yet will stoke your deep love affair with sparkle. Each of the 15 colors are dazzlingly, but with a super-refined, incredibly sophisticated feel (and not a single speck of chunky glitter). Laced with microfine bits of iridescent sparkle and lush 3D metallics, these shadows create a gorgeous, diamond-like effect. Includes 2 matte shades and 13 shimmery shades.
My Impression:
At first I thought the colors might be too dark or it wouldnt blend nicely since most of the shades are shimmer after trying out the first color I notice this is a very nice palette.  The colors are out there meaning is not what you normally get on a day to day makeup look (like warm tones) but the colors are really pretty and it ranges from warm to cool.. I did apply a matte tan and brown eyeshadow as my base just to warm up the eyes but everything else I used the colors on this palette.
So far I am happy with this palette and I know I will be playing more with the rest of the shades and to be honest is not bad that it only cost $10 total…
Tutorial & Swatch Video
You can watch a complete first impression and a quick tutorial as I create a makeup look using this palette, you can do so by clicking here