Norvina Pro Pigment Palette Vol. 1- 3
Want to Save more?? We all do jejej.. Here are a few tips that are very helpful. 
Ulta Hacks – Over 30 Tips & Tricks (ways to save) Here
Need Manufacturer Coupon? Click Here to see what is currently Available 
If new to Ulta, sign up and we both get $10 off coupon (link here)
When Shopping at Ulta, Sign up to Shopkick to earn points for the amount spent.  If you are interested in checking out Shopkick app, click here, use my code (YAY878036) to earn 250 points and start scanning..
Norvina Pro Pigment Eyeshadow is releasing not 1 but 3 volume palettes.  All 3 Volume are so colorful and a bit unique but they come with a higher price tag of $60 each. 
Anastasia Beverly Hills previous palettes are some I enjoy colors, perfect for everyday use, and pigmentation. So, seeing the new palette releases has me wanting to buy at least 1 but which one? Below I will share each volume with the shades and release date.  
Volume 1 – Price $60 available at Ulta & Sephora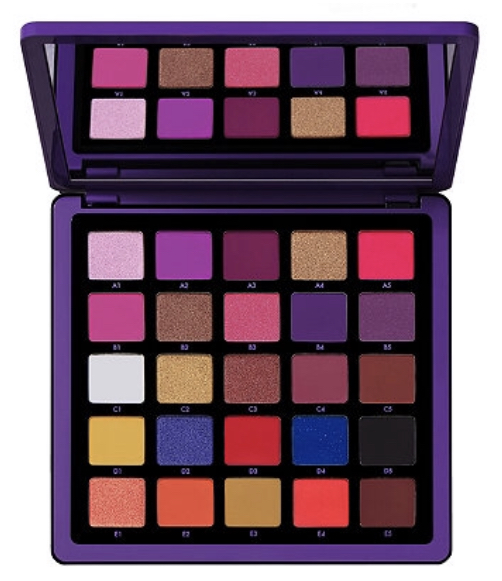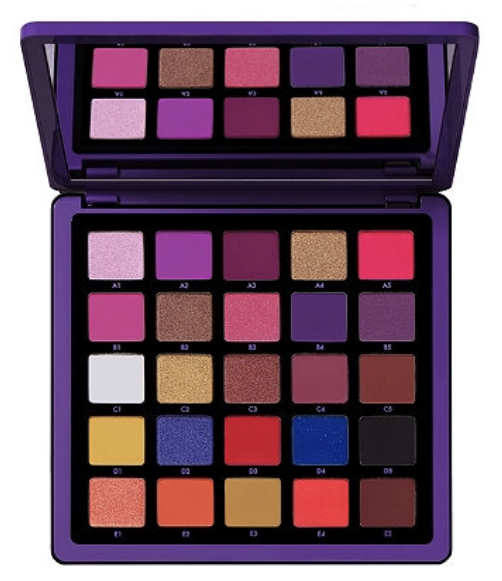 Why You'll Love It:
Contains 25 professional pigments in oversized pans to offer limitless possibilities and endless amounts of looks
Includes highly pigmented iconic colors, daring brights, and vibrant hues
Perfect for the artist who wants to have the ultimate color collection and for the makeup fanatic who is ready to take their makeup creativity to the next level
Advanced artistry palette housed inside a beautiful square-cut purple case with gold accents and the ABH x Norvina logo on the outside and an extra-large mirror on the inside
Formulated without gluten, parabens or phthalates
Dermatologist tested and noncomedogenic
Cruelty-free and vegan
Shades:
A1 (metallic lilac with a cool pink reflect)
A2 (matte mid-tone vivid violet)
A3 (matte rich plum)
A4 (metallic golden copper)
A5 (matte vibrant warm candy pink)
B1 (matte vivid lilac)
B2 (metallic rosy bronze with gold sparkles)
B3 (metallic platinum rose with gold sparkles)
B4 (matte deep cool violet)
B5 (matte deep cool plum)
C1 (matte bright white)
C2 (metallic yellow gold)
C3 (metallic deep rose gold with gold sparkles)
C4 (matte mauve plum)
C5 (matte burnt sienna brown)
D1 (matte primary yellow)
D2 (shimmering blue purple)
D3 (matte primary red)
D4 (sparkling matte primary blue with blue sparkles)
D5 (matte black)
E1 (shimmering peach gold)
E2 (matte pastel orange)
E3 (matte ochre yellow)
E4 (matte neon orange)
E5 (matte oxblood)
Volume 2 – Price $60 available at Sephora (release date 9/26)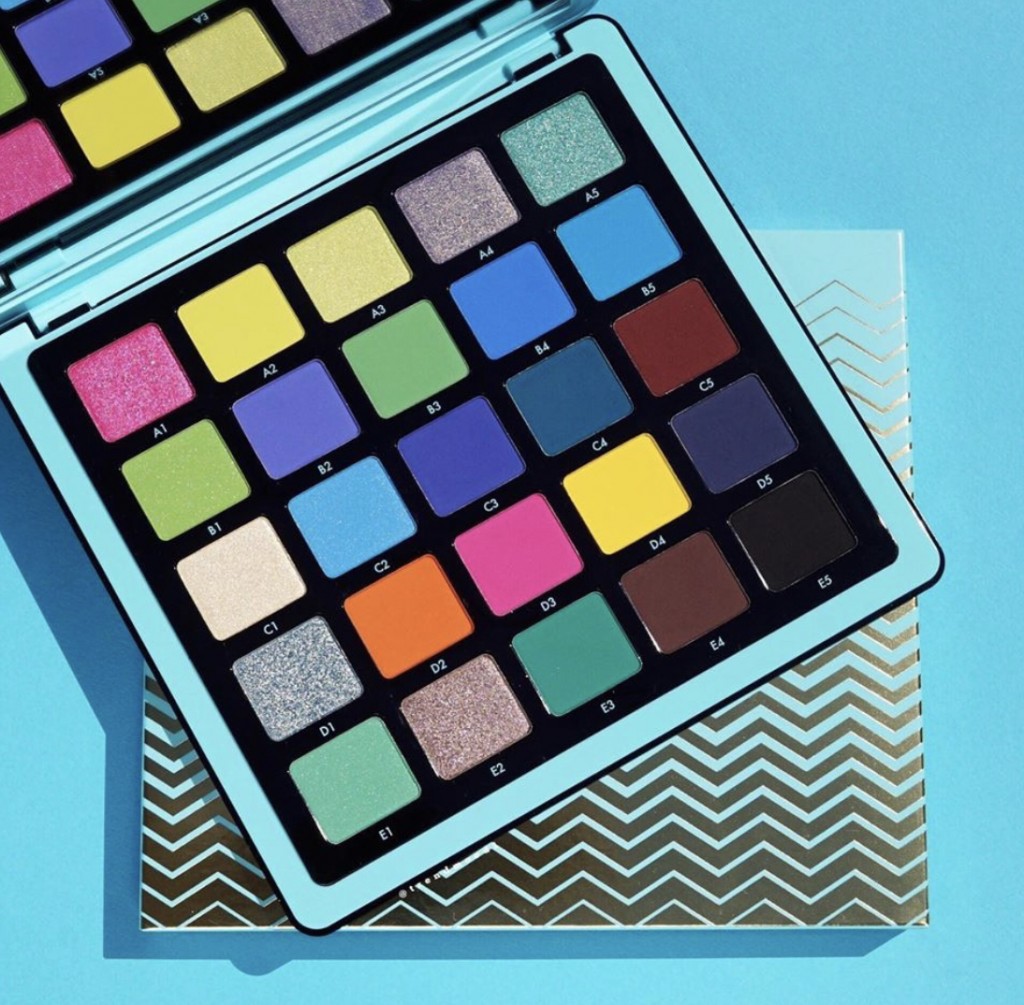 A1 (shimmer hot pink),
A2 (matte lime yellow),
A3 (shimmer lime),
A4 (shimmer periwinkle),
A5 (shimmer teal),
B1 (matte green with large sparkle),
B2 (matte deep periwinkle blue),
B3 (matte jade green),
B4 (matte ultramarine blue),
B5 (matte azure blue),
C1 (multi-shade reflective shimmer champagne),
C2 (matte sky blue with sparkle),
C3 (matte cobalt blue),
C4 (matte Prussian blue),
C5 (matte oxblood),
D1 (multi-reflective green silver),
D2 (matte bold orange),
D3 (matte hot pink),
D4 (matte yellow with large sparkle),
D5 (matte navy blue),
E1 (matte emerald green with large sparkle),
E2 (shimmering amethyst),
E3(matte teal green),
E4 (matte red brown),
E5 (matte black)
(Picture from ABH – instagram)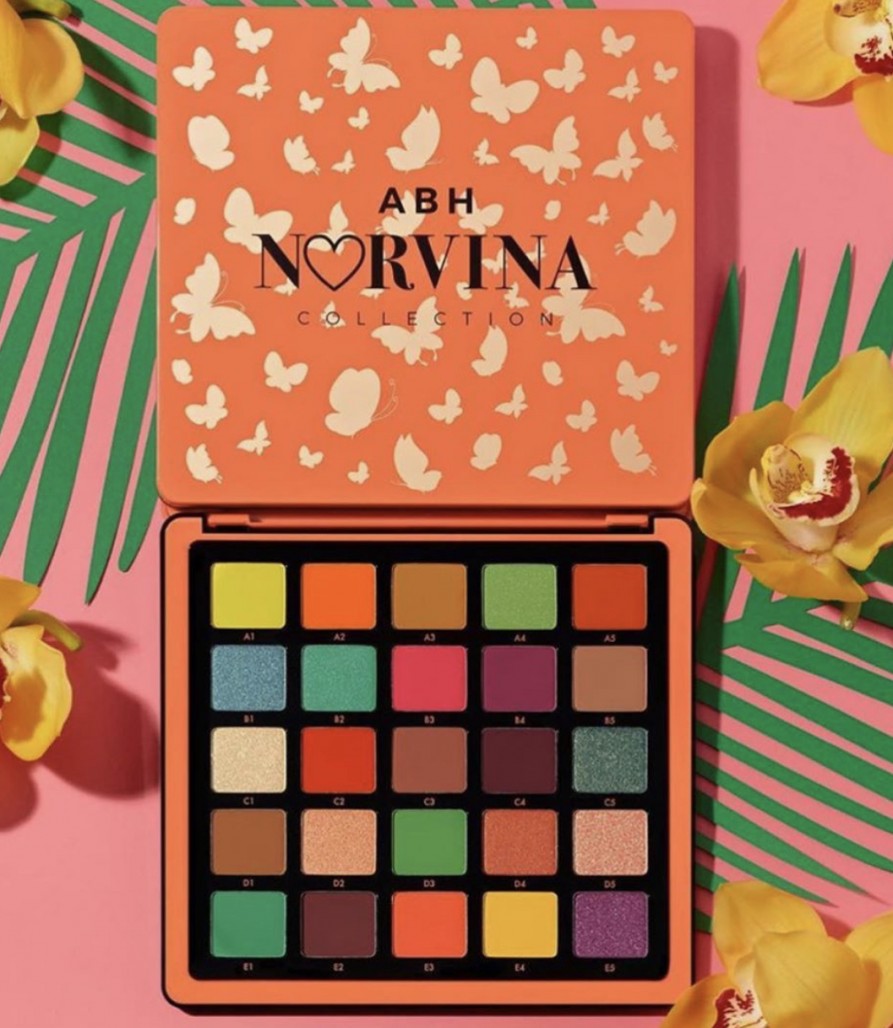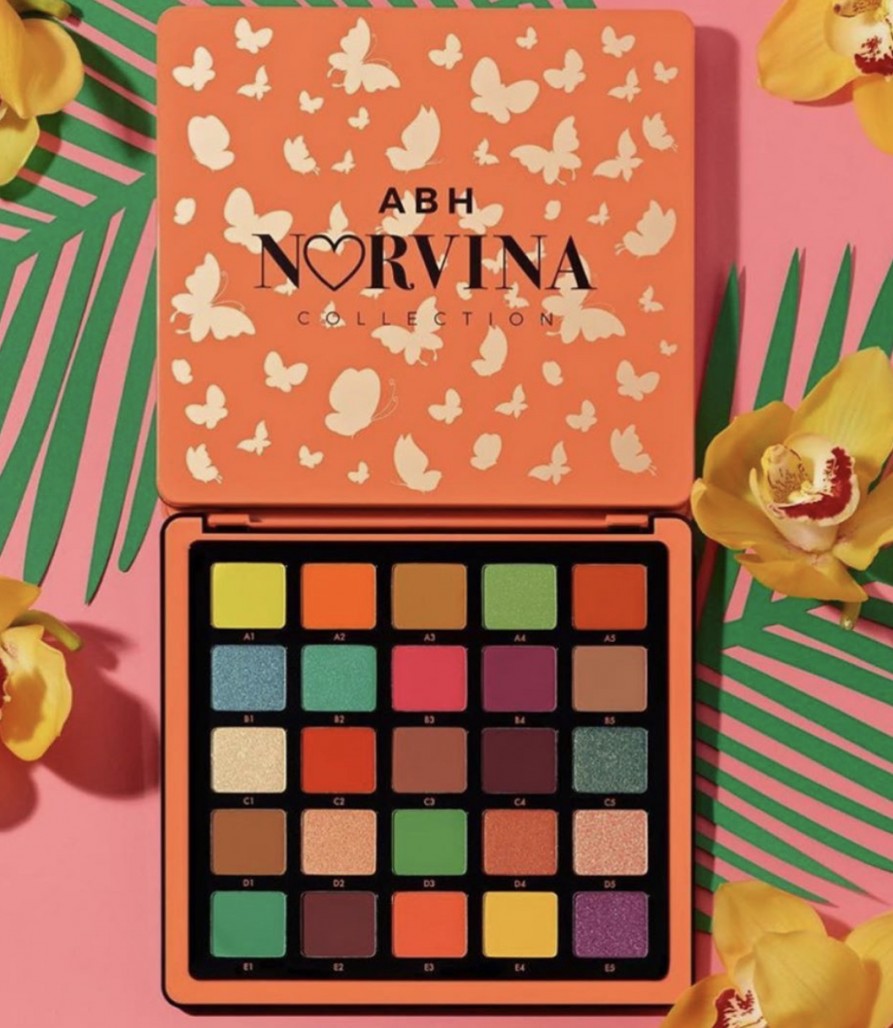 If you could pick just one which one would it be? They all seem so pretty and unique and is hard to pick just one but I see 2 palettes that I might use more since I love to use more warm shades.  So Volume 1 seems like my first choice while Volume 3 has the warm and cool tones I might use too..