Blondies are one of those sweet-desserts that I enjoy, mainly because it is not chocolate and the combination of a cake-brownie like consistency is what makes it like I'm eating 2 in 1 dessert.  Dont get me wrong I love chocolate but here is a good dessert that taste just as good without feeling guilty when eating chocolate..
I love making desserts specially new recipes or tweaking some recipes that I all ready have, there should always be room for dessert and why not try to make them at home.  While making this recipe I had my boys help me, I usually ask for there opinions and ingredients they would like on this recipe.  So, since we feel like fall is near why not make an apple type of blondie dessert.
This dessert is like a crumbly type of dessert but it does hold together.  Now that I am trying to eat healthier and count my calories I looked for ways to make it a bit lighter.  Since I have been making my pancakes with Oats blended into a fine texture why not try it on this recipe and that is what we did.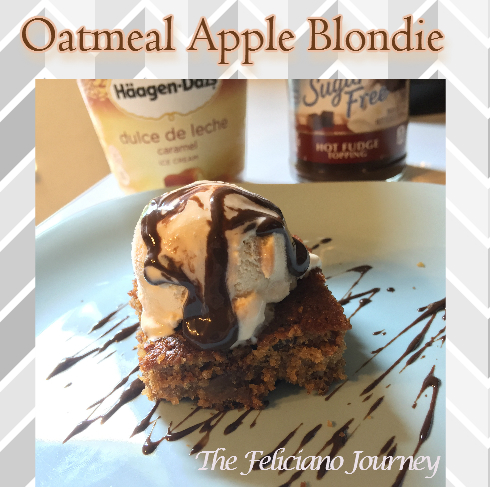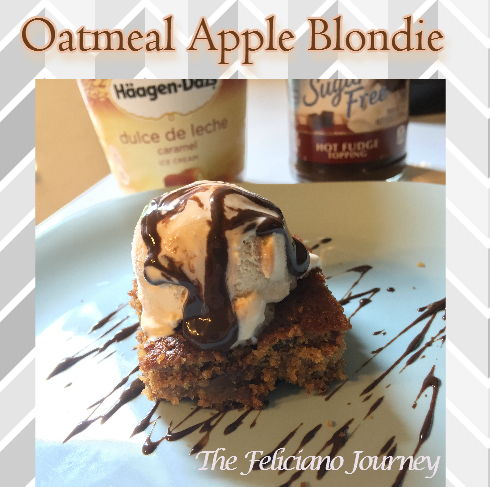 They came out really good but a little crumbly but overall the texture and combination of apples, cinnamon, oatmeal and butterscotch was perfect.  I drizzle a little bit of Hot Fudge sugar free topping and a small scoop of my favorite Haagen Dazs Dulce de Leche ice cream.  But any ice cream flavor such as vanilla would be also a delight.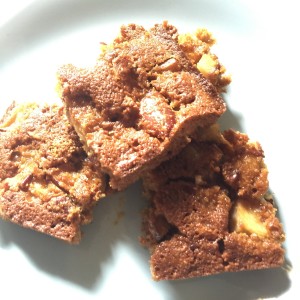 You can see pieces of the apple and the bites are a perfect size for a person like me that is trying to enjoy what I love best without feeling guilty.
[amd-yrecipe-recipe:12]