Pioneer Woman Chocolate Cake with Mascarpone Almond Filling and Chocolate Frosting
The first time I tried a recipe using mascarpone cheese was watching a show from Tyler Florence making the ultimate cheesecake which was his first recipe.  Then I tried the Tiramisu Italiano that has mascarpone cheese, when he said ultimate and shared how he did it I knew this was one recipe I needed to try. Till this day both are my favorite recipes and I believe that ingredient was key. 
Today I was thinking on making a chocolate cake the only challenge is making a cake that my family will enjoy since they dont like chocolate cake. 
Right away I thought of the mascarpone taste and how well it can balance this recipe. I will be honest I never done a mascarpone filling so checking to see if it was an option would be a challenge. To my surprise there was so many great recipes and they seem so easy with just a few ingredients.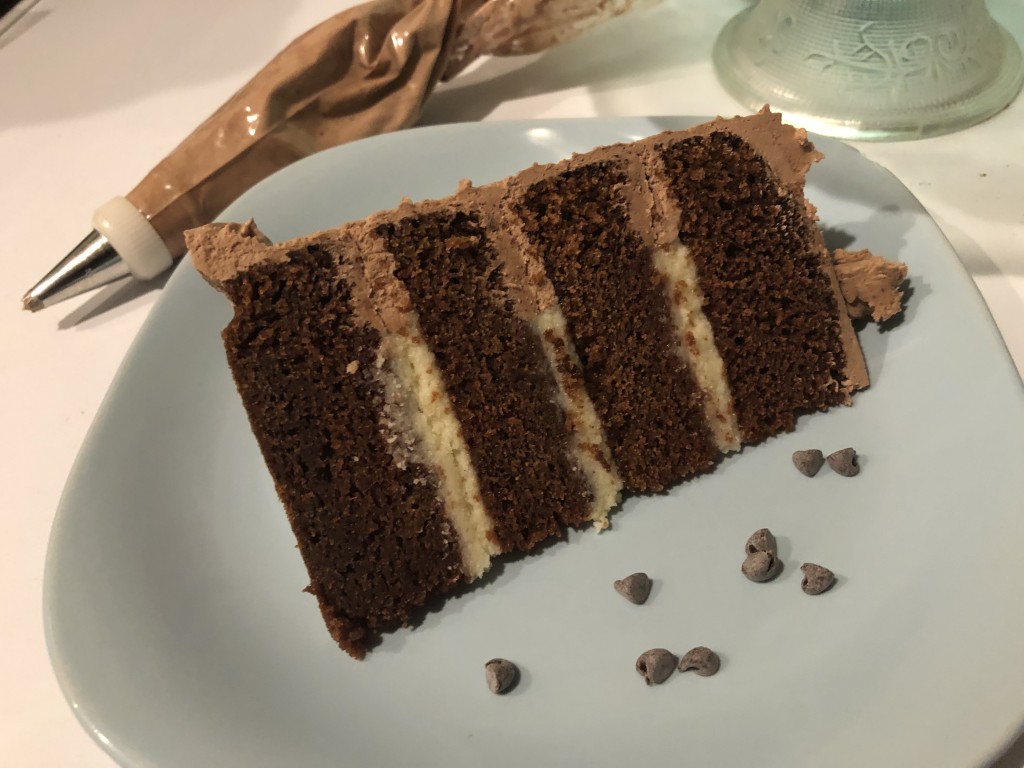 You probably have a favorite chocolate cake recipe and might have a must have filling. I have one too but to honest there are so many creative recipes with modern flavors that I wanted to make something different while pleasing everyone in my family. 
Trying out a new cake and filling recipe is enough to making it modern but for the frosting I wanted to use a simple recipe I had. This recipe taste pretty good using rich chocolate or basic morsels. 
The recipe is easy to do which you can make ahead of time or while the cake is baking.  I was able to frost the cake and put a little between each layer and still had some left.  
[amd-yrecipe-recipe:35]
During the holidays we get so many great deals specially on baking items so using the chocolate morsels was perfect for this recipe but if you prefer a much richer taste chocolate squares would make it even better. 
Now that we have the components ready we can start making the chocolate cake. 
The recipe I used for the chocolate cake was from the Pioneer Woman (her recipe can be found here). I did half of the recipe which was enough to fill 2 cake pans 6 inch. The cake was so moist and it was perfect so this recipe is a keeper for me.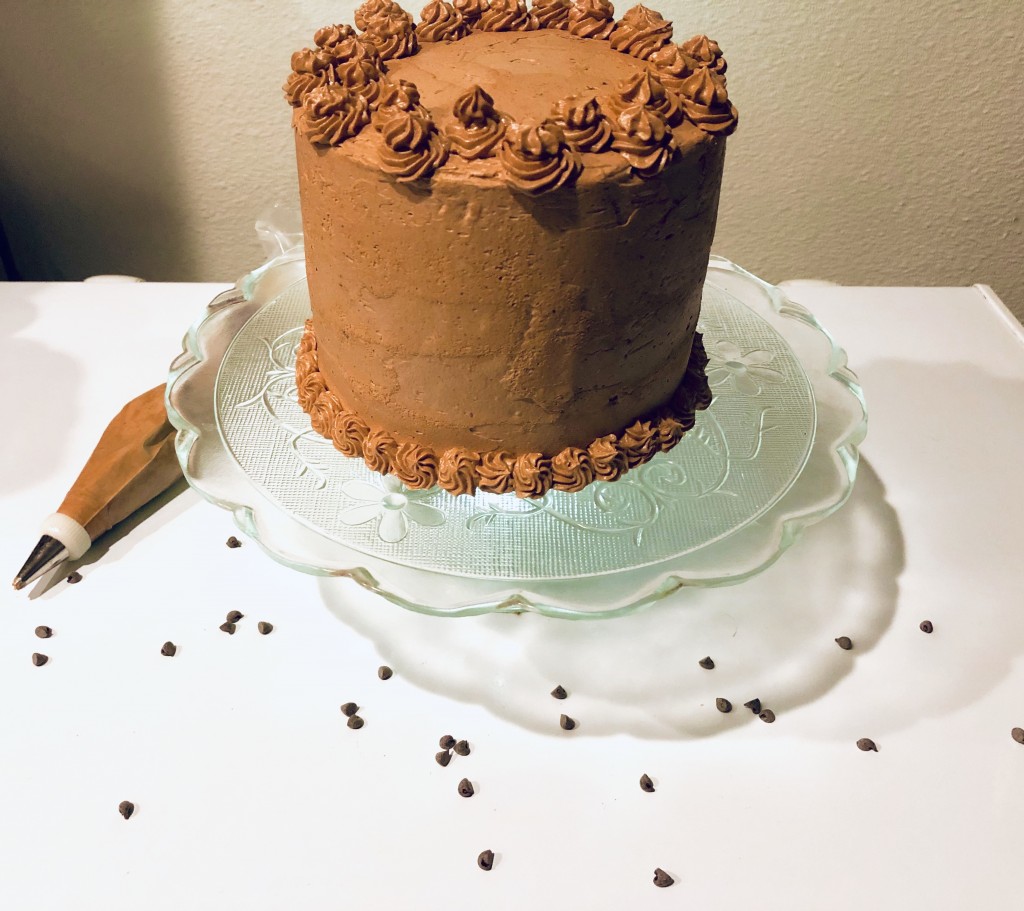 I enjoyed so many of her recipes and also watching her as a judge on baking competitions (you probably can see I love the sweet/dessert world) ejje.. It was no surprise that using her recipe might be the best time to trying it out since I was on this modern and new recipe venture.  
Thinking ahead of what would make the best filling that my family will enjoy is why I decided to use a separate recipe.. I love how you can use one recipe for the cake and add the filling and frosting that best suit you. 
For the filling I used another recipe that worked okay I did enjoyed adding a tsp of almond extract which gave that soft nutty flavor to the cake. I looked at a few recipes that were pretty similar some had too many ingredients while others seem too complicated.  Here is how I made it
8

 

ounces

 M

ascarpone Cheese

1/3 cup

 P

owdered Sugar

1/3

 

cup

 H

eavy Cream

1 tsp Vanilla Extract

1/2 tsp Almond Extract
In a bowl add all of the ingredients and with the whisk attachment, mix all of the ingredients.  Once you reach a fluffy consistency almost whipped like then the filling is done.  
The mascarpone filling is a great option to help balance out the flavors of the chocolate cake.  In the future I would like to whisk the cream and mascarpone at first let that whipped enough and then I would add the sugar.
Once all of the items are made is when the fun part begins.  Just make sure the cakes are cool and the frosting and filling are set.  I like to place my cake on a cake stand but you can assemble it on a cake board if you like.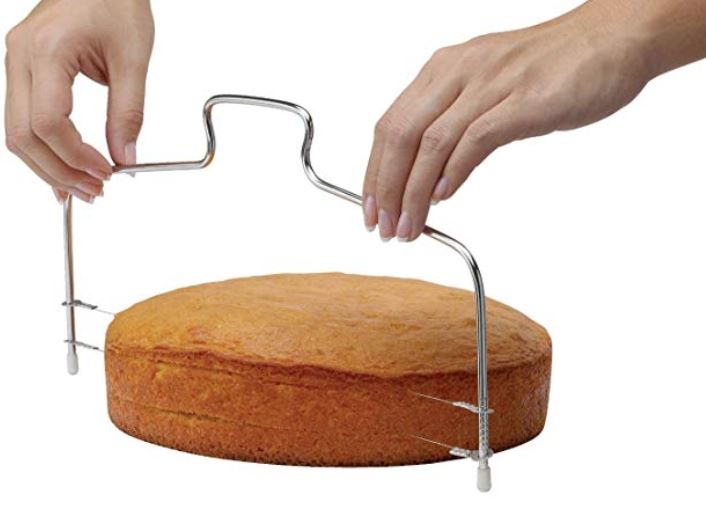 My cake was baked on 2 – 6 inch cake pans, once cool I cut each cake in half I love using this product for less then $5 and I get precise layers every time. 
Also trim any item on top that might make the cake look a little off (when baking you might get a little top mountain shape, this part is key to cut which will help the cake look more uniform). 
Once the cakes are divided into 4, place one part of the cake in the cake stand,
Add some chocolate frosting on a piping bag, cut the tip and pipe on top and edge of the cake (this will help for the filling to stay inside.

Spoon in 1/3 of the Mascarpone filling (or a little less/more if you desire) inside the chocolate frosting, spread the filling as needed. 

Place the second part of the cake and continue each steps. 

After the last cake is placed you can begin to crumb coat the cake by using the Chocolate Frosting and filling any gaps you see between each later. 
Once the frosting is set (about 15 mins or so) With a long icing spatula you can begin to frost the cake starting at the top level well and then continue working the sides. 
You can decorate piping using tip #18 as you can see on the picture. Enjoy..