Today we decided to make a small trip, simply because only a few items seemed interesting for us on the current weekly ad and we also wanted to use the save $2 on purchases of $10 or more publix coupon that came on Sundays Newspaper.
We made 2 small trips and while in Publix this morning we were glad to see that the Publix Purple Advantage Flyer was available since it started today, sometimes the day the flyer starts you may not find it in the store but luckily we did.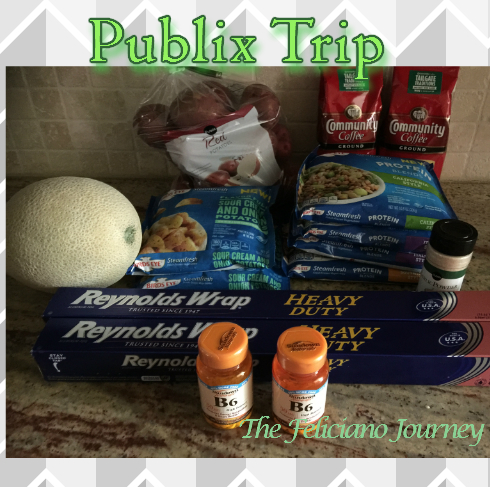 Hope this motivates you to save while you shop and here are a few post on how I have been able to save since I started couponing (saving).
Here is our Trip:
Paid Out of Pocket: $13.99 (both transactions included) 
Purchases Total: $67.63
Credit/Coupons/Promotions: $53.64
% Saved: 79.3%
Got 2 Reynolds Wrap Aluminum Foil, Heavy Duty, 18 in Wide, 75 sq ft, BOGO – $6.79
(used 2) $0.75/1 Reynolds Wrap Heavy Duty Foil printable
Final Price: $5.77 for both tax included
Got 2 Sundown Vitamins – $3.59
(used 1) $5.00/2 Mix and Match Sundown Vitamins Publix Purple Advantage Flyer (available starting today)
(used 1) $3.00/2 Sundown Vitamins
$1.00/1 Sundown Vitamins or supplement 8/2 RP insert
Final Price: $0.82 moneymaker..
Got 2 Birds Eye Steamfresh Flavor Full – Reg Price $2.89 – 50% off
Got 4 Birds Eye Protein Blends Reg Price $2.59 – 50% off
(used 4) $1/1 Bird's Eye Steamfresh Protein Blends Variety, exp. 9/27/15 (SS 08/16/15)
(used 2) $1/1 Bird's Eye Steamfresh Flavor Full Variety, exp. 9/27/15 (SS 08/16/15)
Final Price:  $2.38 for all 6
Got 2 Community Coffee, 12 oz BOGO – $7.49
$1.50/1 Community Coffee Bag or K-Cup Box, exp. 10/11/15 (RP 07/12/15 R)
(used 1) $4/2 Community Coffee Bags or K-Cup Boxes, exp. 10/11/15 (RP 07/12/15 R)
Final Price: $1.75 each
Got 1 Garlic Powder – $1.69
Got 1 Cantaloupe – Reg Price $3.00 – Special Price $2.00
Got 1 Publix Potatoes – Reg Price $4.99 – Special Price $3.49