Papaya brings so many good memories, it was a fruit that my father introduce me to at an early age.  He didn't like to be much in the kitchen but when he was in the mood for papayas he would certainly cut some for us and even make milkshakes with them… sooo good…
This fruit is so good for you, high in vitamin c, very low in calories, is so refreshing and I also read that it nourishes your skin (many benefits on this yummy fruit).. Yes that is my opinion jejej since I grew up eating papayas when ever we had the chance but others are a bit afraid to try it or simply don't like the taste (and my husband was one of those people) jejej..
Well, as you may know we are on a weight loss journey and we are trying to replace some of our old unhealthy eating meals to much healthier meals.  So, I mix a few fruits together looking for a way to add papaya to our daily meal and making it easier for my husband to like it.
Sometimes this smoothie is my breakfast in the morning when I need to feel refreshed after a workout or house cleaning. Other times I take it as my lunch with a hard boiled egg making it about 203 calories for lunch which is not bad at all.. But for today, I made it my breakfast with a total of 133 calories based on My Fitness Pal nutrition facts if you dont want to add chia seeds and/or protein powder it will be a lot less calories and you can take it as a healthy refreshing snack… as you can see is always a win win smoothie…. jejeje..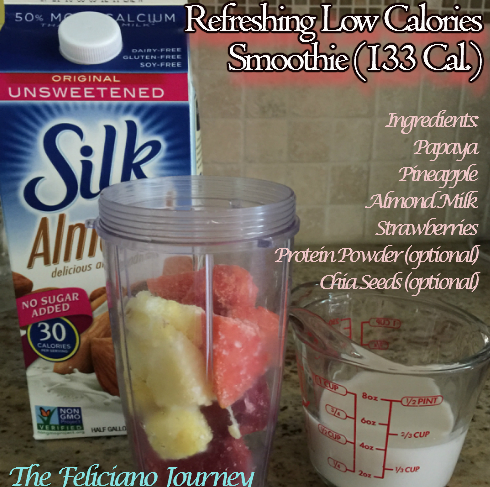 Ingredients:
1/2 cup of Unsweetened Almond Milk
1/2 cup of Water
1/2 tsp of Chia seeds
2 – 3 small strawberries
1/4 cup of Pineapple bits (cut fresh pineapple & freeze them)
1/4 cup of Papaya bits (cut fresh papaya & freeze them)
1/2 scoop of Protein Powder (I used Cellucor Cor Performance Whey Peanut Butter marshmallow)
1/4 cup of ice (optional)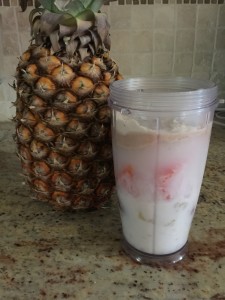 Combine all your ingredients (leaving powder and chia seeds for last) I don't like to add any powder first because it sometimes stays in the bottom of the cup.. I love my smoothies to be a little thick so I always add some ice to the mixture but if you like your smoothie not as thick avoid ice all together… Mix and Enjoy…
If you would like your smoothie to be a little sweeter without the artificial sweetener, add half of a banana or a truvia packet.