Walgreens Beauty Box is a new subscription box, lately we have been seeing many good beauty and skincare boxes.  This box is not the exception, the cost is for $12 with a retail value of $52. Once you select the item online you will see that it charges some shipping of $5.99 but once you select proceed to checkout, select ship for FREE and then select the store you can pick the box in. Here is a preview of the items you can expect for this month.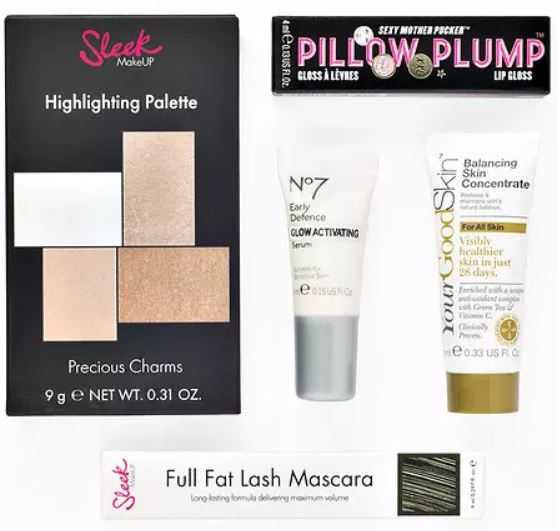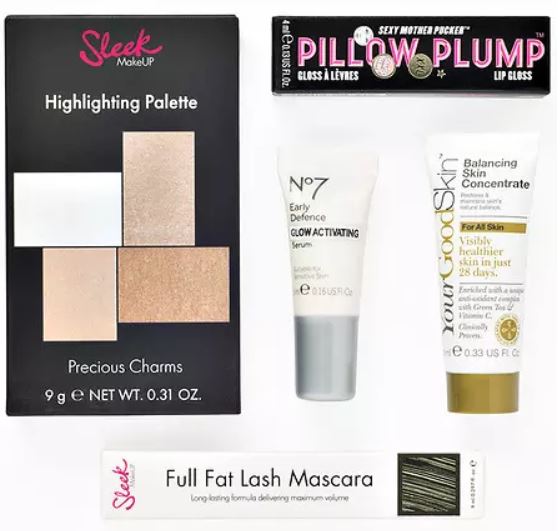 Month of: August 2018
Cost: $12.00 + $5.99 Shipping (Shipping can be FREE if box is shipped to your store for pickup)
Where to purchase: Target.com (search – beauty box) 
Box Value: $52.00

Whats included:
No7 Early Defence GLOW ACTIVATING Serum (5ml) Find your glow in 7 days with Early Defence GLOW ACTIVATING Serum from the UK's #1 skincare brand, No7. In one week, 87% of women saw a more radiant complexion.
YourGoodSkin Balancing Skin Concentrate (0.3oz) This Balancing Skin Concentrate restores & maintains skin's natural balance for clinically proven visibly healthier skin in just 28 days (per 1oz).
Soap & Glory Sexy Mother Pucker XXL Pillow Plump Plumping Lip Gloss in Pinkwell (0.13oz) Gloss it, girl!  Deploy Sexy Mother Pucker XXL gloss for ultra-moisturized, plump, gorgeous lips.
Sleek MakeUP Full Fat Lash Mascara in Blackest Black (0.29oz) Create voluminous, thick looking lashes with Full Fat Lash Mascara. The brush has a ball shaped tip which captures and coats even hard to reach lashes.
Sleek MakeUP Precious Charms Highlighting Palette (0.31oz) This versatile face and body highlighting palette includes three luxurious cream formulas and one shimmer powder. The iridescent, metallic finishes add a radiant and luminous glow to the skin.
Walgreens Coupons $3 OFF No7 skin care or cosmetics purchase, $3 OFF YourGoodSkin skin care purchase, $2 OFF Soap & Glory skin care, bath, or cosmetics purchase, and $3 OFF Sleek MakeUP cosmetic purchase.