Trendmood Box vol 8 full box reveal is completed.  I am excited to share the items we can expect for Vol 8.  Most are skincare items we love while others are new releases.   So far we have the full box reveal, date, and time of launch.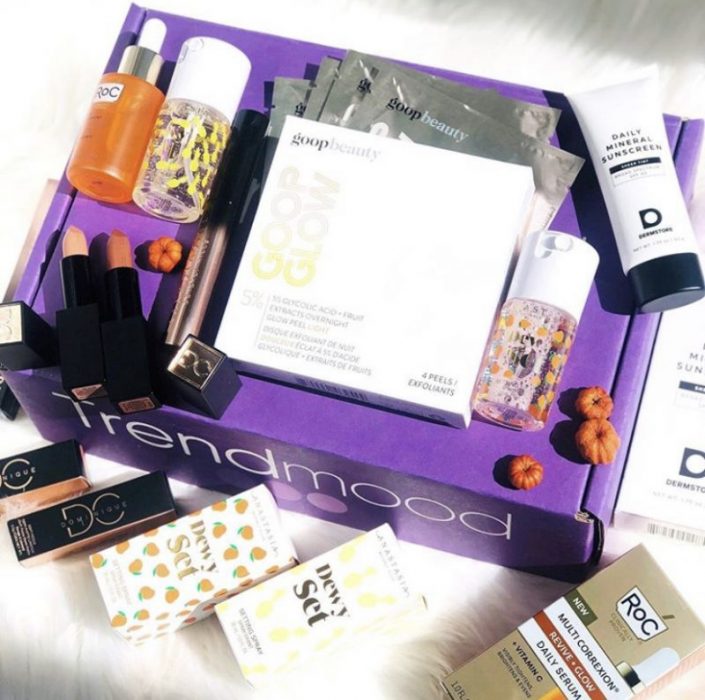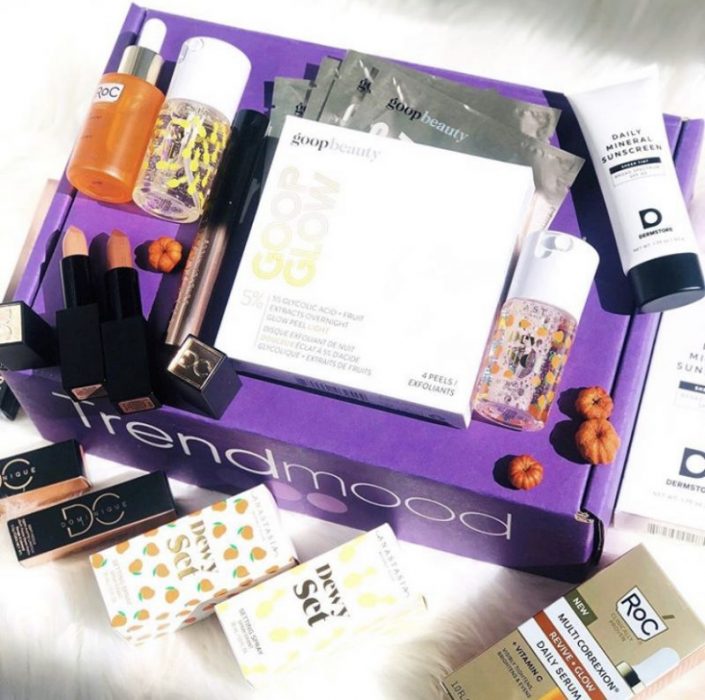 Below I will share more things to know about the box but in the meantime, I want to share the items you can expect for Vol 8. 
Sneak Peeks Reveal: 
1. The Daily Mineral Sunscreen SPF 40 by dermstore
Provides sun protection with a universally flattering sheer tint, blurs imperfections without leaving a white residue on skin. Mineral based with vitamins C and E
2. From The Soft-Focus Nude Lips Collection by dominique cosmetics
Demi-Matte, both shades:
Nude Coco
Pretty Natural *sold out shade
3. The Lash Brag Volumizing Mascara by anastasiabeverlyhills
• Instantly adds the look of dramatic volume, fullness
and thickness to any lash type. Water-resistant, Ultra-creamy formula is designed to prevent clumping and doesn't dry out lashes, fade or smear
Also by anastasiabeverlyhills The Dewy Set Hydrating Setting Spays 💦 for hydration, dewy, radiant finish, sets your makeup.  2 Of them are included in our box
🥭 Mango – enticing mango
🍍 Pineapple – sweet pineapple
4. The Multi Correxion Revive + Glow Daily Serum by rocskincare
Lightweight, gives fatigued skin the daily dose of Vitamin C it needs to maximize luminosity and reveal a visibly tighter, improved elasticity, brighter and more even complexion.
5. The GOOPGLOW ✨5% Glycolic Acid Overnight Glow Peel Light 4pk by goopshop
A gentle overnight acid peel that delivers an effective yet mild level 5% of glycolic acid, tropical fruit AHAs (mango, banana, and yellow mombin), Australian kakadu plum, and naturally moisturizing hyaluronic acid works overnight so you wake up with fresh, soft, smooth, beautifully glowing skin.
Will be available OCTOBER 16TH @ 10am PST Online trendmood.box

What is the Cost of the Box?
Trendmood Box was introduced as a box that might reveal one or more boxes in just one month, each box is treated as a new launch, therefore, prices will vary on each box. 

The cost for this Volume is $55
How do I subscribe to Trendmood Box?
Trendmood Box was introduced as a new launch box.  Each Launch is treated differently and each time a promo code is sent to your email, but first sign up by registering your email, once the code is sent you can select the link sent type in the code and make your purchase. 

Since they are still working on improving the system directions on how to purchase might change. 
How can I Sign up?
Is very easy to sign up, just click here and type in your email,

Make sure the company is added to your email list since it might show up under spam and you might miss the promo code once the box becomes available.

When the box date release is given expect an email sent that will provide a promo code

Once the code is sent you can select the link sent type in the code and make your purchase. 
What is the shipping price?
The Shipping cost for the Trendmood Box is FREE