Tribe Beauty Box October 2018 Unboxing
This is my second beauty box from Tribe Beauty.. While opening this box I was surprised and happy with the items I received, in total the value came out to $127.  I love getting face brushes and this box brought 3 in total, One from Moda Brushes (a set of smokey eye brushes) and Crown a Blush Brush. The other 2 items I love from this box were Bella Pierre Ombre Lip Kit and The Balm Eyeshadow Palette.  The other 2 items I am considering of using, since my skin is so sensitive I am reading more on the cleanser before using but so far I like some of the ingredients it offers for the Maskeraide Cleanser Stick.  Great box I am happy with what I received and enjoying this subscription.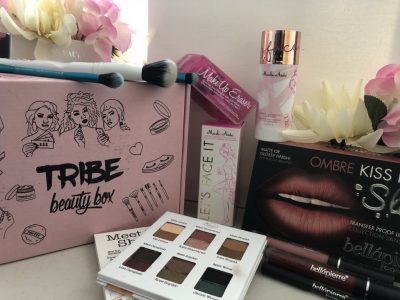 Well today they are offering a Benefit when you refer a friend, if you are subscribed dont forget to open your email so you can refer to a friend.  But if you are new and probably are considering this beauty subscription you can use my link and we both can get this item.  If you want to know more about this subscription below I share prices and what you can expect.  In addition you can see my unboxing for October box with the items I received.
The Balm – Meet Matt(e) Shmaker ($29.50)
The MakeUp Eraser Mini ($12)
BellaPierre – Ombré Kiss Proof Slay Kit [$45]
Maskeraide Beauty – LET'S FACE IT Purifying Cleansing Stick [$21]
MŌDA –  EZGlam Duo – Smoky Eyes [$7.99]
Crown Blush Brush [$12.00]
Retail Value – $127.49
If you have been on the lookout or simply want to try a new beauty box from a brand you all ready trust then I am excited to share with you that there is a new Beauty box company and that is Tribe Beauty Box
What is the cost?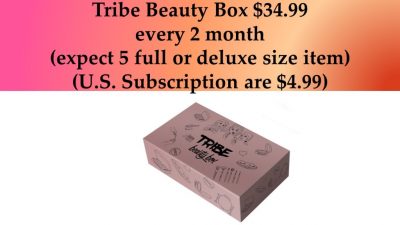 Over $100 value for  $34.99 (For Regular Subscription) 
Over $100 value for  $45.00 (For Limited Edition) 
What is the shipping cost?
Standard USA shipping is $4.99 and takes 3-6 business days.
Standard Canada shipping is $6.99 and takes 2-8 business days.
What can I expect in my box?
Receive 5 full or deluxe sized products:
Subscription Detail
Sign up for a bi-monthly subscription (every two months) to discover new brands and stock up on already loved ones.
You can skip or cancel at anytime!
You can view the unboxing video too