Since this past week I received my first Victoria's Secret Secret Rewards Gift Cards I started to check my emails on any new specials, while searching I saw one that was worth getting.
The promotion was buy 2 bras get $30 in rewards when using the promo code – BUY2Rewards, in addition getting the deal online if you spent $50 or more the shipping is FREE.  So, since we had a very busy morning we placed the order and everything went pretty smooth.
To find out more on how I got my Secret Rewards in the mail click here
I got 2 bras for $49.50 if you take advantage of this deal you are saving a total of $19.50 when you buy both bras. In addition this weekend they had a promotion if you buy 2 bras you can get a FREE $30 reward card.  Here is what I did.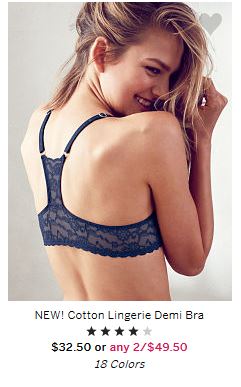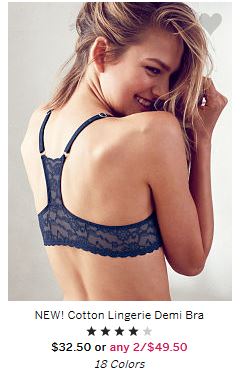 Bought 2 Bras for $49.50, Reg Price $34.50 each
Bought 1 Panty for $3.99, Reg Price $14.50 each
Deduct Gift Card $10.00
Shipping: FREE
Tax: 3.21
Paid $46.70 but $30 Reward Card added to order
Final Price: $16.70