Vitamin C full of many great benefits for your health, skin, wound healing and even for a great skincare routine but one area I was taken back is great for your shower.  I recently discover the benefit of adding Vitamin C to your shower head, seams like a gimmick at first but the more I researched the more I fell in love with the idea.
About 10 years ago, when we purchased our new house we invested on a system called reverse osmosis & water softener, back then it was somewhat new and it had to be purchased through a specific company, right now is a lot easier, cheaper and quicker to installed but back then that wasnt the case.  In fact, we thought it would be a great investment.  That system provided such a soft feel to the water, it is funny to remember all of the visitors we had that used our water felt as if the soap was never removed, they actually thought I had a strong soap but when they realized it was our water system they were impressed.
We had 2 system one under our sink was the reverse osmosis while the one that was supplied to our house was the water softener.  Both combined provided the best water which we used to drink, make coffee, cook and for every use water is needed.  We didnt have to buy water bottles and we enjoyed using the soft water. This seems I'm off track but sharing a piece of this information on a system we believe, enjoyed and now miss since we sold our house, is clearly why I am so interested on searching more about the Vitamin C Shower Head.
Vitamin C on the skin is such a necessary ingredient to include on our skin care routine.  Simply because it helps in areas that are hard to target such as reducing melanin causing dark/sun/aged spots, improve collagen for a more plump looking skin, help reduce acne scars, help reduce inflammation & redness. Is important to find the right product that will target those areas. As you can see Vitamin C is key specially for me that I struggle with most of the skin problems mentioned.
How Can Vitamin C Shower Help?
I mentioned benefits you can get from the "soft" water and Vitamin C, now combining the 2 while taking a shower is what I need to know how if this really works or if this is just another gimmick?  The product works as a filter that is infused with Vitamin C powder and it gets attached to your shower head.  The Vitamin C once the water passed through the filter gets picked up and releases the powder that helps reduce the chlorine oxidant.  The expected results should be less chlorine in your water that can offer great benefits to your skin and hair.  
How can you get this benefit?
There are a few options and the prices do vary from the $20s up to a little less then $70, I also include the claims for each product.
Vitamin C Filter Inline Shower Assembly by Sonaki – 3 shower filters included – Use your current showerhead – Remove Up to 99.9% of Chlorine and Chloramines Price $67.50
The Claims for this product – 
SOFTER AND CLEANER WATER – Did you know that you absorb more chlorine through your skin, eyes, and respiratory system, while taking a shower, than from any other activity you do all day? With this inline add on vitamin c filter you can remove up to 99.9% of Chlorine and Chloramines from your shower water.

KEEP YOUR EXISTING SHOWER HEAD – This In-line shower filter assembly attaches easily to your existing arm at one end and then to the existing showerhead at the other, without affecting the height or positioning of the showerhead.

HEALTHIER LOOKING SKIN & HAIR – Chlorine has a drying effect on hair and skin, and may also damage permed or color-treated hair. Filtering your shower water promotes better skin and hair due to reduced exposure to chlorine. Vitamin C has been widely used in commercial applications for neutralizing chlorine and chloramines in tap water and has been recognized as playing an important role in the appearance of firm and youthful-looking skin.

LONG LASTING & EASY TO INSTALL – 3-Vitamin C shower filters included will last up to 5000 liters of water use. Brass and Durable resin inline filter assembly with chrome finish and see through filter housing installs in 3 steps. Wrench for changing out filters is included.
pH REJUVENATE Vitamin C Shower Filter – Filtered Shower Head – Fluoride & Chlorine Shower Filter – Softens Hard Water – Increases Water Pressure While Saving Water – Easy Installation, Price $29.97
The Claims for this product – 
IMPROVE YOUR HEALTH & WELLBEING USING A SHOWER FILTER – When showering we breathe dangerous chemicals & absorb them through our skin. Our filtered shower head removes bacteria, heavy metals, chlorine, chloramine & fluoride, resulting in improved circulation, immunity, energy levels, mental clarity & overall wellness.

IMPROVES WATER PRESSURE BY 200% & SAVES UP TO 35% WATER – pH REJUVENATE has 180 tiny laser-cut cone-shaped water holes, which forces water through the (five times smaller) holes on the head surface, resulting in luxurious high pressure water while still looking after the environment by saving water.

SUPERIOR MULTI-STAGE PH004 FILTER INCLUDING VITAMIN C BLOCK – To effectively remove chlorine & chloramine, leaving your skin, scalp & hair soft and smooth. The soothing citrus smell invigorates the senses, reduces stress, & improves mood & sleep quality.

NEGATIVE ION & TOURMALINE BALLS increase pH levels while ionizing & softening hard water, which eliminates flaky skin, & improves hydration & cell regeneration. MAIFAN STONES & 100% NATURAL ZEOLITE removes fluoride & heavy metals including lead, aluminium, arsenic & mercury, while retaining beneficial minerals like zinc, calcium & magnesium.

LONG-LIFE HUGE CAPACITY FILTERS – Mineral Ball Blend last 4 months. Vitamin C Block lasts 1 month. Our PH004 replacement filter kit (search B01N7J7QTV) includes 1 X Mineral Ball Blend + 4 X Vit C Blocks. Check out the rest of our water range in our Amazon store: https://www.amazon.com/invigorated_water. OUR PRODUCTS ARE BACKED BY A 100% SATISFACTION MONEY BACK GUARANTEE.
If you want to try something a lot simpler, more affordable or just something a lot easier, here is another option.
This product is very different, it also includes an FDA picture for Certificate of Analysis, the cost is around $26
TOSOWOONG – Vita Clinic Vitamin Shower #Lemon 1pc a little less than$26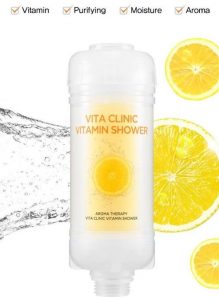 The Claims for this product – 
A shower filter that renders and removes chlorine and other contaminants almost completely while benefiting the skin.
The scent of lemon refreshes your mind, uplifts your spirit during shower.
High concentration of Vitamin C also promotes brightening effect.
Overall, I am happy to hear there are options for your shower that can provide Vitamin C which can help for your skin and hair.  Since is a some what new product is best to read more on each product reviews and see if this is something that can best fit your lifestyle.  If prices is a concern there are different options that can be a little affordable but keep in mind the filter/cartridge will need refills which can be an additional cost.  I did read some of the products available can last from 3 up to 6 months depending on the brand and the type of water you have in your area. For us, this is an item we are very interested on and continue to do our research before making a purchase, if you are like us I hope this was able to help you learn a little more about this creative idea.  Once we decide in the future we will be able to share our experience from our hair to our skin review.