It has been a while since I have done a new Foundation Review.  I enjoy testing out products, especially on my oily, sensitive, and acne-prone skin.  But for a few years now I discover my skin had changed and I needed to find the right skincare routine that will work before testing out makeup products.
The extreme sensitivity in my skin happened after I took the first and second covid vaccine.  I started to notice the products I was already using in my skincare routine were not working in fact I was starting to break out and my skin was as bad as it was before I started my skincare routine.  Now that I feel my skin is starting to look a lot healthier I think is a good time to begin testing out makeup products.
Based on the claims I believe this foundation is the right fit for me.  Is great for sensitive, acne-prone and oily skin but it also offers plenty of skincare ingredients that will help with many of my current problem areas.
My first foundation to test out is
First Impression Foundation –
Foundation Cost –
Foundation Size – 
The Foundation size is 1.0 oz
Foundation Promise to Deliver  – 
This Proprietary formula delivers ultra-comfortable, long-wear performance without compromising your skin.
Its weightless serum-like texture seamlessly blurs and smooths for a naturally luminous finish that wears all day.
No slipping or caking,

Foundation Star – 
Haus Tech Powered with 20+ skincare ingredients including patent-pending Fermented Arnica.
This foundation has ingredients to help with skincare some of the claims say it contains soothing and healing properties, boosts circulation and brightens skin, supports skin elasticity, and even skin tones combat oxidative stress and inflammation and soothe and condition the skin.
Calms inflammation and blemishes, soothes sensitive skin, highly efficient free radical scavenger, protects against UV damage and promotes collagen synthesis.
Foundation Shades – 
This foundation comes in a range of 51 shades across 6 families below I will include the wheel to help you find the right tone.
The undertones are:
warm (pink, rosy, or peach tones)

cool (yellow, golden, or olive tones)

neutral (balance of golden and rosy tones)
Shade numbering system 590 – 000 is based on the pigment load by shade
(the higher the number the higher the pigment load and deeper the shade)
Foundation Shades I picked – 
Based on the wheel provided I was drawn to the wheel number 220 shade which is Light Medium Warm.
Sadly after heading out to my local Sephora they were out of stock so I picked the next shade available.
230 Light Medium Cool – light medium with cool golden peach undertones
Description About this foundation –

A little more about me, my skin type, and what I look for in a foundation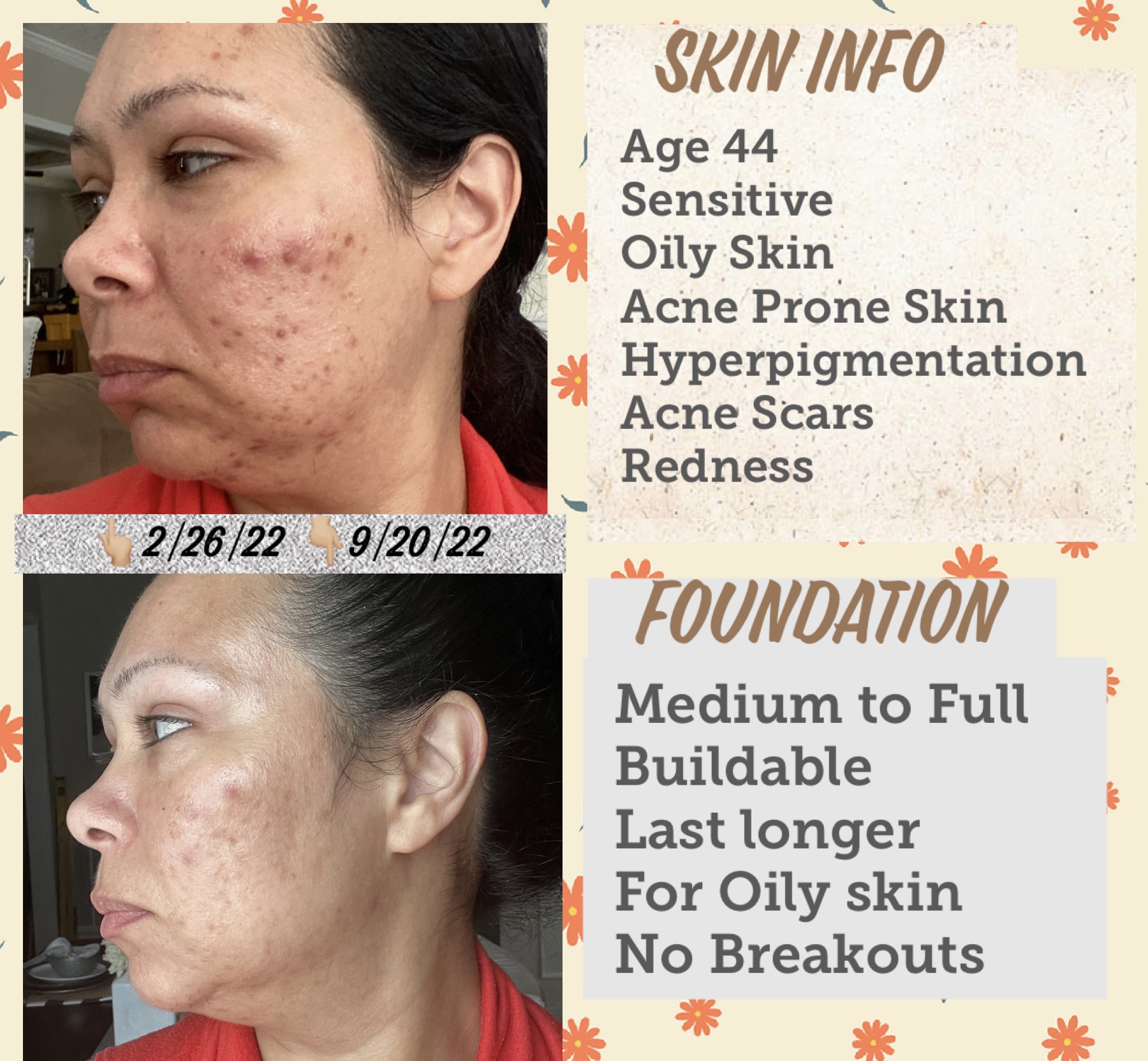 BEFORE 
My skin before applying any foundation is not so smooth or even to say the least, as you may see I struggle with acne, redness, aged spots, acne scars, oily and my skin is also sensitive. Trying a new product can become a challenge but it can also be a reward when doing the research and finding the product that can tackle those problem areas.
AFTER just foundation no makeup yet 10:30am
AFTER with makeup 11am
On my first impression, I did not want to cover any dark spots with a concealer because I wanted to see how this foundation covers without help.  I used one pump and apply it using a foundation brush.  I like how it felt so light almost like a serum/moisturizer.
For much deeper coverage, I used my fingers and added another pump and that was my final result.  It was buildable, not cakey, not heavy, and pretty nice on my skin.
AFTER (7hrs wear) at 5:30pm
My Take 
The claims, ingredients, and formula already sound like a win in my book.  But what about the performance after my first wear? I like to use everyday wear a nice medium coverage foundation,
(Claims) I enjoy makeup that is lightweight, can last most of the day, is great for my day-to-day activities, and looks natural.  Even though I have very visible problem areas in my skin I don't mind if a little does show. I do enjoy a natural look without feeling heavy.  I notice this foundation offers just that, I can see a natural look, it covers any redness I have showing (not the hyperpigmentation spots) and after building up the product it did not show signs of slipping or caking.
(Shade) The color I feel melts in my skin, at first I thought the shade I picked might be too off but after blending it I notice it just melted perfectly into my skin.  Overall I am blown away by this foundation and I think it might be my new go-to makeup item.
(Skin Info) After many hours of wearing this foundation I did notice my skin look oily (which is the norm in my case) as the hours passed, I notice it was looking shiny.  I tried using a napkin to control the oils and the napkin showed a lot of the foundation.  Even though I notice some products were in the napkin at the end of my observation I didn't notice any product was off, it still looked pretty good on my skin.
To see more about my first impression foundation check out my video here or below