We have a new ultimate everyday palette release from Huda Beauty TODAY.. Is finally here.. . 
The name of the palette comes with a special message from Huda K she mentioned "I want you to free yourself of any limiting beliefs that you have & to know that you're capable of the unimaginable and that you can become everything you have ever dreamed." 
Is such a great name for this palette, I feel like every time I look at the palette I will remember the message behind it.  "The new EM(POWER)ED Collection is here to remind you just how powerful you truly are."
The new palette will be released on Monday, October 3rd and the price for it is $67.  You can get the palette at

Sephora

and the Kit at Huda Beauty.  We also see there are other items included in this release below I share what you can expect in this new
Em(power)ed collection.
The Em(power)ed collection will include. 
The Ultimate Every day –

Em(power)ed Palette with 18 shades 

LEGIT Lashes Double-Ended Mascara in limited edition packaging

An all-new Face Gloss with gold shimmers

Our WISHFUL Eye Lift & Contour masks with a bold gold empowered statement

The ultimate Lip Kit with gold details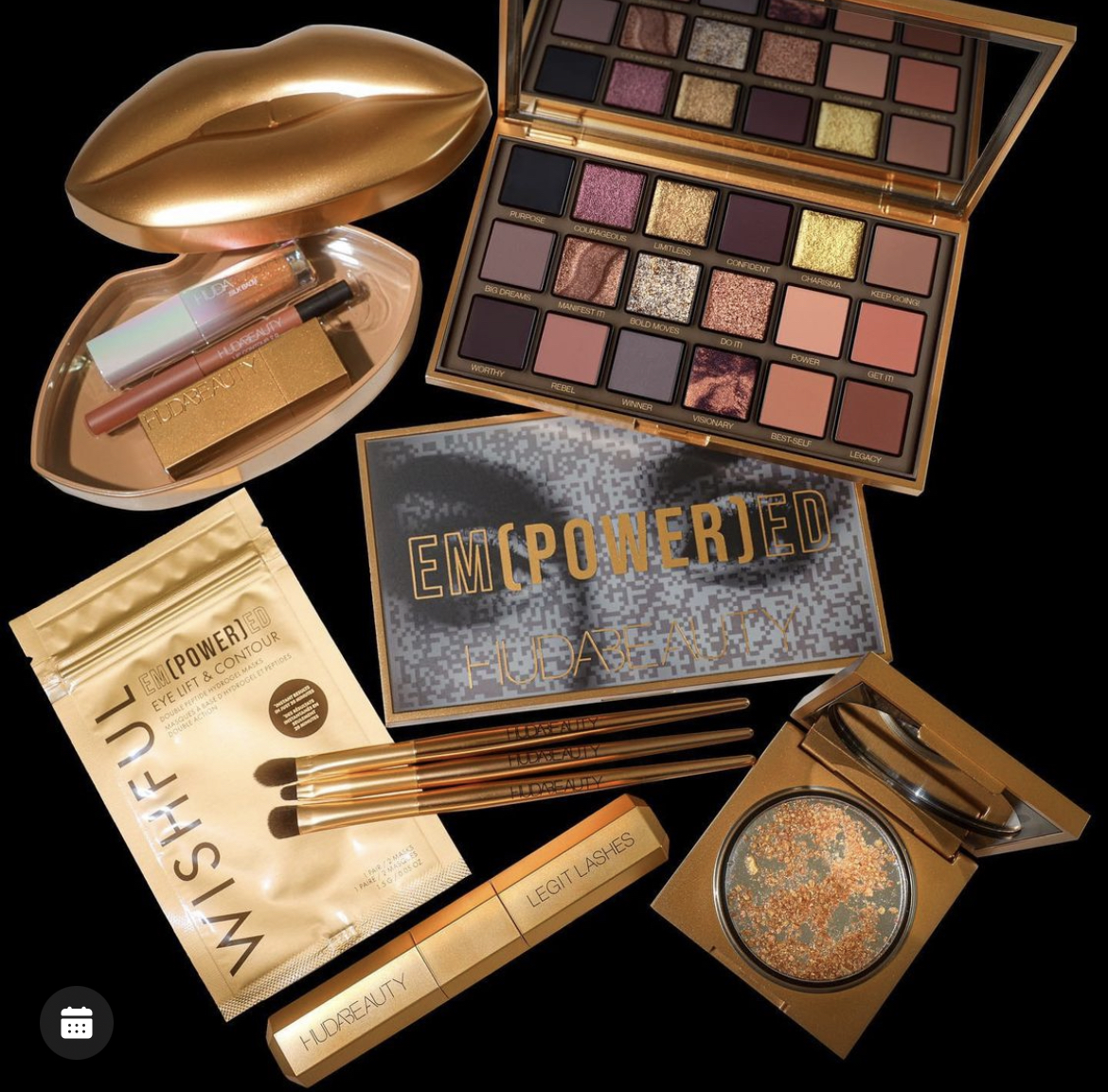 Let's look a little deeper into

The Em(power)ed Eyeshadow Palette 
The ultimate everyday palette! Own your power with this luxurious line-up of buttery-smooth golds, coppers, browns, and neutrals in a variety of textures including intensely pigmented mattes, creamy gel-liner hybrids, foiled chrome metallics, AND a blingy wet-look shimmer.
Effortlessly easy to apply, build, and blend, this intensely pigmented palette is perfect for creating your everyday beat, a dramatic smoky eye, a rich metallic look, and so much more, your options are LIMITLESS! Simply use a brush or your fingertips to apply; get ready to feel inspired and look confident AF.
Shades:
New! 2 x Gel Hybrid Eyeliner Shadows: Super pigmented hybrid eyeshadow creams. Used as eyeshadows, liners, or eyeshadow bases once set.
New! 2 x High-Shine Wet Metallics: Innovative wet metallic eyeshadows.
New! 1 x Crushed Flake Gold: Extra luxurious crushed flake metallic shadow to add serious sparkle to your attitude.
2 x Powder Metallics Soft shine metallic pearl shadows that build to a foil effect.
9 x Powder Matte Eye shadows: Intensely pigmented, velvety soft mattes with a suede finish that you can seamlessly build and blend.
Photos : @hudabeauty IG