As I was searching more about this palette since it wasnt available at Ulta until August 5th, I saw they had a fake, I was shocked how quickly a dupe/fake/clone was released.  How could this be available if the palette is not even in stores yet??  Since I knew I would be purchasing the palette I order the fake one to put them both to the test. 
A few days later I got mines at Ulta (I was there on Saturday so while at the register I asked if they have the palette and I was able to get my hands on the new one a day early I was so happy ejjee.. they were too kind).
A week later I received my fake palette as well which the site did say it would take 20 – 30 days so I was impressed how quickly I received it.  At this time I had played with the Original palette and felt comfortable putting it to the test with the Fake palette.
Before I compare and put both palettes side by side lets go over the shades from this new palette from Norvina Anastasia Beverly Hills.  This palette has a few shades that we havent seen on ABH previous eye shadow palettes you can see some playful colors that I do love from purples to soft shimmer shades.  The price for this palette is $42 it comes with 14 shades.  The packaging and the color selected makes it very pretty.  
Anastasia Beverly Hills released the new Norvina palette about a month ago.  Norvina Eyeshadow palette offers a bit whimsical touch but in a pastel form with 7 matte and 7 shimmer shades. The shades are very soft and creamy, there is no need to pick with a brush because you get a lot of product just with a dab using your brush or fingers.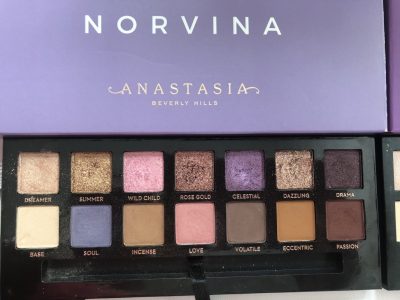 Being a fan of purple there was no doubt in my mind on purchasing this palette, of course I did check the formula and the shades it has to offer.  Seeing how well it blends and the shades it brings I knew this would be a great purchase for me. 
Anastasia Beverly Hills – Norvina $42
Shades:
Dreamer (metallic pink champagne)
Base (matte eggshell)
Summer (metallic foiled golden topaz)
Soul (matte wisteria)
Wild Child (duo-chrome frosty pink w/ a magenta shift)
Incense (matte dusty terracotta)
Rose Gold (metallic rosewood)
Love (matte mid-tone cool pink)
Celestial (duo-chrome plum w/ a violet shift)
Volatile (matte warm charcoal)
Dazzling (duo-chrome cool-tone bronze w/ a violet shift)
Eccentric (matte dark burnt orange)
Drama (duo-chrome aubergine w/ a cool bronze shift)
Passion (matte deep garnet)
 How Is the Fake Palette?
The packaging (box it came in) has a very different color compare to the original.  In the back of the box Original has the logo from ABH while the fake shows nothing.  Original Palette is shown on the Left vs the Fake Palette is shown on the right.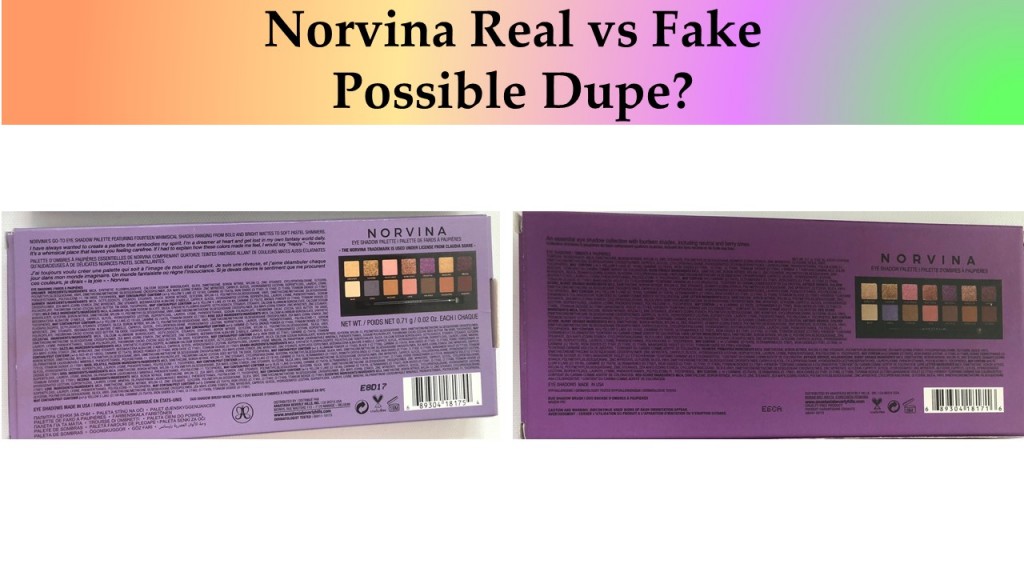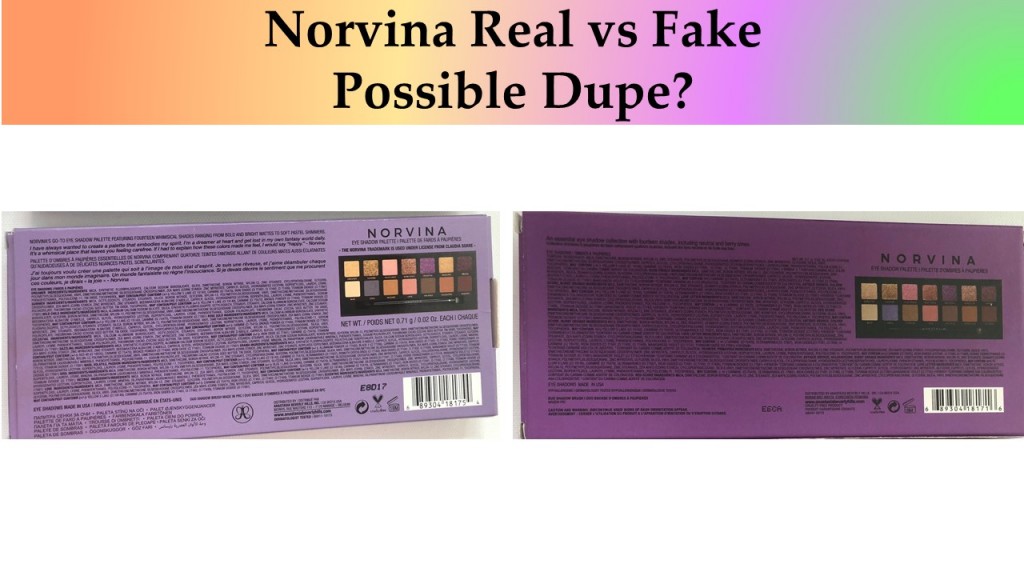 The pigmentation on the fake palette is very poor.. I did struggle to pick up the product in order to get a color similar to the original.  Some of the shades seem on point comparing the shades side by side but when swatching some are off. On this picture the Original is on the Left and the Fake Swatches are shown on the Right side.
Where can you find Norvina Palette?
Ulta – Norvina $42
Fake / Dupe  – Norvina $12 – $14 (Know the palettes might vary and the product you may receive might not be the same shown here)
Conclusion:
Nothing beats having an original brand but it does come with a price.  Comparing both items you can see a big difference from color, feel of the palette, shades intensity to pigmentation.  I even did a makeup tutorial using each palette to see how they look using 2 different palettes.  The results may not show a big difference but I did struggle applying the colors from the fake palette.  Overall I wanted to share my take and putting both palettes side by side.  I dont regret buying the original, the quality Im getting is very impressive but I also love a bargain, if there is a dupe that can offer the same result then that could be a great alternative.  But for this fake palette I feel I have a nice palette but I think I can get better pigmentation from palettes that are affordable at Ulta. Some of the shimmer on the fake palette were impressive but not the same tones as the original.. I could spend some time debating one versus the other but at the end is all about preference and your personal choice.  Hope this made it easier for you to see based on my experience.. At the end we all love makeup ( I think ejje) and is great to have fun colors matte and shimmer shades on a beautiful purple palette…
You can check out my video which also shares a quick tutorial..