For the month of August we are expecting some nice Eyeshadow Palettes, 2 of the ones I want to mention today are very well known makeup artist, so in other words we are expecting nothing but the best.  Looking at the shades each palette is offering I am getting a similar vibe, some cool tones mostly purples with some nice fall shades. I cant say they are offering the same thing or the same amount of shades but the similarities are there.  
Eyeshadow palettes can get very pricey and comparing just 2 new ones it adds up to $91 so I decided to take a closer look and see which one I might consider getting if I had to choose just one. 
The first palette was introduced on the Anastasia Beverly Hills website recently, Ulta will have it in store on 8/5 (while online is all ready available).  This palette has a few shades that we havent seen on ABH previous eye shadow palettes you can see some playful colors that I do love from purples to soft shimmer shades.  The price for this palette is $42 it comes very similar to her other palettes offering a total of 14 shades.  The packaging and the color selected makes it very pretty.  
Anastasia Beverly Hills – Norvina $42
Shades:
Dreamer (metallic pink champagne)
Base (matte eggshell)
Summer (metallic foiled golden topaz)
Soul (matte wisteria)
Wild Child (duo-chrome frosty pink w/ a magenta shift)
Incense (matte dusty terracotta)
Rose Gold (metallic rosewood)
Love (matte mid-tone cool pink)
Celestial (duo-chrome plum w/ a violet shift)
Volatile (matte warm charcoal)
Dazzling (duo-chrome cool-tone bronze w/ a violet shift)
Eccentric (matte dark burnt orange)
Drama (duo-chrome aubergine w/ a cool bronze shift)
Passion (matte deep garnet)
 Morphe X Jaclyn Hill The Vault $49 (Value $60) or $15 each palette
Based on the videos and Morphe site, we can expect 4 palettes with a total of 40 shades. The palette is called the Vault, it offers 4 palettes to choose from, you can select one palette for $15 or the set of 4 for $49.  I do like that you can pick and choose the shades you will like or select the set for bigger savings.
This palette will be available on Aug 14th at Morphe web site as well as in Ulta in the mean time you can sign up at Morphe to be on the list.
What is the price difference?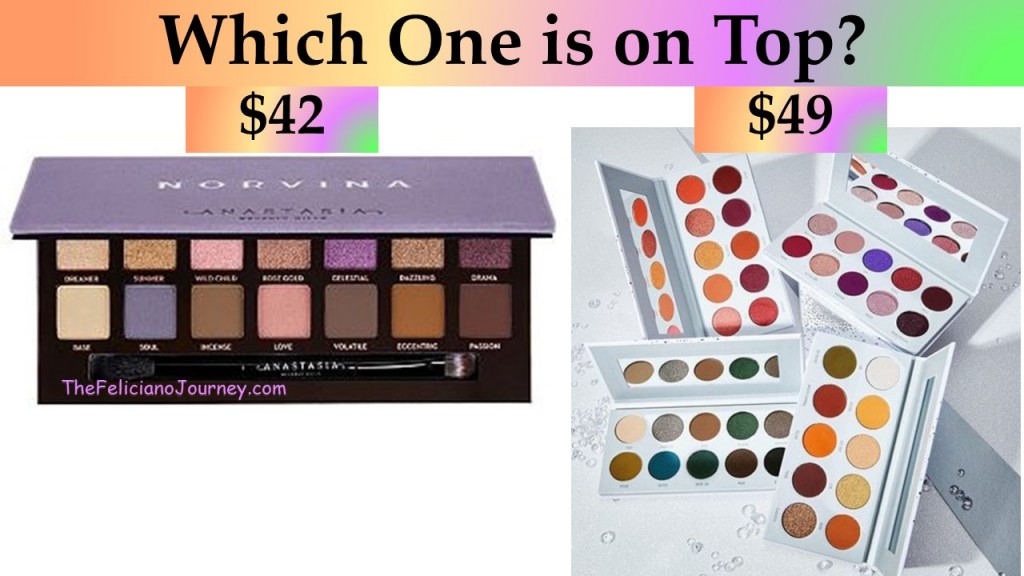 Conclusion:
Both brands seem like great palettes to consider, they are giving some matte and shimmer shades in addition we are getting warm (everyday shades) as well as bold and rare colors.  Based on the price Morphe Jaclyn Hill palette seems like the best offer because you can select one palette or pick the set for a better value.  In returned you are getting more shades for a few dollars more then the cost of the ABH.  If you are a true fan of the ABH brand then this palette seems like a must have.  It is a very hard decision to make on choosing one palette but based on the colors, design, shades and price I would pick the Morphe X Jaclyn Hill Vault.  I am going based on the images on both palettes but to be more accurate it will be based on the weight and amount per shade brings.  Besides that I think they are both a must have and great palette to have in your collection.