A Norvina Dupe? is interesting how often you can find a good quality palette that resembles a very well known high end palette. Keeping up with the latest eye shadow palettes is hard specially since they range around $39 up to $129 for just one.  If you have the budget to purchase each new realease make up item then a dupe may not be for you but if you are looking for a more affordable palette then this might be the item for you. 
Bad Habit Beauty just released a new palette which by the shade ranges looks like a dupe for the Anastasia Beverly Hills Norvina Palette.  The original palette from Norvina price is $42 but the dupe is priced at$16 which is a really good price.  I dont know how pigmented or how accurate the shades may be but purchasing from this brand before at Shop Hush I have been impressed with the quality and how well each shade blends.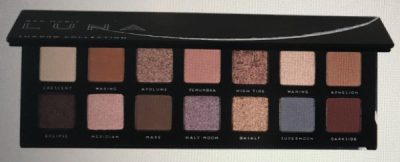 A little more about the Anastasia Bevery Hills Norvina Palette
Anastasia Beverly Hills released the new Norvina palette about a month ago.  Norvina Eyeshadow palette offers a bit whimsical touch but in a pastel form with 7 matte and 7 shimmer shades. The shades are very soft and creamy, there is no need to pick with a brush because you get a lot of product just with a dab using your brush or fingers.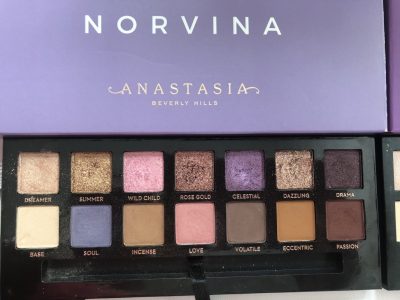 Being a fan of purple there was no doubt in my mind on purchasing this palette, of course I did check the formula and the shades it has to offer.  Seeing how well it blends and the shades it brings I knew this would be a great purchase for me. 
Anastasia Beverly Hills – Norvina $42
Shades:
Dreamer (metallic pink champagne)
Base (matte eggshell)
Summer (metallic foiled golden topaz)
Soul (matte wisteria)
Wild Child (duo-chrome frosty pink w/ a magenta shift)
Incense (matte dusty terracotta)
Rose Gold (metallic rosewood)
Love (matte mid-tone cool pink)
Celestial (duo-chrome plum w/ a violet shift)
Volatile (matte warm charcoal)
Dazzling (duo-chrome cool-tone bronze w/ a violet shift)
Eccentric (matte dark burnt orange)
Drama (duo-chrome aubergine w/ a cool bronze shift)
Passion (matte deep garnet)
 Where can you find the Dupe Palette?
A possible dupe for Anastasia Beverly Hills Palette can be found at Bad Habit Beauty which this palette is called Luna
Where can you find Norvina Palette?
Conclusion:
Overall is good to have another option that can be very affordable while giving you the shades you like from a high end palette.  In my opinion nothing beats having an original brand but it does come with a price.    I dont regret buying the original, the quality Im getting is very impressive but I also love a bargain, if there is a dupe that can offer the same result then that could be a great alternative.   At the end we all love makeup ( I think ejje) and is great to have fun colors matte and shimmer shades on a beautiful purple palette…
You can check out my video which also shares a quick tutorial..