Every month is so exciting as you receive your beauty box subscription boxes, today I got my Birchbox for the month of January 2018.. (our first box for this new year)
Birchbox is a beauty box subscription on which you receive 4-5 sample size items which you can use for skin, hair, lips.  The subscription can be cancel at any time and if you pay for the whole year you save an equivalent of 2 months = $21 save (using the code BESTYEAR99)
Boxycharm and Birchbox January 2018
Are the new beauty subscriptions boxes that I received this week. Both subscriptions are one that I enjoyed getting since I started last year.
Sadly I cancelled my boxycharm subscription don't get me wrong I love this company since you can't beat $21 for $100 worth of makeup products. But looking back at all of the items I received in a year I could honestly say only 1 or 2 items per box I tend to use. If I was starting with makeup or just wanted to get a clean set of items then it would be a keeper but for now I want to give this subscription a rest.
In the mean time I want to share the items I received. They are pretty good items, on my unboxing videos I like to share a try on as I show the items I get.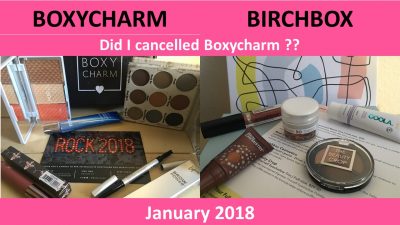 The first item I tried was the makeup palette at first it seemed it would be pigmented but as I try to create an eye makeup look using this palette I could see it takes a while to get a much darker look. The palette is cute and it comes with a small mirror the colors are mixed since you will get matte and shimmer.
The pur palette is so pigmented and very pretty colors. I love the packaging and how much product you do get for each color.
The it brow pencil is cute and is nice to see both type from brush to the liner but as I tried it I realized the shade was too light for me.
The lipstick I really love. It feels very soft and glossy while applying it but then it dries to a matte finished. The color I got is so pretty and how long it lasted on me was on point the only concerned I have is after so many hours with it on my lips felt a little dry.
The dr Brandt primer is like a bonus the product seems like a great product to apply if you want your skin to have a nice glow. I haven't tried it since my skin is oily and I get a lot of shine but will consider it hopefully soon to see if is a good item for my type of skin.
Birchbox
Is such a great subscription. I have been on my quest for years to finding the products for my skin. I have such complicated skin and many products can create a crazy reaction. I notice the samples I have tried from Birchbox are some I hear good reviews about. Some products are very high end prices and getting a regular size to then realized it doesn't work for me is not the best option.
I like the items I did get from the 3 minute peel to the smash box lipstick. I really like the color and is so pigmented too. I really like that are sample items I could try for a while and know if is worth getting it or just share my experience without a heavy cost.
Soon I might change the subscription I get depending on what others might offer. It is exciting to get a box every month when you receive an email letting you know your box has been shipped. But I also want to checkout and try other type of products that other companies might offer.
This is what I enjoyed from most subscriptions there is no contract an there are so many options for you to choose from depending on your wants and needs.
In the future the boxes I might consider are
Allure
Morphe Me
Lola Beauty
Macy's Beauty
You can also see my video here as I share both unboxing and try on some of the products receive