Today was interesting how we put this spoiler together.  Boxycharm sent us 3 clues and we shared them so everyone can guess what the next spoiler will be.  Below I will share the 3 clues and our guess to the clue.
Also, Mark your calendars for Boxycharm upcoming events.  On Monday 19th choice will open for both boxes (Base & Premium).  That same day the Add-On store will open as well starting at 12 pm. 
Choice Date – On Monday 4/19 on Monday you will have the opportunity to pick your item 
Add-Ons Date – Opens On Monday 4/19 on Monday
New to Boxycharm? Are you planning to subscribe?
If you are interested in getting this box, you can subscribe to Boxycharm (base box $25).  You can click here to do so and in the coupon code type, promo code to earn $10 off coupon to use for the Add-Ons store. 
Upcoming Add-Ons sneak peek 

Base May 3 Clues 
Based on the clues we were able to guess the next May spoiler is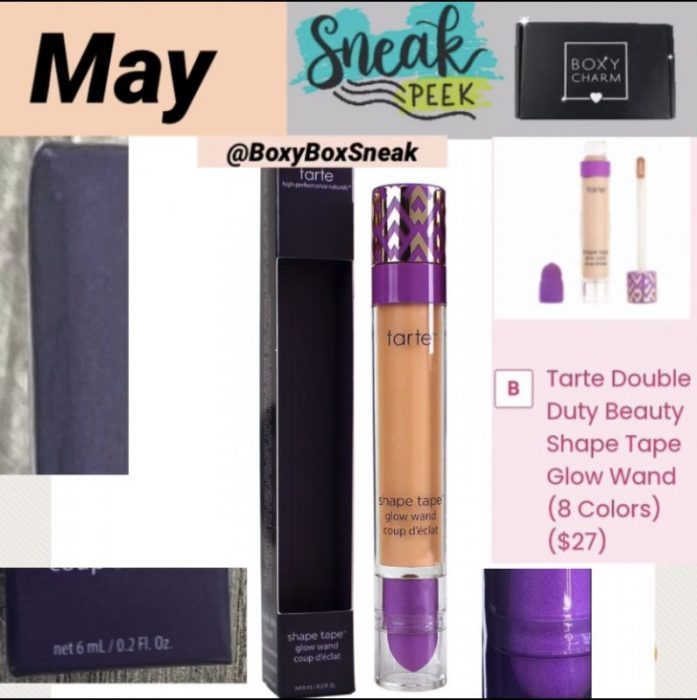 Shape Tape Glow Wand
Get glowing with Tarte's Shape Tape Glow Wand, an instant eye lift in a bottle! This vegan liquid brightener is formulated with a proprietary diamond complex to diffuse light, giving it a blurred, soft-focus filtered finish to turn back the clock on tired-looking under-eyes.
Benefits:
Pairs perfectly with shape tape concealer for a lifted, illuminated look
Helps boost radiance & smooths the appearance of skin with micro-fine pearl pigments
Diamond complex technology diffuses light to create a soft-focus effect wherever applied – it's never glittery or shimmery
Plush applicator & removable sponge for easy application & blending
4 Ways to Glow:
Over Shape Tape Concealer for an instant eye lift
Alone for sheer no-makeup magic
Mixed with moisturizer or primer for all-over radiance
On high points of the face, collarbones & décolletage to highlight
Why Tarte loves it? It gives you a youthful, healthy glow wherever we apply! Mixes with Shape Tape Concealer for star power perfection.
Skinvigorating Ingredients:
Porcelain Flower Extract: known to have soothing & microcirculation effects while illuminating skin
Mango Seed Butter: moisturize, condition, and protect against free radical damage
Shea Butter: moisturizes & nourishes the skin
Licorice Root Extract: Brightens the appearance of dark circles & color corrects
Mineral Pigments: soothe & soften skin
Diamond Powder: helps blur imperfections & diffuse light
What is the Cost of the Box?
Boxycharm has 3 subscription boxes, the Base box cost $25 a month

Boxycharm Premium cost is $35 a month, in order to join the waitlist you must be subscribed to the base box.  For the first month, after activation, you can cancel either Base or Premium anytime. Boxyluxe is an upgrade subscription you will receive 4 times in a year (Mar, June, Sep & Dec).  Boxyluxe total cost is $49.99, it will replace your Base box in Luxe months.
How do I subscribe to Boxycharm Box?
You can click here to join, select the subscription box you want to join.  In some cases, you might start by joining the waitlist. 
What is the shipping price?
The Shipping cost for the Boxycharm Boxes are FREE to the Contiguous U.S. only

Shipping outside of the contiguous US costs $8 for Luxe and $5 for Luxe Starter