Boxycharm is a great beauty box subscription but sometimes I have a mixed relationship with it.  The subscription amount of $21 a month doesnt seem like a lot specially when considering the full size good name brand items you get inside each box.  But sometimes I do cancel my subscription based on the spoilers I see, I really dont want to spend $21 if the items expected for the following month I have it or I wont use it.
After many months not receiving any beauty boxes I finally found one box I really liked, that was for the month of June, sadly the box came in the same day I was leaving on our trip so I couldnt share what I received.  Today I was able to open July box and try on the items I received.
Since I subscribed to Boxycharm I received a Cover FX drop which I was excited about it.  Lets begin with all of the items received
This month box included a total of 6 full size items (Cover FX was a bonus item for subscribing) For the the full size items this box retail to $133.98 + $42 Cover FX bonus this box total to = $175.98
The first Item I tried was the Dr Brandt No more Baggage, this product has a light peach orange color to it, is a little thick to the touch but is meant to warm in your fingers before applying under the eyes (circle, dark area).  Don't know how this truly works but I did follow the directions and allowed the cream to set under my eyes before applying my makeup.  At the end when makeup was completed I did see the area underneath my eyes looked much better then other times.  (is this a one time thing ? or does it works, I will see as I continue to use this product)
The second item I tried was the Note Luminous Silk Compact Blusher, the color I received was 05 Desert Rose.  At first the feel and packaging reminds me of Elf products which came off as a little cheap. Once I opened the blush I was impressed with the color that was sent to me.  Inside there was a brush in a separete section and a mirror was included to which is a bonus for me on most makeup items.  The color felt very soft not patchy and nicely pigmented.  THe color was perfect since I dont like bright colors for blush, I did apply a lot on one side but with a few strokes using a blush the color blend nicely around my face.  Overall impress with the Note Luminous Silk Compact Blusher – in the shade no. 5 Desert Rose.
The third item I went for was the Crown Pro Eyeshadow Palette, seeing the colors is a fun take on neutral everyday colors.  They seemed neutral very warm but in a more darker tone at least that was my first impression.  I like how the shades vary in color but yet workable so you can build your everyday neutral warm look.  At first it felt nothing was being picked up with my makeup brush in fact I would tap it to remove any excess and nothing but come off.  Once I started with the lightest tan color it clearly showed on my eyelids.  Is very soft and easy to blend with I love and it doesnt feel patchy.  The palette offers 10 shades mix from matte to shimmer shades.  The packaging is simple, glad it comes with a mirror and it locks in place.  Great product so far..
Once I finished with my eye makeup, now it was time to try the new mascara offered in this month box.  I heard of this brand before in fact So far it has a great reputation, my take is all ready hoping is a great product.  Once I love one mascara is hard for me to even try a new one, I was about ot apply the mascara I wear but quickly stopped myself to give Wander Beauty Unlashed Volume & Curl Mascara a try.  At first I was a little taken back with the curl shape (but that was a given once I read the name jejej) Once I applied it on my lashes like I normally would I notice it dries quicker then other mascara which that is something I like.  It doesnt clump, it feels soft to the touch, once is on I notice when trying to separate the lashes with my finger there was no mess or left over on my fingers.  It did made my lashes look long in a more natural way and it claims to condition the lashes which is a plus.. great so far..
My eyebrows were done before applying my makeup that is why I didnt get to try this product.  But once I finished my makeup I notice a few spots by my eyebrows seemed a little off, so I decided let me try the Tantalizing Taupe Eyebrow Cream by Chella. The packaging seem perfect for on the go but it might be small wondering if the cream will last more then standard products I used.  The angle applicator is a nice shape that helped recreate hair strokes the only uncomfortable was picking the product all around the brush since it has an angle shape.  The color is very pretty matched perfectly, the strokes were easy to recreate and I didnt see any smudge or mess when using this product..
Lastly, the product I was waiting on is finally time to open this cute (feels like opening my Christmas present)jejje.. . Once I opened the box I wasnt too happy with the color since is a shade of pink and lavender..  Im not a fan of drops used for highlighters but hearing great things about this product I was happy to test it out.  At first you can see the nice glow and it stays on the spot I applied it to, using my beauty sponge it blended nicely in fact it made it softer around my skin.  I then used a pointy brush to apply some of the drops in my inner corner around my eyes and I was impressed how vibrant and pretty the color was.  Cover FX Custom Enhancer Drops – so far is a great product one drop goes a long way and I am glad to see a liquid highlighter blends nicely on my skin without showing my imperfections from acne & acne scars.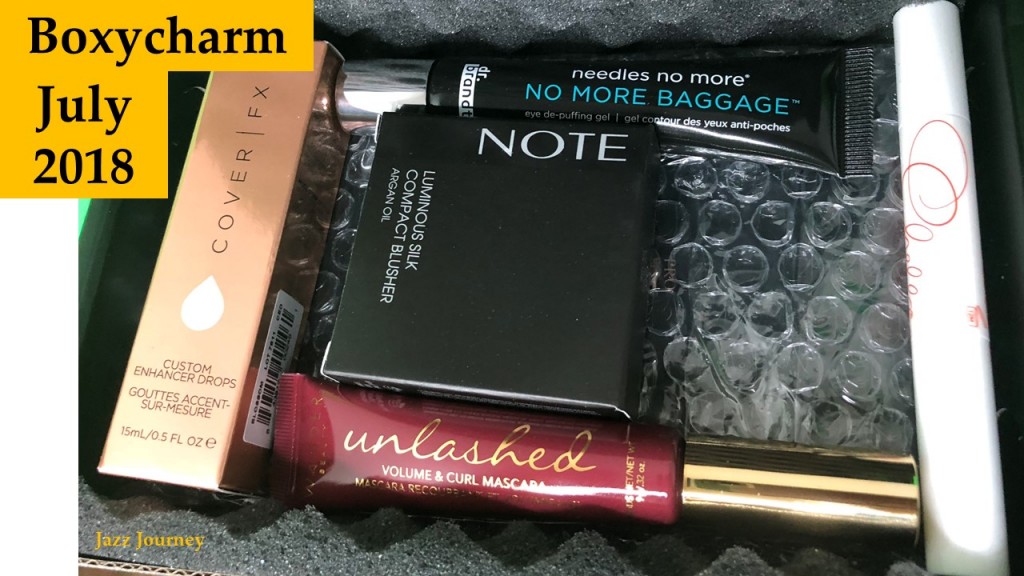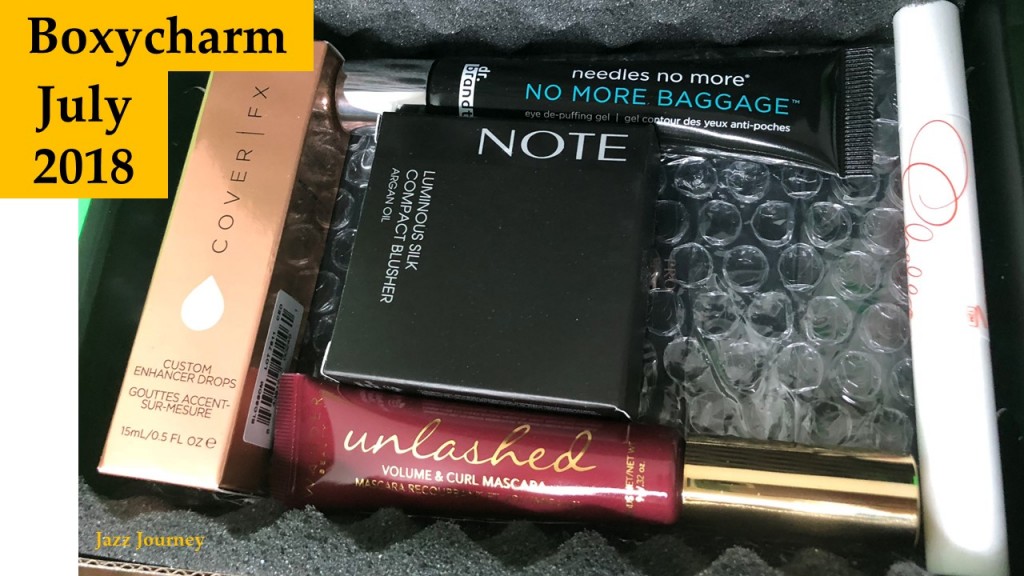 If you want to learn more about this subscription box you can visit here, checkout the offers, previous boxes and other questions you may have about this beauty box company.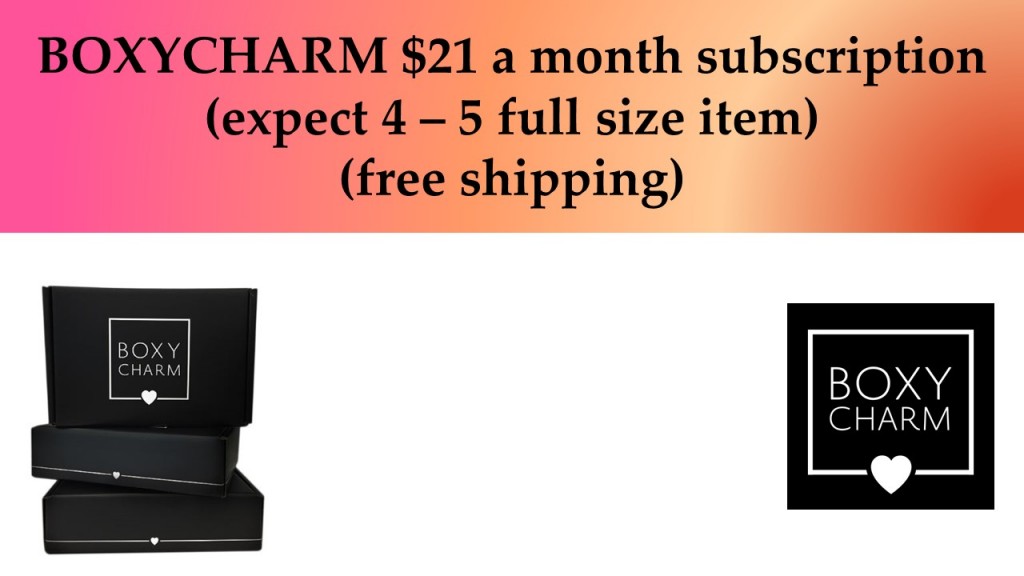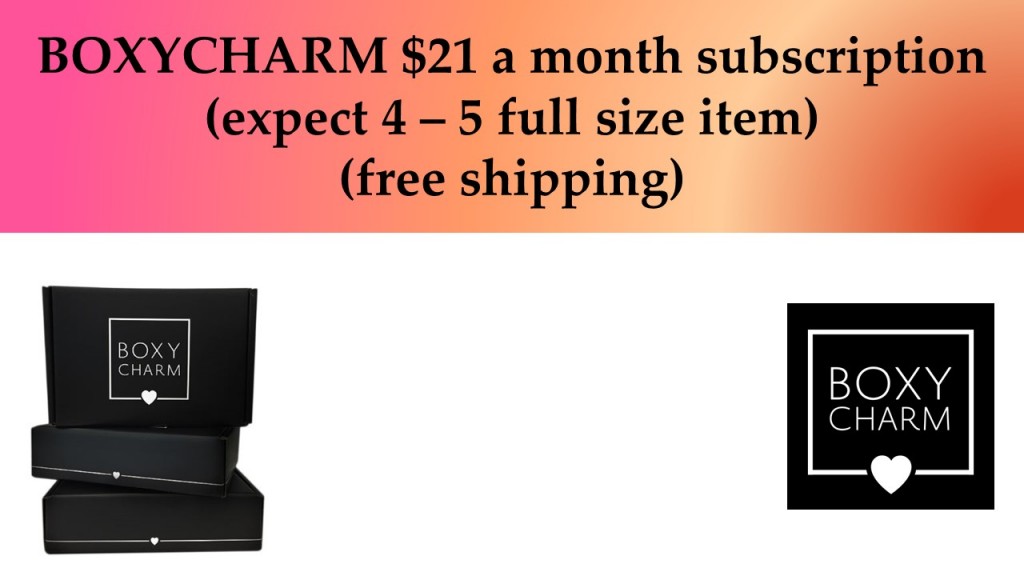 You can also see my video here as I share unboxing and try on some of the products received