Welcome to Boxycharm 2.0 (this was introduced last quarter in 2019) Today you have the opportunity to select an item that will guarantee a product you will love.
What is the Choice Date for March Base Box $25?
Monday – February 10th
Early access for the March Base box opens for Luxe and Premium Subscribers and Waitlisters
Tuesday – February 11th
All-access opens for the March Base box.
What is the Choice Date for March  Boxyluxe $49.99?
Monday – February 17th
Access for Luxe Subscribers and Waitlisters opens for March BoxyLuxe.
How does Choice works?
Every month you will be notified through email, website or/and social media the choice date for the following month.
Since this option is fairly new – every month the selection does vary.  One month's selection was made just by waiting for the email options. While other months the option is shown at boxycharm.com on the top right-hand corner (a pink box that says choice).
Once you find the option through email or website just click and it will show you the options, select the one you desire.
Once the choice window is closed you might receive an email to confirm the product you selected.
How long do I have to make my choice?
The choice window varies every month and/or by subscription box.  For example, Boxyluxe might have a 2-day window to select your item while the Base box might have 24 hours.
How many choices do I have?
Base Box and Premium Box (offer one choice item) per month
Boxyluxe offers up to 3 choices (this will vary throughout the year)
Boxycharm Subscription
If you are a beginner or simply want to get high-end makeup and skincare for just $25 this could be that monthly box. Changes are coming starting in November with Boxycharm subscriptions (below is an idea what you can expect)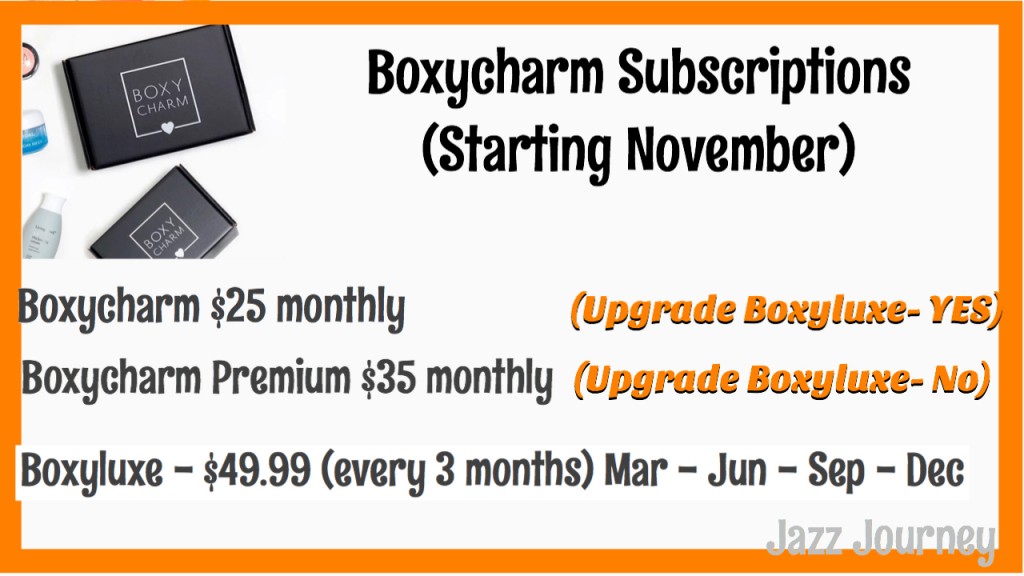 If you are new and would like to subscribe click here (use promo code – itson2020) to get a free item.
Below – February 2020 Dates to Know