Boxycharm Premium April Box Choice and first Sneak Peek has been revealed.  So far what I can say about Premium Box is Variations…..   I am glad we are able to see so early on a few confirmed spoilers for the Premium Box. 
For the first sneak peek – April Premium Box, we have 4 variation products, you can expect one of these items shown below.  For the choice item, there are 5 products to choose from, if your subscription is active you will have the opportunity to make your selection on March 12th. 
If you are interested in getting this box, you can subscribe to Boxycharm (base box $25).  You can click here to do so and get a free gift. | CODE: BEAUTYBALLERS – SKINCAREMVP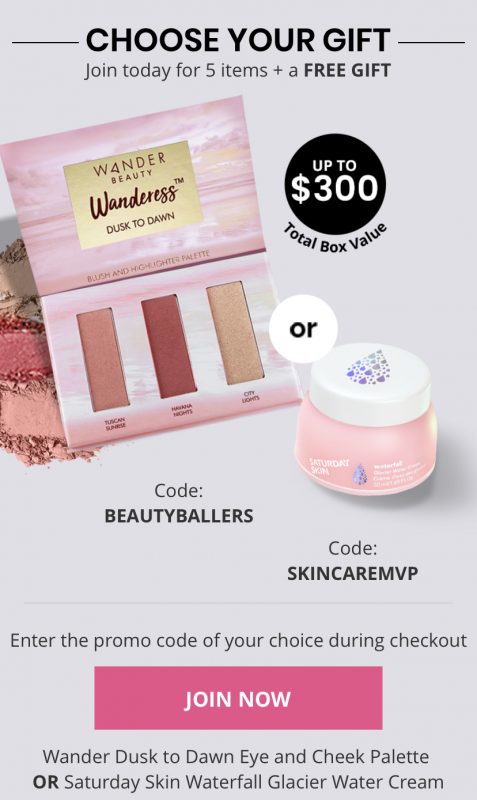 Below I will include the 4 products shown as our first Sneak peek and in addition some brands we can expect for the April and future Premium Boxes.  
Premium Brands Expected for April and possibly future boxes: 
Natasha Denona

Smashbox

Coverfx

Stila

Becca

Lunar Beauty

Sunday Riley
First Variation : 
Second Variation: 
Third Variation: 
Fourth Variation: 
Choice Item these are the 5 items you can choose from. 
What is the Cost of the Box?
Boxycharm has 3 subscription boxes, the Base box cost $25 a month

Boxycharm Premium cost is $35 a month, in order to join the waitlist you must be subscribed to the base box.  For the first month, after activation, you can cancel either Base or Premium anytime. Boxyluxe is an upgrade subscription you will receive 4 times in a year (Mar, June, Sep & Dec).  Boxyluxe total cost is $49.99, it will replace your Base box in Luxe months.
How do I subscribe to Boxycharm Box?
You can click here to join, select the subscription box you want to join.  In some cases, you might start by joining the waitlist. 
What is the shipping price?
The Shipping cost for the Boxycharm Boxes are FREE to the Contiguous U.S. only

Shipping outside of the contiguous US costs $8 for Luxe and $5 for Luxe Starter
Below – April 2020 Sneak Peek