In this post I will share the variation I received for Boxycharm Premium APRIL box, I also did an unboxing video which you can check out here. 
New to Boxycharm? 
Are you planning to subscribe?
If you are interested in getting Premium or base box, you can subscribe to Boxycharm (base box $27.99).   You can click here to do so and in the coupon code type, promo code to earn a $10 off coupon to use for the mega shop drop. 
CHOOSE A FREE GIFT
Boxycharm Premium Box (variation C2204202-PM)
Boxycharm Premium Box Choice #1 
Iconic London Brow Silk $25
Boxycharm Premium Box Choice #2
Other Items
Natasha Denona Cupid Cheek Duo $42 (Boxy Exclusive)

Mitchell and Peach English Leaf Body Oil $68

Mybeauty Brand Byme Black Liquid Eyeliner $20

Endota Hydrating Lip Balm $25
The retail value for this variation is $262.  I was a bit surprised by how light the weight was compared to my base box.  Just on that alone, I was a bit skeptical if I would like this variation. 
But after seeing the items I received I am very pleased with it.  I can't go wrong with a Boxy Exclusive and the brand is one I love which is Natasha Denona.  The brow silk is something I wanted to try so I'm happy I got it.  
Treating my body skincare is something I trying to introduce and the body oil is truly a keeper.  While reading the ingredients i was impressed to see Almond oil and vitamin e. Overall is a great variation and I'm happy to see Boxy Exclusive, New Brands, and New Launch products.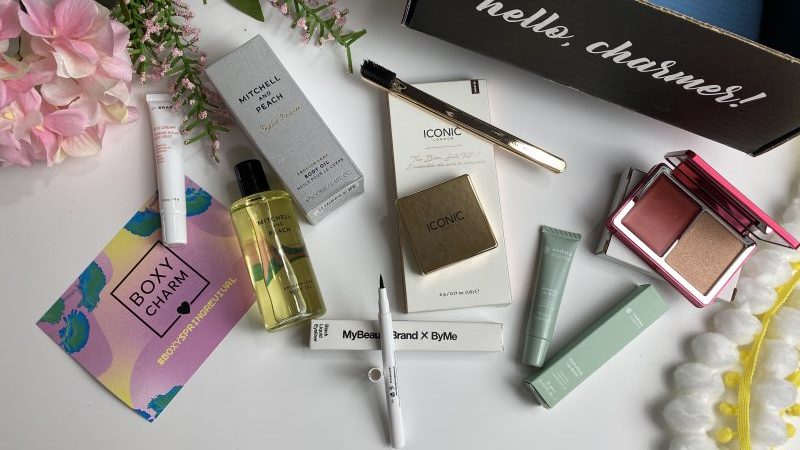 What is the Cost of the Box?
Boxycharm has 3 subscription boxes, the Base box cost $27.99 a month

Boxycharm Premium cost is $39.99 a month, in order to join the waitlist you must be subscribed to the base box.  For the first month, after activation, you can cancel either Base or Premium anytime. Boxyluxe is an upgrade subscription you will receive 4 times in a year (Mar, June, Sep & Dec).  Boxyluxe total cost is $59.99, it will replace your Base box in Luxe months.
How do I subscribe to Boxycharm Box?
You can click here to join, select the subscription box you want to join.  In some cases, you might start by joining the waitlist. 
What is the shipping price?
The Shipping cost for the Boxycharm Boxes are FREE to the Contiguous U.S. only

Shipping outside of the contiguous US costs $8 for Luxe and $5 for Luxe Starter