In this post, I will share the variation I received for the Premium box.  I am so excited to share this month's box but stay tuned for upcoming possible sneak peeks.  This box is for this month's box which is November Boxycharm Premium Box.. 
I also did an unboxing video sharing the items I received, you are more than welcome to check it out here or below
New to Boxycharm?  Are you planning to subscribe?
If you are interested in getting Premium or base box, you can subscribe to Boxycharm (base box $27.99).   You can click here to do so and in the coupon code type, promo code to earn a $10 off coupon to use for the mega shop drop.
Boxycharm November Theme (It's Giving… Giftable Glam)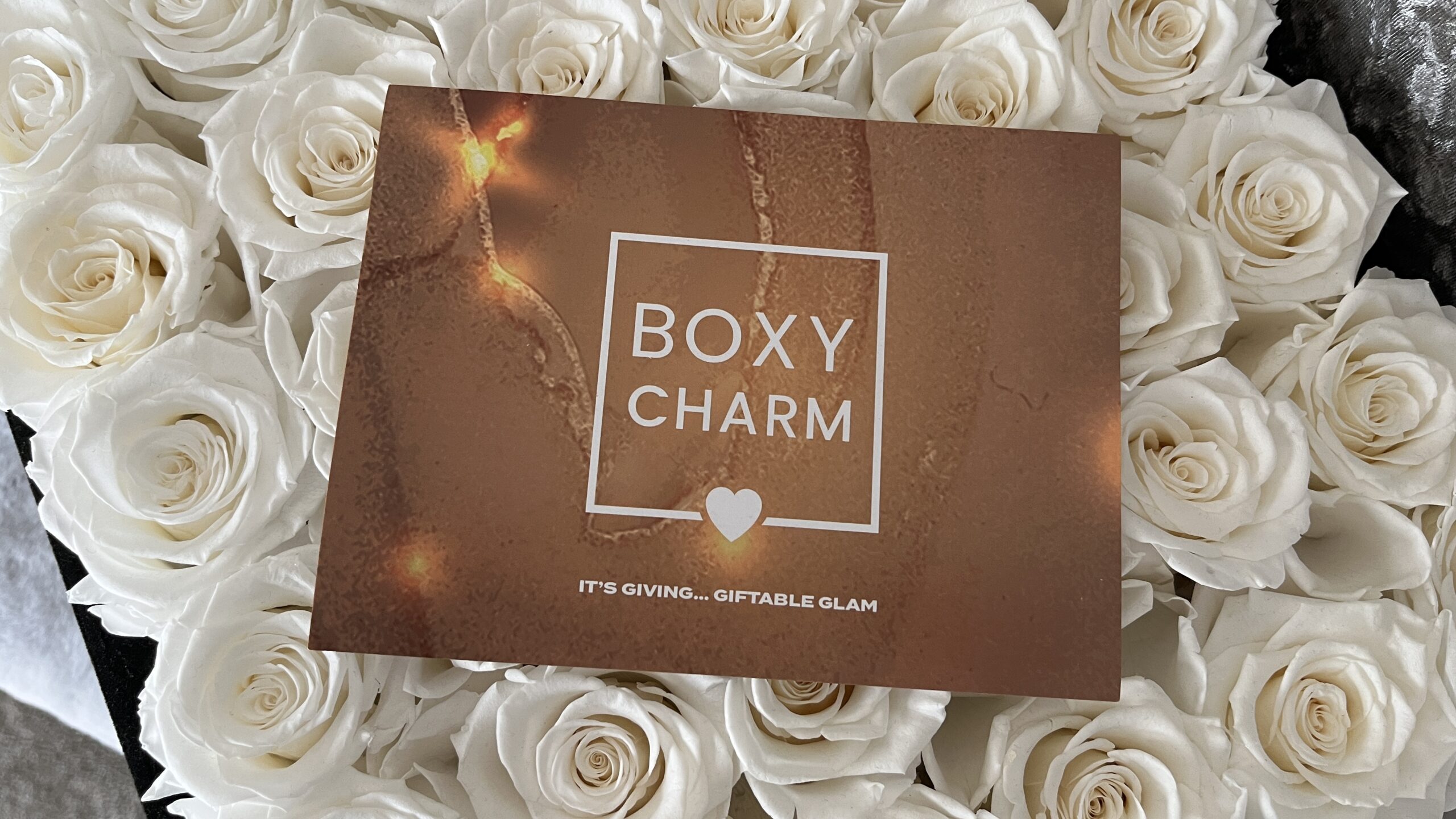 Boxycharm Premium Box (Variation)
Retail Value of this Box $302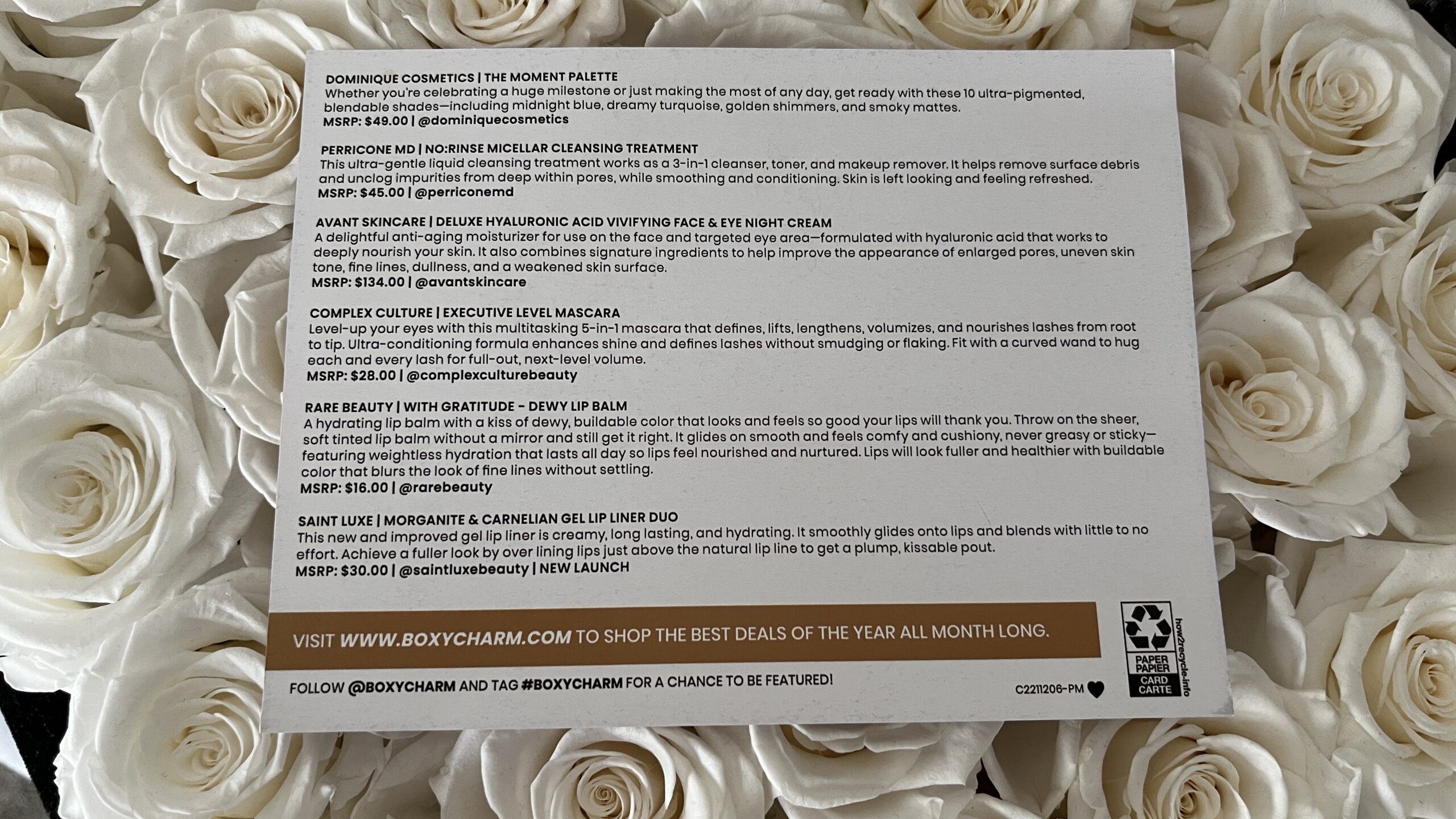 Dominique Cosmetics The Moment Palette $49
Perricone MD No Rinse Micellar Cleansing Treatment $45
Avant Skincare Deluxe Hyaluronic Acid Vivifying Face & Eye Night Cream $134
Complex Culture Executive Level Mascara $28
Rare Beauty WIth Gratitude Dewy Lip Balm $16
Saint Luxe Morganite & Carnelian gel lip liner duo $30 (NEW LAUNCH)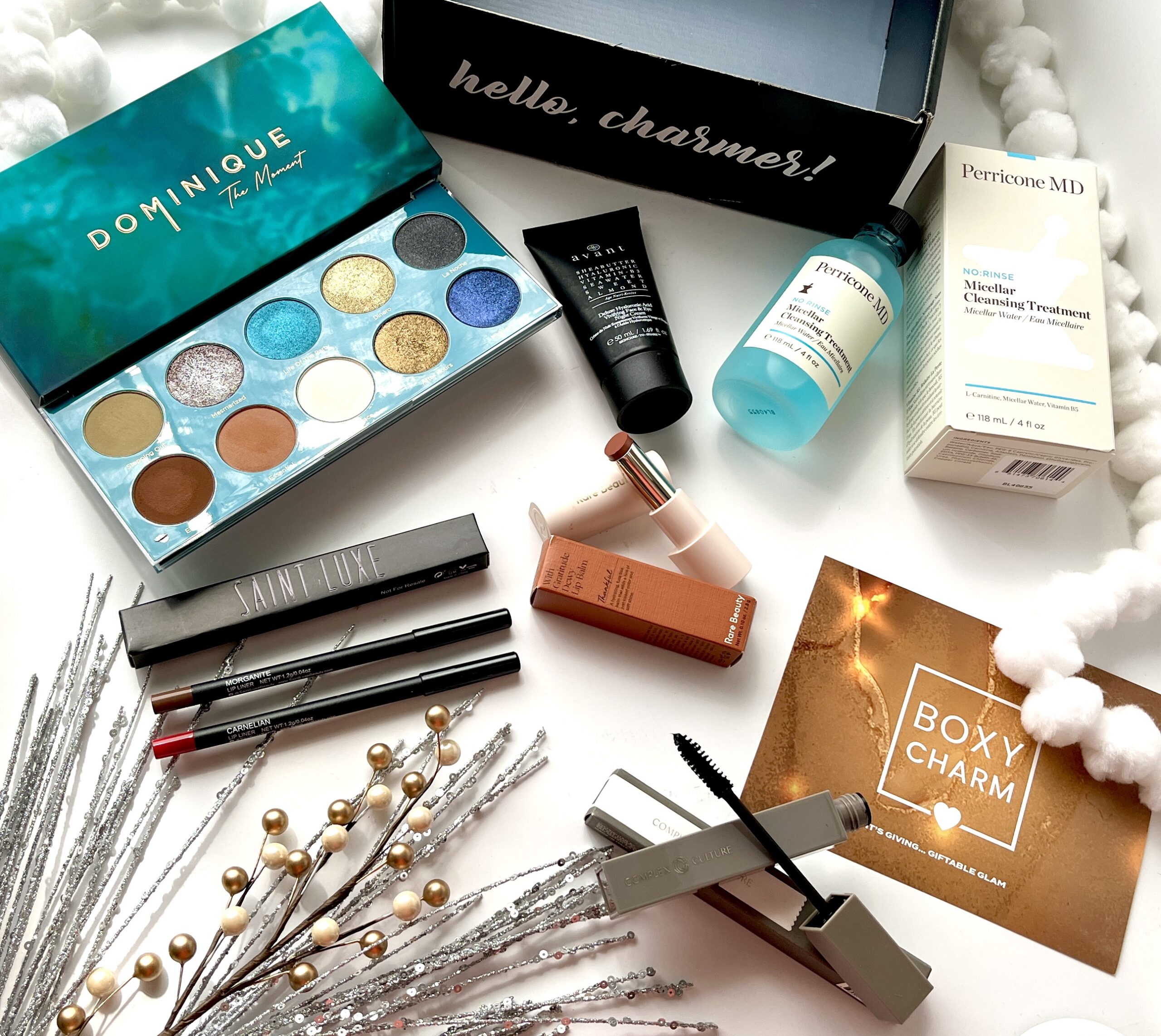 I am excited to see an eyeshadow palette in my variation but to be honest I wouldn't mind seeing Kate Sommerville items either.  Another product I was hoping for was Micellar water, in reality, I am not a fan of this type of makeup remover product but after reading more about this treatment I wanted to give it a try.
This claim to be 3 in 1, and on those nights I am in a hurry to remove my makeup I think the Perricone MD No rinse Micellar Cleansing Treatment might be very helpful.  It claims to remove makeup, and cleanse my skin and it will also act like a toner.  I am also excited about the mascara since is 5 in 1 in addition to working like an antioxidant for your lashes. Overall I am excited about this variation.
What is the Cost of the Box?
Boxycharm has 3 subscription boxes, the Base box cost $27.99 a month

Boxycharm Premium cost is $39.99 a month, in order to join the waitlist you must be subscribed to the base box.  For the first month, after activation, you can cancel either Base or Premium anytime. Boxyluxe is an upgrade subscription you will receive 4 times in a year (Mar, June, Sep & Dec).  Boxyluxe total cost is $59.99, it will replace your Base box in Luxe months.
How do I subscribe to Boxycharm Box?
You can click here to join, select the subscription box you want to join.  In some cases, you might start by joining the waitlist. 
What is the shipping price?
The Shipping cost for the Boxycharm Boxes are FREE to the Contiguous U.S. only

Shipping outside of the contiguous US costs $8 for Luxe and $5 for Luxe Starter