We have another confirmed sneak peeks for Boxycharm Premium box.  There are 3 items for the choice options. 
Recently Kypris was revealed and confirmed for the Premium box, this brand is not new to Boxycharm and I'm glad to see the items we can expect for March.  Not sure if we are getting both items and if this would be a variation. 
New to Boxycharm? Are you planning to subscribe?
If you are interested in getting this box, you can subscribe to Boxycharm (Premium $35).  You can click here to do so and in the coupon code type QUEENSRULEALL, promo code to earn $10 off coupon to use for the PopUp Store.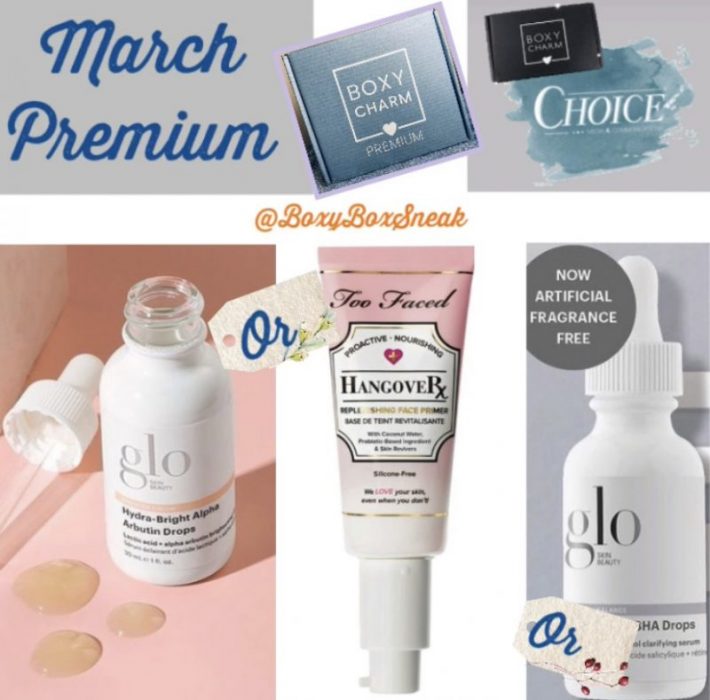 Sneak Peek #1 – Choice Items 
(New Brand New Products from Glo Skin)
Glo Skin Beta Clarity BHA Drops

Glo Skin Hydra Bright Alpha Arbutin Drops

Too Faced Hangover Primer
Sneak Peek #2
Kypris Beauty Illuminating Eye Serum & Primer
Kypris Beauty Shimmer Palette: Active Illumination
Sneak Peek #3 (Brand)
What is the Cost of the Box?
Boxycharm has 3 subscription boxes, the Base box cost $25 a month

Boxycharm Premium cost is $35 a month, in order to join the waitlist you must be subscribed to the base box.  For the first month, after activation, you can cancel either Base or Premium anytime. Boxyluxe is an upgrade subscription you will receive 4 times in a year (Mar, June, Sep & Dec).  Boxyluxe total cost is $49.99, it will replace your Base box in Luxe months.
How do I subscribe to Boxycharm Box?
You can click here to join, select the subscription box you want to join.  In some cases, you might start by joining the waitlist. 
What is the shipping price?
The Shipping cost for the Boxycharm Boxes are FREE to the Contiguous U.S. only

Shipping outside of the contiguous US costs $8 for Luxe and $5 for Luxe Starter