I am surprised how early I received my box, well other subscribers got it a lot earlier but at least for me it was earlier then usual.  This month I received my Second BoxyLuxe, At first I was a little taken back since the items on the first box was enough for me to do a complete makeup routine (besides Foundation and Concealer).  Unlike this box it brings different categories. 
Once I did my unboxing video, while trying on the products I realized this box came in at a perfect time.  Most of the products I can use a trip we are planning on taking.. Well, before I keep going based on my impression I would like to share what I received, keep in mind there were some variation to the Boxyluxe, so not everyone will get the same items. 
I did my eyemakeup look using the Violet Voss Pro HG Palette -$45

Spongelle Body Wash Infused Buffer – $20

Wander Beauty Wanderess Dusk to Dawn – $26

Elemis Pro Collagen Marine Cream – Retails for $89

Luxie 8 piece set – Retails for $65

Lorac Royal Treatment Mascara Duo – $24

PYT Mini Hair Straightener – $75

Tarte Glitter Lip Paint – $20 

Crimes of Beauty Wristlet & Portable Charger – $22
Box Subscription – $50 
Box Retail Value – $386
If you would like to subscribe but stil not sure if this could be the box for you, know you can cancel anytime, in fact I have in the past.  I had no problems with my cancellation and once I was ready to start again it was easy to do. 
BOXYCHARM is a beauty box subscription on which you receive FULL SIZE items which you can use for skin, hair, lips.  The best part is each box comes with items that are value up to $140.  The subscription can be cancel at any time and if you pay for the whole year you save an equivalent of 1 month = $11 save.
BOXY LUXE  an addition to the original Boxycharm, this subscription will cost $49.99 and is every 3 months.  You will receive about 11 luxury items that the value is up to $300. In order to receive this box starting in September you must be subscribed to Boxycharm before September 1st since on that day a link will be sent for a Boxy Luxeupgrade.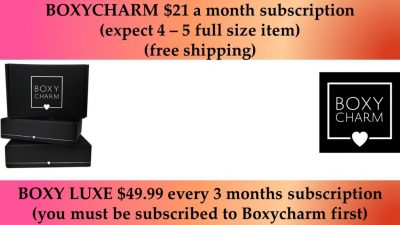 You can see my unboxing and try on video here