So excited to share the second spoilers for the MARCH  Boxyluxe (upgrade from the base box will be $49.99).  We have not only the second sneaks peek but we also have the first choice item.  If you are interested to receive this box you still can by upgrading from base to Luxe. 
New to Boxycharm? Are you planning to subscribe?
If you are interested in getting this box, you can subscribe to Boxycharm (base box $25 and upgrade to Boxyluxe $49.99).  You can click here to do so and in the coupon code type.
Sign up for $10 Online Store Credit PLUS Choose a FREE Gift (Up to $82 Value!)
Code: SKINCAREFORALL or MAKEUPFORALL
First Choice Item: 
For the first choice item, we can expect a foundation from Fenty Beauty.  In my opinion, this came at a perfect time since mine finished.  I love this foundation it works great on my oily, sensitive, and acne-prone skin.  I love this comes in a large range of shades so in case this might be your choice item you can start to search for the perfect match for you.
Fenty Beauty – PRO FILT'R SOFT MATTE LONGWEAR FOUNDATION
Second Sneak Peek : 
I am so excited to share the latest spoiler, this one is so sweet because is confirmed and every charmer will be receiving it.  You will get Glow Recipe Plum Plum Serum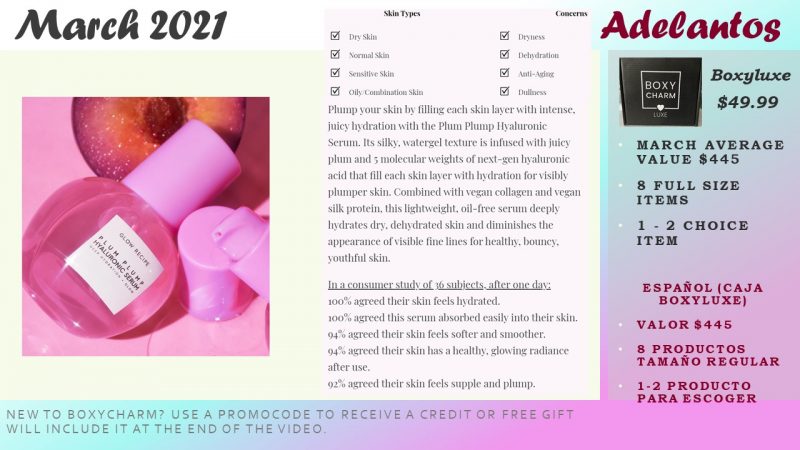 What is the Cost of the Box?
Boxycharm has 3 subscription boxes, the Base box cost $25 a month

Boxycharm Premium cost is $35 a month, in order to join the waitlist you must be subscribed to the base box.  For the first month, after activation, you can cancel either Base or Premium anytime. Boxyluxe is an upgrade subscription you will receive 4 times in a year (Mar, June, Sep & Dec).  Boxyluxe total cost is $49.99, it will replace your Base box in Luxe months.
How do I subscribe to Boxycharm Box?
You can click here to join, select the subscription box you want to join.  In some cases, you might start by joining the waitlist. 
What is the shipping price?
The Shipping cost for the Boxycharm Boxes are FREE to the Contiguous U.S. only

Shipping outside of the contiguous US costs $8 for Luxe and $5 for Luxe Starter
For more information follow me