BoxyLuxe is live but is very limited so where you one of the lucky ones? Here is a message I received and in it you can see other items that we can expect such as a Bag, Luxie Foundation Brush Nice Head Band and Lipstick. 
BOXYCHARM is a beauty box subscription on which you receive FULL SIZE items which you can use for skin, hair, lips.  The best part is each box comes with items that are value up to $140.  The subscription can be cancel at any time and if you pay for the whole year you save an equivalent of 1 month = $11 save.
BOXY LUXE  an addition to the original Boxycharm, this subscription will cost $49.99 and is every 3 months.  You will receive about 11 luxury items that the value is up to $300. In order to receive this box starting in September you must be subscribed to Boxycharm before September 1st since on that day a link will be sent for a Boxy Luxeupgrade.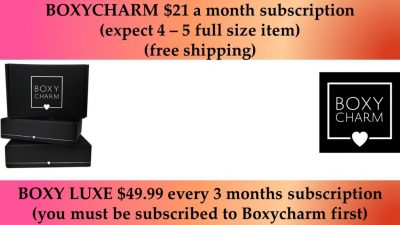 Boxycharm – Items we can expect for the next month box (so far we have 2 spoilers which you can see shown in the picture)
Boxy Luxe – The item only will be included in Boxy Luxe for September 2018 (shown 5 so far)
Tarte – $45
Juice Beauty – $70 – $80
Sol de Janeiro Panema Sunset Glow Oil – $35
Smashbox Photo Finish – $32
Alamar Brushes – $18 (not confirmed)
Boxycharm Spoilers
Palette – $35
Blush – $28
Based on some information for the new Boxy Luxe so far it shows 7 items for a retail price of  $273 (and still missing 4 items to complete 11 for this box)
Video also created to show spoilers here