This trip was a quick but a good one.  We went to 2 different CVS simply because we had a few on our way and the first CVS we went to didnt sell General Mills Cocoa Puffs so we bought a few items at the first store using my CVS card and at the second store we used my husband card.
Isnt crazy how quicky a few items can total $25.20 but is such a good feeling when we learned to combine current store deals, coupons and rebates to end up saving more than 75% in our shopping trip.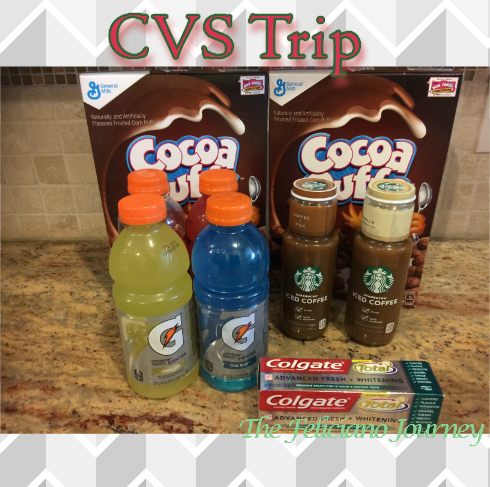 Here is our Trip:
Paid Out of Pocket: $2.98 (3 transactions included) 
Purchases Total: $25.20
Credit/Coupons/Promotions: $22.22
% Saved: 88.2%
Got 1 Colgate Max, Total, 2in1 or Optic White toothpaste $3.00
(used 1) $2 Instant CVS Coupon Printing at Red Coupon Machine
(used 1) $1/1 Colgate Total, Optic White, Enamel Health or Max Fresh, exp. 9/12/15 (SS 08/30/15) [3-oz.+]
Final Price: FREEEEE jejej..
Get back $2.00 in ECBs wyb 2 Gatorade 20 oz or Lipton sparkling ice tea 12 oz 2/$2 Limit 1
Got 4 Gatorade 20 oz – $4.00 (different card and different store)
Final Price: Free after $4.00 ECBs
Got 2 Starbucks Iced Coffee or Starbucks Refreshers, 11 – 12 oz – B1G1 ($1.99)
(used 2) $0.50/1 Starbucks Iced Coffee or Starbucks Refreshers Revitalizing Energy Beverage printable (exp. 2/16/16) [11-oz.+]
$1/1 Starbucks Iced Coffee Printable  (new link still available)
(submitted) –$1/1 Starbucks Iced Coffee Ibotta Offer
Final Price: Free after ibotta rebate
Get back $1 in ECBs wyb Select General Mills Cereal 8.9-13 oz 2/$4
Got 2 Cocoa Puffs Cereal (but it wasnt part of the deal)
(used 2) $0.75 off one box Cocoa Puffs cereal
Final Price: $2.50 for both