Hello Everyone,  I would like to share with you a simple project we challenge ourselves to make.  We are not a family that makes wood project simply because we just dont know how.  Instead we rather shop around and see if we find a good deal depending on the item we need.  But a few years ago while searching through some sites I found Ana White site (omg… I immediately fell in love with this site).. I love the range of furniture you can make by just following her detail step by step plans.
Since we have no experience I glance through the site and found the Providence bench seem like an easy project, it was perfect for my room and a reasonable price to make.
So, Immediately I printed the plans, search Lowes and Home Depot for wood prices and realize it would cost about $22 to make.  How can it be? How can I make my own furniture for less than $25? I have paid 4 times that amount for the furniture I have at home.. Could this be true ?? So lets find out jejej..
We gather our list, went shopping and as a family we measure, cut, glued and drill until our first project was made..
During this project we saw that as a family we can learn how to build something we all can be proud of.  The plans were very easy to follow and you just need to check what you are buying.   Once you buy and gather all of the items you need you are on your way on making your very own wood bench.  We started with our 2×4, our youngest son measure each wood and label each with a letter.   For example,  we needed 2 from the 2×4 to be cut @ 14 inches and those 2 pieces would be labeled as letter A.  Once he measured the wood, we had our oldest son cut the pieces from each of the 2×4.  Then my husband and I would double check each task.  We tried to work as a team but letting the kids take over there task.  Once all the pieces were cut, we began following each steps.  Depending on the time you set aside to do this task we can honestly say it took a day to cut, build, sand and paint.  Dont get scare it wasn't the whole day but it did take some time since it was our first wood project.
Tip: when shopping at places that sells paint always look for the returned or upps paint.  I normally pay $5 – $9 for paint that includes primer and works well with wood pieces too..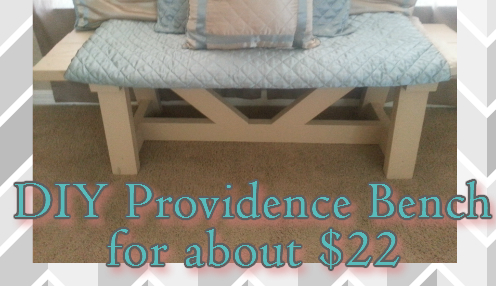 Each wood would get a letter so it can be easier to assemble once each item is cut. 
Cut List: 
A)  2 – 2×4 @ 14"
B)  4 – 2×4 @ 15 1/4″ – both ends beveled at 10 degrees off square, ends ARE parallel
C)  2 – 2×4 @ 12 1/2″ – long point to long point, both ends cut at 10 degrees off square, NOT parallel
D)  1 – 2×4 @ 34"
F)  1 – 2×4 @ 38"
G)  2 – 2×4 @ 13 3/8" (both ends cut at 45 degrees off square, ends ARE parallel)
H) 4 – 2×4 @ 54"
Here you can see the full plan from Ana White