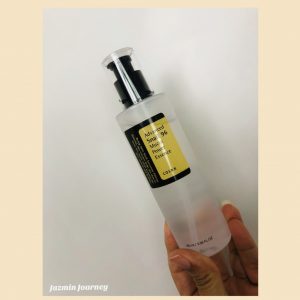 Before sharing if this product works, is good to know what is Snail Slime and how is beneficial to the skin, the interesting part is okay for all skin. 
Struggling with Adult Acne and Hyperpigmentation I am on a search to tackle those areas, I heard a friend mention how great Snail Mucin is and right away I was in. 
The fact that is made of Snail Slime didnt stop me from trying it out. But before I keep sharing my experience you can first learn a few of the benefits it offers.
What is Snail Filtrate or Slime?
First of all, is good to know while extracting the filtrate of the Snail a machine was created that works like a spa to avoid harming the Snails, which is genius. The Slime helps improve skin elasticity, repairs damage skin while hydrating it. 
I seen a few articles about this topic and Yes Style has a pretty good one.  There I learned secretion can be a good thing for your skin. The Snail Filtrate or Slime contains many nutrients such as Hyaluronic Acid, is Antimicrobial and contains Glycoprotein (just to name a few). 
Hyaluronic Acid is key for a more hydrated skin and Glycoprotein absorbs water, it is explained that protein fills the areas such as fine lines and scars to give it a more supple look to the skin.  To see best results constant use is recommended.. 
What Is Snail Essence good for?
Going over the nutrients the mucin contains is what we look for on a good skin care routine. A few months back I purchase an expensive item well known that offered Hyaluronic Acid, my skin was very dull and after applying this product I didnt see noticeable results.  Using this product for a shorter time I was impressed how my skin looks. 
Why is this secretion good for you? The Nutrients the Snail Slime offer for a more hydrated skin, it will help repair the damages shown on your skin.  If you have dry and even oily skin, will work great for all skin type. It can help with acne breakouts, hyper-pigmentation, redness, dry skin, 
Collagen is a great protein for our skin (for a more smooth, tight skin) but we lose it by age and through free radicals (pollution, UV). One way we can get a more youthful appearance is applying peptides on the skin.  Peptides is one of the nutrients the Snail Slime has is why we can see this product as a benefit to our Skin Care routine. 
My Experience
The Snail Mucin feels so lightweight but a bit sticky or tacky at first.  After a few uses I dont notice that at all, I love how soft and soothing it feels in my skin.  My skin feels and look hydrated with a nice glow.  I love how great my skin looks. 
Before trying this product my skin was so dull and dehydrated due to bad reactions to some products I was using.. I decided to start from scratch and since then I notice great results. It helped repair the skin and the areas my skin was irritated and was showing redness.
The acne scars are a little better but I cant say is gone yet, the dark spots are lighter and any new acne seems to be gone quicker.  I would normally get hyperpigmentation on new acne that would form around it and stay dark for many months but recently the darkness was barely there.
Not sure if this will also help with large pores but I notice them being a lot less visible then before, just to be fair I also apply Aloe Vera gel which can help with that.. 
Any Side Effects?
Are you ready for the list of skin problems I have? I have been dealing with Adult Acne, Acne Scars, Dark Spots, Hyperpigmentation, Large Pores, Oily and Sensitive skin.  Finding a product that can help eliminate those problem areas is key and after using COSRX Snail Mucin Essence for over a month I experienced no negative reactions.
How to Use Snail Mucin?
The product is considered an essence which is great to apply after toner and before moisturizer, but it all depends on your skincare routine since I heard some apply it as a toner.  Applying twice a day works best, recently I started to apply Aloe Vera Gel and right after I use this product.  You can use 1 – 2 pumps it all depends how much you need, in my case 1 pump is usually enough. 
Ingredients
Snail Secretion Filtrate, Betaine, Butylene Glycol, 1,2-Hexanediol, Sodium Polyacrylate, Phenoxyethanol, Sodium Hyaluronate, Allantoin, Ethyl Hexanediol, Carbomer, Panthenol, Arginine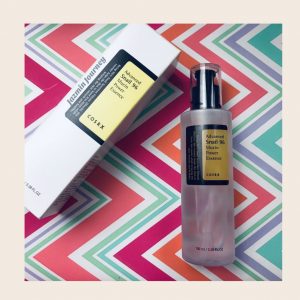 Is it Affordable?
I have tried many products from prescribed to recommended and I am surprised how affordable the Snail Mucin is compared to how glowy my skin is.  I purchased this item at Ulta but for a while now it continues to show out of stock. 
Amazon could be another great place to get it from.  The price overall is for $19 – $21 which is pretty good for the amount you receive.. In the picture it shows how much I have used in a period of a month, I apply it twice a day but most cases I use one pump.. It shows how much is left.