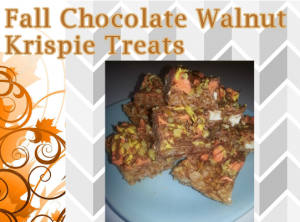 I am always at awe when I look at the current date we are in because the seasons are almost flying by.  Even though we live in a tropical state you can certainly feel that fall is near. So, today I decided to make rice krispies treats inspire by the fall season.  Here I prepare a simple recipe and steps on how you can make your own.
Ingredients for chocolate
4oz white chocolate
1 tbsp semi sweet chocolate morsels (optional)
food coloring of your choice ( i used yellow and orange)
Ingredients
4 tbsp Butter
bag of big marshmallows
pinch of salt
1/3 cup chopped walnuts
3/4 cup up to 1 1/4 cup of small marshmallows
3 tbsp hazelnut spread
2 or 3 tbsp dried cranberries (i used pomegranate infused juice) (optional)
spray to grease 9×13 baking dish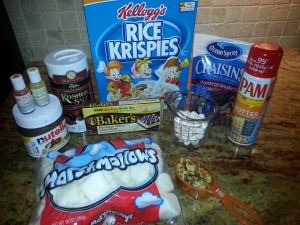 (in the picture you can see food coloring which i selected yellow and orange to give it a punch of fall color)
Now we are ready to get started..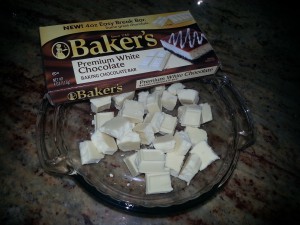 First, we get 4 oz of white chocolate and break each bar in half and place in a glass dish or bowl.  Place on a double boiler and mix well until is fully melted. Divide the amount and place the other half on a glass cup or bowl.  Add a few drops of yellow in one bowl and add a few drops of orange on the remaining bowl.  Mix each until you have reach the desire color.
(optional: to make a smoother consistency you can add 1 tsp of vegetable shortening and mix until you have reached the desired consistency)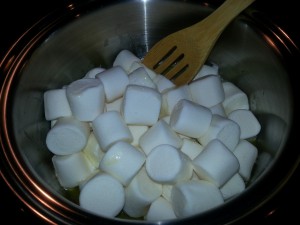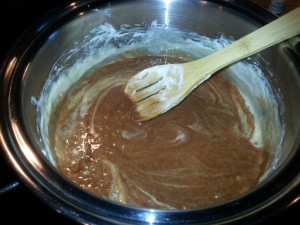 In a pan add 4 tbsp of butter on a low-med setting heat.
Once the butter has melted add the bag of the big marshmallows.
add a pinch of salt to the marshmallows.
keep mixing using a wooden spoon.
once melted add 3tbsp of the hazelnut spread to the the melted marshmallows (picture above). Mix well. Remove from heat.
Add 6 cups of rice krispies cereal. Mix well.
Add small marshmallows and 1/3 of the walnuts to the mixture.
Once mix pour mixture to the greased 9×13 baking dish.
Using a spatula or your hands even out the mixture. ( i like to add some vegetable shortening in my hands and pat down the mixture, this helps not to stick)
(optional) add dried cranberries (i added to have of the batch, since my husband doesnt like them)
drizzle the white chocolate to the mixture ( i selected yellow first, then I drizzle orange on top)
sprinkle 1/3 of the walnuts to the mixture.
(optional) i added a few semi sweet chocolate morsels to the remaining white chocolate that was colored in yellow. Drizzle that on top and place the remaining walnuts to the mixture.
and thats it… whew… we are done ejjejeje…
place dish in the freezer for about 20-45 minutes.
Once is set. is ready to be cut..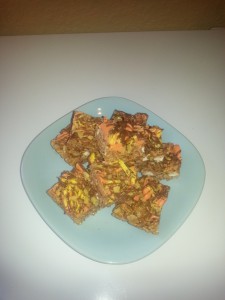 and here they are… I love the color combination.. and surprisingly they are not so sweet, it has the perfect balance of sweetness and chocolate..
Hope you enjoy this simple recipe as much as it was for me making it..